Yvonne Craig
By: David Smay
May 16, 2009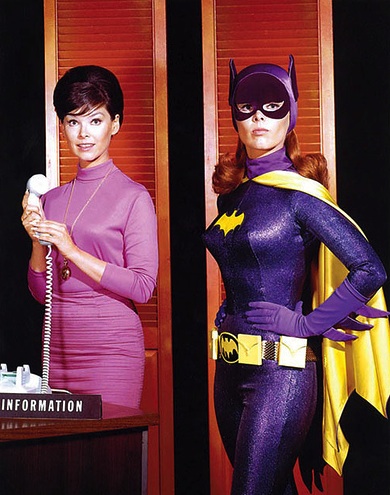 Without question, YVONNE CRAIG (born 1937) had the coolest TV credits of the Sixties: Batman, Mission: Impossible, Star Trek, 77 Sunset Strip, The Man From U.N.C.L.E., Wild Wild West. Even knowing that she was a trained dancer, it was startling to see her pop up in the documentary Ballet Russe. On the Sixties nerdboy's pinup girl rankings she'd come in third — just behind Diana Rigg as Mrs. Peel, and Julie Newmar as Catwoman. But how could you choose between Yvonne's two iconic roles, each so distinct and delectable: The Green-Skinned Girl on Star Trek or Batgirl? Oh yeah, and she dated Elvis.
***
On his or her birthday, HiLobrow irregularly pays tribute to one of our high-, low-, no-, or hilobrow heroes. Also born this date: Chester Brown, Tori Spelling, Studs Terkel, Margret Rey, Jonathan Richman.
READ MORE about members of the Anti-Anti-Utopian Generation (1934-43).