BLURB YOUR ENTHUSIASM (1)
By: Ran Xia
July 1, 2022
One in a series of 25 enthusiastic posts, contributed by 25 HILOBROW friends and regulars, delivering brief remarks on mottos, mantras, speeches, slogans, and other words to live by. Series edited by Adam McGovern.
*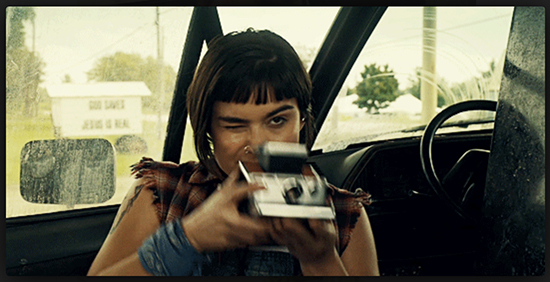 WHAT SAM BLACK CROW BELIEVES
Sam Black Crow believes in many things. That's the gist of it. What she said, everything she said in one peculiar, memorable, extended moment became my favourite quote, my mantra of life, as they say.
It rings out in my head like an old record in moments of crescendo… or moments of sinking to the rock bottom; it rings out somewhat differently each time, ever evolving, ever expanding, not because the words are metamorphic by nature, but because it's a, well, soliloquy, and I can't remember what exactly it says, ever — but the thing is, that's kind of exactly the point.
In Neil Gaiman's American Gods, Samantha Black Crow, a young half-Cherokee woman, gives Shadow Moon, the protagonist of the novel, a ride. And on the way, she spills the beans about everything there is to be human by listing everything she believes in.
The list includes Santa Claus and Easter Bunny and Beatles and Marilyn Monroe and sex and God and the lack of a god and reincarnation and the benefit of honesty and the benefit of little white lies and…
The list goes on.
"I believe that life is a game, that life is a cruel joke, and that life is what happens when you're alive and that you might as well lie back and enjoy it."
It gets hard to hold onto hope when life deals you a shitty hand, and boy if the house hasn't been on a vicious winning streak for the past… I shudder to pause and consider. So, these days, I prefer to take a page from Sam's book, and focus on the good bits. I believe in throw pillows, for instance, and soft blankets. I believe in hot showers and ice-cold coke when the time is right. I believe in morning coffees and bedtime teas. I believe in the healing power in the scent of fresh baked bread, and I believe in eating that cherry on top of your sundae instead of saving it for last, lest Murphy's law dictate that you drop it to the ground anyway. I believe in the magic that happens when a story gets told by the collective creativity of people who are kind, and are willing to see beauty even in the darkest of times. I believe in the fact that there is no winning in the game of life because that's never been the point anyway — because whenever there's a dewdrop trembling in the air before sunrise, there's a glimpse of hope, reflecting daylight.
***
BLURB YOUR ENTHUSIASM: INTRODUCTION by Adam McGovern | Ran Xia on BLACK CROW BELIEFS | Kelly Jean Fitzsimmons on LEFT-CORNER BRICK | Andrea Diaz on JOY IS RESISTANCE | Lynn Peril on TO THINE OWN SELF | Miranda Mellis on THE FUTURE IS PASSÉ | Bishakh Som on LET THE WEIRDNESS IN | Lucy Sante on FLAUBERT'S PERFECT WORD | Stefene Russell on CRYSTAL SETS | Crystal Durant on LIFE IS A BANQUET | Adam McGovern on EVERY MINUTE AN OCEAN | Josh Glenn on LUPUS LUPUM NON MORDET | Heather Quinlan on SHUT UP, HE EXPLAINED | Adrienne Crew on WATCH YOUR PENNIES | Art Wallace on COME ON AND GIVE A CHEER | Julia Lee Barclay-Morton on WILLIAM JAMES, UNADAPTED | Christopher-Rashee Stevenson on TO EACH HIS OWN | Nikhil Singh on ILLUMINATE OR DISSIPATE? | Mimi Lipson on CHEAP FOOD TASTES BETTER | Kahle Alford on NOT GONNA CRACK | Michele Carlo on YOU CAN'T ALWAYS GET WHAT YOU WANT | Marguerite Dabaie on WALKING ON WATER | Raymond Nat Turner on TRYIN' AND TRANEIN' | Bob Laine on WHEN YOU GROW UP | Fran Pado on THE SMILEY EMOJI | Deborah Wassertzug on PLACING YOUR BETS. PLUS: BLURB SERIES CODA by Lisa Levy.
MORE ENTHUSIASM at HILOBROW
CURVE YOUR ENTHUSIASM (3Q2023): PIZZA PURISM | BOY BANDS | THE '86 METS | LOVE ISLAND UK | LIVERWURST | & 20 other reconsidered enthusiasms. TEEN YOUR ENTHUSIASM (2Q2023): ANDY GIBB | VALERIE BERTINELLI | KIM WILDE | ARLO GUTHRIE | MIKE PATTON | & 20 other heartthrobs from our adolescences. DOLLY YOUR ENTHUSIASM (1Q2023): WE FOUND IT | TOGETHER AGAIN | SUNDAY MORNIN' COMIN' DOWN | BAD CASE OF THE BLUES | FANCY | & 20 other Sixties (1964–1973) Country records. KILL YOUR ENTHUSIASM (4Q2022): LT. TASHA YAR | JOYCE SUMMERS | COL. HENRY BLAKE | MRS. LANDINGHAM | ALEX KAMAL | & 20 other TV deaths. BLURB YOUR ENTHUSIASM (3Q2022): LEFT-CORNER BRICK | JOY IS RESISTANCE | THE FUTURE IS PASSÉ | EVERY MINUTE AN OCEAN | SHUT UP, HE EXPLAINED | & 20 other apothegms to live by. KOJAK YOUR ENTHUSIASM (2Q2022): ARK II | WKRP IN CINCINNATI | BUCK ROGERS | THE WHITE SHADOW | POLICE WOMAN | & 20 other Seventies (1974–1983) TV shows. KICK YOUR ENTHUSIASM (1Q2022): KUILL | CATO | COSMO | TRIXIE | VOLSTAGG | & 20 other sidekicks. NERD YOUR ENTHUSIASM (4Q2021): TIME | THE POST OFFICE | ARDUIN | DOUBT | SUMMATIONS | & 20 other nerdy passions. SWERVE YOUR ENTHUSIASM (3Q2021): WARHOL'S WALT WHITMAN | 70, GIRLS, 70 | TYRAEL'S MIGHT | SHIRATO SANPEI | THE LEON SUITES | & 20 other never-realized cultural productions. FIVE-O YOUR ENTHUSIASM (2Q2021): DARK SHADOWS | MANNIX | GET SMART | THE ADDAMS FAMILY | I DREAM OF JEANNIE | & 20 other Sixties (1964–1973) TV shows. FERB YOUR ENTHUSIASM (1Q2021): STEVEN UNIVERSE | TOP CAT | REN & STIMPY | SHE-RA AND THE PRINCESSES OF POWER | DRAGON BALL Z | & 20 other animated series. CARBONA YOUR ENTHUSIASM (2020): "Sex Bomb" | "Going Underground" | "Soft South Africans" | "Typical Girls" | "Human Fly" | & 20 other Seventies (1974–1983) punk singles. KLAATU YOU (2020 weekly): ZARDOZ | METROPOLIS | DARK STAR | SINS OF THE FLESHAPOIDS | SOLARIS | & dozens of other pre-STAR WARS sci-fi movies. CONVOY YOUR ENTHUSIASM (2019): THE TAKING OF PELHAM ONE TWO THREE | ROLLERBALL | BLACK SUNDAY | SORCERER | STRAIGHT TIME | & 20 other Seventies (1974–1983) action movies. SERIOCOMIC (2019 weekly): LITTLE LULU | VIZ | MARSUPILAMI | ERNIE POOK'S COMEEK | HELLBOY | & dozens of other comics. TUBE YOUR ENTHUSIASM (2018): LOONEY TUNES | THREE STOOGES | THE AVENGERS | ROCKY & BULLWINKLE | THE TWILIGHT ZONE | & 20 other Fifties (1954–1963) TV shows. WOWEE ZOWEE (2018 weekly): UNISEX | UNDER THE PINK | DUMMY | AMOR PROHIBIDO | HIPS AND MAKERS | & dozens of other Nineties (1994–2003) albums. KLUTE YOUR ENTHUSIASM (2017): THE KILLERS | BANDE À PART (BAND OF OUTSIDERS) | ALPHAVILLE | HARPER | BLOW-UP | & 20 other Sixties (1964–1973) neo-noir movies. #SQUADGOALS (2017 weekly): THE WILD BUNCH | BOWIE'S BAND | THE BLOOMSBURY GROUP | THE HONG KONG CAVALIERS | VI ÄR BÄST! & dozens of other squads. GROK MY ENTHUSIASM (2016 weekly): THE THEORY AND PRACTICE OF LUNCH | WEEKEND | MILLION YEAR PICNIC | LA BARONNE EMILE D'ERLANGER | THE SURVIVAL SAMPLER | & dozens more one-off enthusiasms. QUIRK YOUR ENTHUSIASM (2016): "Tainted Love" | "Metal" | "Frankie Teardrop" | "Savoir Faire" | "Broken English" | & 20 other Seventies (1974–1983) new wave singles. CROM YOUR ENTHUSIASM (2015): DARKER THAN YOU THINK | THE SWORD IN THE STONE | OUT OF THE SILENT PLANET | THIEVES' HOUSE | QUEEN OF THE BLACK COAST | & 20 other Thirties (1934–1943) fantasy novels. KERN YOUR ENTHUSIASM (2014): ALDINE ITALIC | DATA 70 | TORONTO SUBWAY | JOHNSTON'S "HAMLET" | TODD KLONE | & 20 other typefaces. HERC YOUR ENTHUSIASM (2013): "Spoonin' Rap" | "Rapper's Delight" | "Rappin' Blow" | "The Incredible Fulk" | "The Adventures of Super Rhyme" | & 20 other Seventies (1974–1983) hip-hop songs. KIRK YOUR ENTHUSIASM (2012): Justice or vengeance? | Kirk teaches his drill thrall to kiss | "KHAAAAAN!" | "No kill I" | Kirk browbeats NOMAD | & 20 other Captain Kirk scenes. KIRB YOUR ENTHUSIASM (2011): THE ETERNALS | BLACK MAGIC | DEMON | OMAC | CAPTAIN AMERICA | & 20 other Jack Kirby panels.