BLURB YOUR ENTHUSIASM (22)
By: Raymond Nat Turner
September 12, 2022
One in a series of 25 enthusiastic posts, contributed by 25 HILOBROW friends and regulars, delivering brief remarks on mottos, mantras, speeches, slogans, and other words to live by. Series edited by Adam McGovern.
*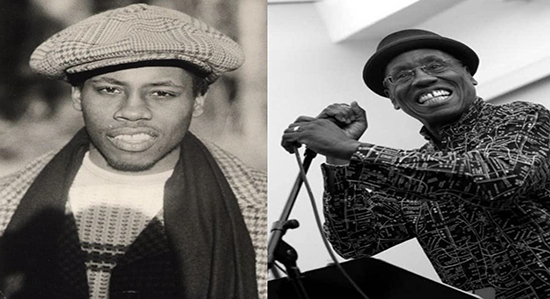 "I'm tryin', I'm Tranein'…"
In essence, "I'm tryin', I'm Tranein'" is my way of saying there's only one Jimmy Baldwin. One Amiri Baraka. One Sterling Brown. One Gwendolyn Brooks — those are just the B's, and I'm just "tryin'" to be the best Raymond I can be!
I'm "Tranein'" means I'm enthralled not only with the otherworldly music of the great John Coltrane but also the legendary practice regimen that birthed it. I get up on Toni-time, don my work clothes: faded grey Belichickian hoodie, matching sweatpants, holey socks and my poetic hardhat and steel-toed boots and go to work. I Trane. I teach myself by failing 7 out of 10 times like a Hall of Fame hitter.
I spent several years — wonderful, fabulous years — working for the great Jazz drummer Donald "Duck" Bailey. I was his manager, booker, publicist, promo person, roadie, MC and confidant. I made calls. I booked gigs, penned press releases. I schlepped and set up drums. I greeted guests and I introduced bands. More importantly, I got to hang out with and be mentored by the legendary drummer one or two days every week!
That translated into accompanying him on gigs with some of the most recognized and respected Jazz treasures: Barry Harris, Stanley Cowell, Ernestine Anderson, Cecil Payne, Junior Cook and many, many, many others. Those who know—know… To top that off, I also got to go with him when he visited the likes of Dizzy Gillespie, Max Roach, Art Blakey and Jazz organ master Jimmy Smith. In short, I was able to immerse myself in the world of Jazz weekly for about three years.
I remember constantly being blown away by brilliant performances! I recall greeting the artists with my unbridled enthusiasm. I exclaimed how great their work had been! And I remember — almost to a man— excepting the great Abbey Lincoln, who became a friend; and master "Ms. B.C." Betty Carter, who always inquired about "Duck"'s marital status — the musicians responded with some variant of, "Thank you, I'm just tryin' to play this music…" At first I found it strange, insincere or disingenuous. Surely they could see that they'd just blown the roof off the club or concert hall! Obviously they'd ignited five-alarm fires!
It was only later in my tenure with "Duck" that I came to understand the appropriateness of their responses. They knew that that night in New Orleans, Denver, Detroit, Boston, Philly — not to mention Jazz headquarters: NYC — others, known and unknown, had also blown roofs off clubs and concert halls. And ignited their own five-alarm fires. They profoundly understood that while appreciating my appreciation for their dazzling craft, their stellar musicianship, they'd have to hurry home to "shed" — just to keep up. On top of that, they knew how high the bar had been set by Miles, Monk, Mingus and Max — and that's just the M's… there's Charlie Parker, Dizzy Gillespie, Sarah Vaughn, Ella Fitzgerald, Art Tatum — and a list that goes on and on and on…
I grew up surrounded by Jazz. My Mom bought a Jazz album every week. She also bought a bunch of books. I found Jazz icons the most authentic representatives of African-American culture. They had a unique language and style of dress that blended business, pulpit and underworld. It's the Jazz subculture that most informs my artistic sensibilities. I entered the literary world by chance.
Tommy Lewis, my best friend at the time, was killed by the LAPD along with two other Black Panther Party members, Robert Lawrence and Steve Bartholomew. It was his death that occasioned my first poem. I read it publicly at LACC's "Breakaway" and was subsequently dubbed "The People's Poet" by one prominent political activist and BSU leader. There was more where that came from. The sobriquet stuck and grew almost too big for me…
As a nineteen-year-old I opened for the great James Baldwin on an LA Southwest College football field before a crowd of about eight thousand. This event requires a chapter of its own. Lesson #1, at that stage I didn't understand opening as I do today. As a seasoned adult I once opened for progressive sportswriter Dave Zirin for the launch of his book, What's My Name, Fool: Sports and Resistance in the United States, sponsored by the Oakland Public Library. I set up my poem "100 Librarians" with an anecdote about my nieces, mentees of Venus and Serena and graduates of Atlanta's Clark University on tennis scholarships. 3 minutes! I opened for Dave Zirin in 3 minutes. Not so with Baldwin waiting in the wings… I went on and on… Everything I read was greeted by thunderous applause. If they liked that… and so it went. I wish I'd been at the Apollo. The Sandman would have come out and got me off!
There's more to this story. My Mom was honored with over 130 awards for her community organizing, activism and service. Her awards included everything from plaques and scrolls to two brand new cars. She was one of the founders of both the Charles Drew Postgraduate Medical School and the Martin Luther King, Jr. General Hospital in South Los Angeles. She was also at home when I returned from making my second Baldwin-related faux pas.
After opening for Baldwin on the football field at Southwest, the BSU students invited me to read my poetry at a separate event a week or so later. I arrived with my "entourage" and there were 50–60 students waiting. Unbelievably, I said something to the effect that there weren't enough people and left! I'm still embarrassed by my egoistic behavior to this day. I was becoming a casualty of my own success.
Thankfully my Mom was there when I returned from this terrible blunder. I recall her compassionate smile saying, "Baby, you always give your best whether there are 2,000 or 2 there…" Karma is a mutha — in 2006 our JazzPoetry ensemble UpSurge! did a six date "mini-tour" of NYC. After two very successful outings at the Bowery Poetry Club in Manhattan and Medgar Evers College in Brooklyn, our next date at a Brooklyn venue, Galapagos, was different. We had the audience of 2 my Mom had foreshadowed. One guest I'd invited — the other was his date. Of course I remembered the 50-60 students I stood up at Southwest. I also heard my Mom's warm, loving voice in my ear…
Fast forward to everyday life in NYC. One morning I entered the weight room at the gym and a 95-year-old elder said, "You're the Town Crier!" I find that I'm always "Tryin', and Tranein'… to live up to "Town Crier" status as I did with that of "People's Poet"…
[Photos courtesy of the author: Left, a young "People's Poet" in L.A.; Right, a mature "Town Crier" performing with the JazzPoetry ensemble UpSurge!NYC he co-leads, during a Frederick Douglass Day Celebration at National Writers Union/UAW offices in NYC circa 2018]
***
BLURB YOUR ENTHUSIASM: INTRODUCTION by Adam McGovern | Ran Xia on BLACK CROW BELIEFS | Kelly Jean Fitzsimmons on LEFT-CORNER BRICK | Andrea Diaz on JOY IS RESISTANCE | Lynn Peril on TO THINE OWN SELF | Miranda Mellis on THE FUTURE IS PASSÉ | Bishakh Som on LET THE WEIRDNESS IN | Lucy Sante on FLAUBERT'S PERFECT WORD | Stefene Russell on CRYSTAL SETS | Crystal Durant on LIFE IS A BANQUET | Adam McGovern on EVERY MINUTE AN OCEAN | Josh Glenn on LUPUS LUPUM NON MORDET | Heather Quinlan on SHUT UP, HE EXPLAINED | Adrienne Crew on WATCH YOUR PENNIES | Art Wallace on COME ON AND GIVE A CHEER | Julia Lee Barclay-Morton on WILLIAM JAMES, UNADAPTED | Christopher-Rashee Stevenson on TO EACH HIS OWN | Nikhil Singh on ILLUMINATE OR DISSIPATE? | Mimi Lipson on CHEAP FOOD TASTES BETTER | Kahle Alford on NOT GONNA CRACK | Michele Carlo on YOU CAN'T ALWAYS GET WHAT YOU WANT | Marguerite Dabaie on WALKING ON WATER | Raymond Nat Turner on TRYIN' AND TRANEIN' | Bob Laine on WHEN YOU GROW UP | Fran Pado on THE SMILEY EMOJI | Deborah Wassertzug on PLACING YOUR BETS. PLUS: BLURB SERIES CODA by Lisa Levy.
MORE ENTHUSIASM at HILOBROW
STOOGE YOUR ENTHUSIASM (4Q2023): MOVE ON FAST | 96 TEARS | SHE CRACKED | WHAT A WAY TO DIE | PSYCHOTIC REACTION | & 20 other Sixties (1964–1973) proto-punk songs. CURVE YOUR ENTHUSIASM (3Q2023): PIZZA PURISM | BOY BANDS | THE '86 METS | LOVE ISLAND UK | ELTON JOHN | & 20 other reconsidered enthusiasms. TEEN YOUR ENTHUSIASM (2Q2023): ANDY GIBB | VALERIE BERTINELLI | KIM WILDE | ARLO GUTHRIE | MIKE PATTON | & 20 other heartthrobs from our adolescences. DOLLY YOUR ENTHUSIASM (1Q2023): WE FOUND IT | TOGETHER AGAIN | SUNDAY MORNIN' COMIN' DOWN | BAD CASE OF THE BLUES | FANCY | & 20 other Sixties (1964–1973) Country records. KILL YOUR ENTHUSIASM (4Q2022): LT. TASHA YAR | JOYCE SUMMERS | COL. HENRY BLAKE | MRS. LANDINGHAM | ALEX KAMAL | & 20 other TV deaths. BLURB YOUR ENTHUSIASM (3Q2022): LEFT-CORNER BRICK | JOY IS RESISTANCE | THE FUTURE IS PASSÉ | EVERY MINUTE AN OCEAN | SHUT UP, HE EXPLAINED | & 20 other apothegms to live by. KOJAK YOUR ENTHUSIASM (2Q2022): ARK II | WKRP IN CINCINNATI | BUCK ROGERS | THE WHITE SHADOW | POLICE WOMAN | & 20 other Seventies (1974–1983) TV shows. KICK YOUR ENTHUSIASM (1Q2022): KUILL | CATO | COSMO | TRIXIE | VOLSTAGG | & 20 other sidekicks. NERD YOUR ENTHUSIASM (4Q2021): TIME | THE POST OFFICE | ARDUIN | DOUBT | SUMMATIONS | & 20 other nerdy passions. SWERVE YOUR ENTHUSIASM (3Q2021): WARHOL'S WALT WHITMAN | 70, GIRLS, 70 | TYRAEL'S MIGHT | SHIRATO SANPEI | THE LEON SUITES | & 20 other never-realized cultural productions. FIVE-O YOUR ENTHUSIASM (2Q2021): DARK SHADOWS | MANNIX | GET SMART | THE ADDAMS FAMILY | I DREAM OF JEANNIE | & 20 other Sixties (1964–1973) TV shows. FERB YOUR ENTHUSIASM (1Q2021): STEVEN UNIVERSE | TOP CAT | REN & STIMPY | SHE-RA AND THE PRINCESSES OF POWER | DRAGON BALL Z | & 20 other animated series. CARBONA YOUR ENTHUSIASM (2020): "Sex Bomb" | "Going Underground" | "Soft South Africans" | "Typical Girls" | "Human Fly" | & 20 other Seventies (1974–1983) punk singles. KLAATU YOU (2020 weekly): ZARDOZ | METROPOLIS | DARK STAR | SINS OF THE FLESHAPOIDS | SOLARIS | & dozens of other pre-STAR WARS sci-fi movies. CONVOY YOUR ENTHUSIASM (2019): THE TAKING OF PELHAM ONE TWO THREE | ROLLERBALL | BLACK SUNDAY | SORCERER | STRAIGHT TIME | & 20 other Seventies (1974–1983) action movies. SERIOCOMIC (2019 weekly): LITTLE LULU | VIZ | MARSUPILAMI | ERNIE POOK'S COMEEK | HELLBOY | & dozens of other comics. TUBE YOUR ENTHUSIASM (2018): LOONEY TUNES | THREE STOOGES | THE AVENGERS | ROCKY & BULLWINKLE | THE TWILIGHT ZONE | & 20 other Fifties (1954–1963) TV shows. WOWEE ZOWEE (2018 weekly): UNISEX | UNDER THE PINK | DUMMY | AMOR PROHIBIDO | HIPS AND MAKERS | & dozens of other Nineties (1994–2003) albums. KLUTE YOUR ENTHUSIASM (2017): THE KILLERS | BANDE À PART (BAND OF OUTSIDERS) | ALPHAVILLE | HARPER | BLOW-UP | & 20 other Sixties (1964–1973) neo-noir movies. #SQUADGOALS (2017 weekly): THE WILD BUNCH | BOWIE'S BAND | THE BLOOMSBURY GROUP | THE HONG KONG CAVALIERS | VI ÄR BÄST! & dozens of other squads. GROK MY ENTHUSIASM (2016 weekly): THE THEORY AND PRACTICE OF LUNCH | WEEKEND | MILLION YEAR PICNIC | LA BARONNE EMILE D'ERLANGER | THE SURVIVAL SAMPLER | & dozens more one-off enthusiasms. QUIRK YOUR ENTHUSIASM (2016): "Tainted Love" | "Metal" | "Frankie Teardrop" | "Savoir Faire" | "Broken English" | & 20 other Seventies (1974–1983) new wave singles. CROM YOUR ENTHUSIASM (2015): DARKER THAN YOU THINK | THE SWORD IN THE STONE | OUT OF THE SILENT PLANET | THIEVES' HOUSE | QUEEN OF THE BLACK COAST | & 20 other Thirties (1934–1943) fantasy novels. KERN YOUR ENTHUSIASM (2014): ALDINE ITALIC | DATA 70 | TORONTO SUBWAY | JOHNSTON'S "HAMLET" | TODD KLONE | & 20 other typefaces. HERC YOUR ENTHUSIASM (2013): "Spoonin' Rap" | "Rapper's Delight" | "Rappin' Blow" | "The Incredible Fulk" | "The Adventures of Super Rhyme" | & 20 other Seventies (1974–1983) hip-hop songs. KIRK YOUR ENTHUSIASM (2012): Justice or vengeance? | Kirk teaches his drill thrall to kiss | "KHAAAAAN!" | "No kill I" | Kirk browbeats NOMAD | & 20 other Captain Kirk scenes. KIRB YOUR ENTHUSIASM (2011): THE ETERNALS | BLACK MAGIC | DEMON | OMAC | CAPTAIN AMERICA | & 20 other Jack Kirby panels.