Best 1963 Adventures (4)
By: Joshua Glenn
September 11, 2018
One in a series of 10 posts identifying Josh Glenn's favorite 1963 adventure novels. Happy 55th anniversary!
*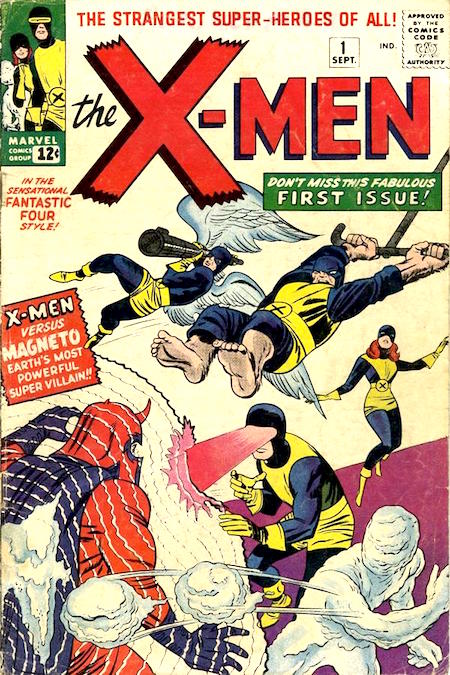 Stan Lee and Jack Kirby's sci-fi comic book series The X-Men (Sept. 1963–on).
Professor Charles Xavier, a powerful though wheelchair-bound telepath, gathers teenage mutant misfits to his School for Gifted Youngsters in upstate New York — and trains them to hone their talents, and work together as a team… as a first line of defense against evil mutants who seek to conquer and enslave humankind in the name of homo superior. Some comic-book exegetes claim Lee and Kirby's comic is a ripoff of DC's Doom Patrol superhero team — who first appeared in My Greatest Adventure (June 1963) — but what's so compelling about The X-Men, like Lee and Kirby's Fantastic Four and Avengers, is their dissensual, quarrelsome unity — their "non-totalizing totality," if you will. The first 19 issues, written by Lee, feature the team of Cyclops (Scott Summers), Marvel Girl (Jean Grey), Angel (Warren Worthington III), Beast (Hank McCoy), and Iceman (Bobby Drake). They battle Magneto and his Brotherhood of Evil Mutants (including Scarlet Witch and Quicksilver); giant robots programmed to destroy mutants; and Juggernaut.
Fun fact: The X-Men met with a lukewarm reception. The title was cancelled in 1970, to resurface in 1975 after Giant-Size X-Men debuted a new team. There have been eleven recent X-Men (and X-Men spinoff) films: X-Men, X2, X-Men: First Class, The Wolverine, X-Men: Days of Future Past, Deadpool, Logan, and Deadpool 2.
***
MORE JACK KIRBY at HILOBROW: Douglas Rushkoff on THE ETERNALS | John Hilgart on BLACK MAGIC | Gary Panter on DEMON | Dan Nadel on OMAC | Deb Chachra on CAPTAIN AMERICA | Mark Frauenfelder on KAMANDI | Jason Grote on MACHINE MAN | Ben Greenman on SANDMAN | Annie Nocenti on THE X-MEN | Greg Rowland on THE FANTASTIC FOUR | Joshua Glenn on TALES TO ASTONISH | Lynn Peril on YOUNG LOVE | Jim Shepard on STRANGE TALES | David Smay on MISTER MIRACLE | Joe Alterio on BLACK PANTHER | Sean Howe on THOR | Mark Newgarden on JIMMY OLSEN | Dean Haspiel on DEVIL DINOSAUR | Matthew Specktor on THE AVENGERS | Terese Svoboda on TALES OF SUSPENSE | Matthew Wells on THE NEW GODS | Toni Schlesinger on REAL CLUE | Josh Kramer on THE FOREVER PEOPLE | Glen David Gold on JOURNEY INTO MYSTERY | Douglas Wolk on 2001: A SPACE ODYSSEY | MORE EXEGETICAL COMMENTARIES: Joshua Glenn on Kirby's Radium Age Sci-Fi Influences | Chris Lanier on Kirby vs. Kubrick | Scott Edelman recalls when the FF walked among us | Adam McGovern is haunted by a panel from THE NEW GODS | Matt Seneca studies the sensuality of Kirby's women | Btoom! Rob Steibel settles the Jack Kirby vs. Stan Lee question | Galactus Lives! Rob Steibel analyzes a single Kirby panel in six posts | Danny Fingeroth figgers out The Thing | Adam McGovern on four decades (so far) of Kirby's "Fourth World" mythos | Jack Kirby: Anti-Fascist Pipe Smoker |
JOSH GLENN'S *BEST ADVENTURES* LISTS: BEST 250 ADVENTURES OF THE 20TH CENTURY | 100 BEST OUGHTS ADVENTURES | 100 BEST RADIUM AGE (PROTO-)SCI-FI ADVENTURES | 100 BEST TEENS ADVENTURES | 100 BEST TWENTIES ADVENTURES | 100 BEST THIRTIES ADVENTURES | 75 BEST GOLDEN AGE SCI-FI ADVENTURES | 100 BEST FORTIES ADVENTURES | 100 BEST FIFTIES ADVENTURES | 100 BEST SIXTIES ADVENTURES | 75 BEST NEW WAVE SCI FI ADVENTURES | 100 BEST SEVENTIES ADVENTURES | 100 BEST EIGHTIES ADVENTURES | 75 BEST DIAMOND AGE SCI-FI ADVENTURES | 100 BEST NINETIES ADVENTURES (in progress) | 1994 | 1995 | 1996 | 1997 | 1998 | 1999 | 2000 | 2001 | 2002 | 2003 | NOTES ON 21st-CENTURY ADVENTURES.