COOLING OFF THE COMMOTION (9)
By: Chenjerai Kumanyika
November 18, 2017
One in a series of posts featuring writing, music, and podcasting by HILOBROW friend Chenjerai Kumanyika.
UNCIVIL is a history podcast, hosted by Chenjerai and journalist Jack Hitt, which goes back to the time our divisions turned into a war, and brings us stories left out of the official history. The episode featured here, "The Soldiers" is about this topic: "A woman discovers a secret that the government long tried to keep hidden: a secret about who exactly fought in the Civil War."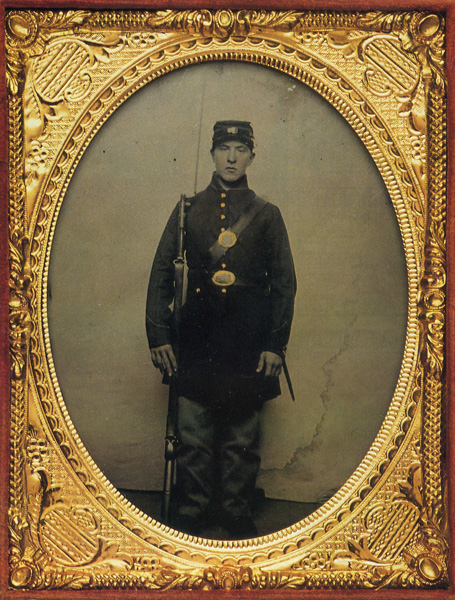 Transcript excerpt:
Chenjerai Kumanyika: Which brings us to this one last woman from the Civil War we learned about who took passing as a white guy to a whole other level. I heard about her from a woman named Yvette Blake, a retired US Army soldier.
Yvette Blake: I'm a reenactor with the 23rd United States Colored Troops. I portray a female portraying a male.
CK: The woman she told us about was named Maria Lewis.
YB: Maria Lewis was a slave in Virginia, she was about 17 years old, and she escaped to the Union Army. And she went and disguised herself as a man and joined the 8th New York Cavalry, which was a white unit.
CK: I just want to make sure you caught that. Maria Lewis escaped from slavery. As a teenager. She put on a uniform, and fought in the Union cavalry for almost two years, as a white man.
YB: She rode a horse and carried a sword and carbine just like a man. And she went by the name of George Harris.
JH: Maria's plan was to spend only a short time disguised as a man in the Army, to use enlisting as a way to escape to the North and true freedom. But that turned out to be harder than she expected. And then she realized she kicked ass as a soldier. And kinda liked it.
CK: In one battle, her unit took 500 prisoners and captured 17 flags and when a few soldiers were selected to present them to the Secretary of War, George Harris aka Maria Lewis was among them.
CK: For Yvette, learning about Maria changed the way she thought the role of black women in the Civil War.
YB: I mean, I'm just, just just to know that these women existed and did these things. You know, they helped free themselves. And that's what's important to me
Jack Hitt: Like all reenactors, Yvette wants us to see the authentic version of the Civil War, only this version includes women like Maria.
YB: I want people to know, I want my grandkids to know these women, who they were.
***
CURATED SERIES at HILOBROW: UNBORED CANON by Josh Glenn | CARPE PHALLUM by Patrick Cates | MS. K by Heather Kasunick | HERE BE MONSTERS by Mister Reusch | DOWNTOWNE by Bradley Peterson | #FX by Michael Lewy | PINNED PANELS by Zack Smith | TANK UP by Tony Leone | OUTBOUND TO MONTEVIDEO by Mimi Lipson | TAKING LIBERTIES by Douglas Wolk | STERANKOISMS by Douglas Wolk | MARVEL vs. MUSEUM by Douglas Wolk | NEVER BEGIN TO SING by Damon Krukowski | WTC WTF by Douglas Wolk | COOLING OFF THE COMMOTION by Chenjerai Kumanyika | THAT'S GREAT MARVEL by Douglas Wolk | LAWS OF THE UNIVERSE by Chris Spurgeon | IMAGINARY FRIENDS by Alexandra Molotkow | UNFLOWN by Jacob Covey | ADEQUATED by Franklin Bruno | QUALITY JOE by Joe Alterio | CHICKEN LIT by Lisa Jane Persky | PINAKOTHEK by Luc Sante | ALL MY STARS by Joanne McNeil | BIGFOOT ISLAND by Michael Lewy | NOT OF THIS EARTH by Michael Lewy | ANIMAL MAGNETISM by Colin Dickey | KEEPERS by Steph Burt | AMERICA OBSCURA by Andrew Hultkrans | HEATHCLIFF, FOR WHY? by Brandi Brown | DAILY DRUMPF by Rick Pinchera | BEDROOM AIRPORT by "Parson Edwards" | INTO THE VOID by Charlie Jane Anders | WE REABSORB & ENLIVEN by Matthew Battles | BRAINIAC by Joshua Glenn | COMICALLY VINTAGE by Comically Vintage | BLDGBLOG by Geoff Manaugh | WINDS OF MAGIC by James Parker | MUSEUM OF FEMORIBILIA by Lynn Peril | ROBOTS + MONSTERS by Joe Alterio | MONSTOBER by Rick Pinchera | POP WITH A SHOTGUN by Devin McKinney | FEEDBACK by Joshua Glenn | 4CP FTW by John Hilgart | ANNOTATED GIF by Kerry Callen | FANCHILD by Adam McGovern | BOOKFUTURISM by James Bridle | NOMADBROW by Erik Davis | SCREEN TIME by Jacob Mikanowski | FALSE MACHINE by Patrick Stuart | 12 DAYS OF SIGNIFICANCE | 12 MORE DAYS OF SIGNIFICANCE | 12 DAYS OF SIGNIFICANCE (AGAIN) | ANOTHER 12 DAYS OF SIGNIFICANCE | UNBORED MANIFESTO by Joshua Glenn and Elizabeth Foy Larsen | H IS FOR HOBO by Joshua Glenn | 4CP FRIDAY by guest curators