IMAGINARY FRIENDS (4)
By: Alexandra Molotkow
August 26, 2017
One in a series of ten posts reprinting HILOBROW friend Alexandra Molotkow's profiles of figures who've loomed large in her personal pantheon.
Originally published in the Globe and Mail on Aug 14, 2014.
I'm a child of MuchMusic, but even in the nineties, music videos were thought of (at least by certain parents) as extraneous, crass — something apart from The Art, which threatened its integrity. Now, people are used to getting their music as part of an audiovisual onslaught. The song is part of a grid of associated projects. This is marketing, but the difference between art and marketing is indistinct: Beats by Dre ads are also music videos, Saturday Night Live specials promote the latest Arcade Fire. Videos sell albums, but the album isn't necessarily the point; sometimes the marketing is the art.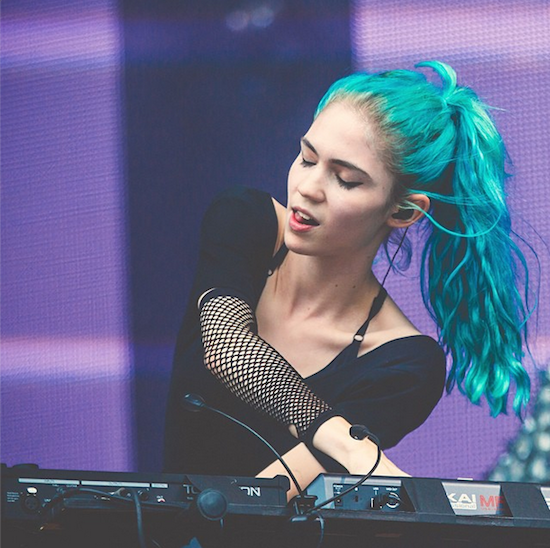 For acts with limited resources, branding is both a creative endeavor and a necessity. Two years ago I watched John O'Regan, a.k.a. Diamond Rings, a formerly independent act who'd recently signed with a major, and his creative director, Lisa Howard, who is also his cousin, work on the visual campaign for his upcoming record in her basement apartment. Howard is a makeup artist, while O'Regan has a degree in fine art; for them, hype building was a project, and a challenge, to see how big they could make themselves with a small projector. Their ambition was part of the show — an earnest pose, shared by artists such as Claire Boucher, or Grimes, who recorded her last album, 2012's Visions, in her Montreal apartment. "I really hate being in front of people," she told Pitchfork's Carrie Battan around its release. "I'm also obsessed with becoming a pop star." Last December, Boucher announced that she had signed a deal with Jay-Z's Roc Nation, whose website refers to Grimes as Boucher's "multimedia project"; in June, she released a song that had been written for, and rejected by, Rihanna.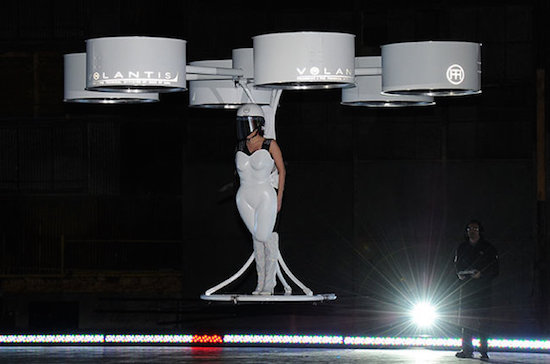 Small acts take cues from huge ones, just as huge acts ape the small, but artists whose show is the work of many hands have to project a sense of creative control. Lady Gaga's solid pop hits earned her an audience, while her team of creative collaborators made her a living parade float. But two of its most essential members quit before the release of her most recent album, ARTPOP, which was launched with an "artRave" at the Brooklyn Navy Yard. There, Gaga took a ride in a hulking "flying dress" designed by her tech team, and performed in front of a Jeff Koons sculpture in her likeness, flailing from side to side in an inflatable suit like a drunk accosting a pedestrian. The effect was as blinding as blue fluorescent, making it hard to tell where she was coming from: Gaga may well have good ideas, but she tends to throw money at them until they're buried under giant piles of money.
The artist needs a persona interesting enough, or absent enough, to fascinate consumers with a million other bids on their attention, and that persona needs to laser-cut through the spectacle walled around them. This goes for acts large and small, though very few acts, large or small, have pulled it off as well as FKA twigs, who'd made herself iconic before releasing her first LP this Tuesday. Twigs is one of very few artists to make her own spectacle convincingly: a sensibility that flows across disciplines, the aura surrounding her has grown so naturally that it's no surprise her album, LP1, meets all accumulated expectations – not that LP1 needs to be the focal point for her project.
Born Tahliah Barnett in Gloucestershire, in 1988, twigs (she spells it lowercase) started out as a dancer, appearing onstage and in videos for major pop acts, before realizing that, as she told Zane Lowe of BBC, she loved dancing to music more than dancing itself. In 2012, she released a video for the song Hide: Co-directed with a friend, the filmmaker Grace Ladoja, it showed her torso in black and white, hyperreal against a red background, hands creeping toward, but never touching, the tip of an anthurium between her legs.
Her music has been filed under trip-hop and alternative R&B, but from the beginning, twigs seemed to come with her own genre: high, trembling vocals exuding both vulnerability and strength; shifting tempos and disappearing melodies; sound effects as cryptic and precise as machine innards. More videos, created with Ladoja and the stunning Jesse Kanda — the best friend and roommate of producer Arca, with whom she's also worked — made her seem like a subculture unto herself, a foregone star. Without a full-length under her belt, she was filling venues like New York's Webster Hall and Toronto's Danforth Music Hall.
It isn't just her music, or her videos, or her movement — or her style, or her beauty. It's the fact that all of it seems to issue from the same mysterious place. The work is excellent, but just as impressive is the fact that it all manifests the same ineffable thing. Her show is more than music because she's more than a musician.
To talk about "integrity" feels outdated: it smacks of an attitude that sees the well-presented as phony, and the phony as impure. But it's important that a spectacle feel like the outgrowth of a real idea. An audience needs to trust the figure throwing abstractions — to have faith that she's tapped into whatever makes it make sense. You could say that twigs's success is a triumph for DIY — she's made herself a sensation with just a small community of well-chosen collaborators — but artists are rarely ingenious enough to pull this off. For me, twigs is a cause for optimism, proof of how pop is evolving. What I love about music, or any art form, is the sense of a world I want to spend time in; twigs shows how expansive a world can be.
***
CURATED SERIES at HILOBROW: UNBORED CANON by Josh Glenn | CARPE PHALLUM by Patrick Cates | MS. K by Heather Kasunick | HERE BE MONSTERS by Mister Reusch | DOWNTOWNE by Bradley Peterson | #FX by Michael Lewy | PINNED PANELS by Zack Smith | TANK UP by Tony Leone | OUTBOUND TO MONTEVIDEO by Mimi Lipson | TAKING LIBERTIES by Douglas Wolk | STERANKOISMS by Douglas Wolk | MARVEL vs. MUSEUM by Douglas Wolk | NEVER BEGIN TO SING by Damon Krukowski | WTC WTF by Douglas Wolk | COOLING OFF THE COMMOTION by Chenjerai Kumanyika | THAT'S GREAT MARVEL by Douglas Wolk | LAWS OF THE UNIVERSE by Chris Spurgeon | IMAGINARY FRIENDS by Alexandra Molotkow | UNFLOWN by Jacob Covey | ADEQUATED by Franklin Bruno | QUALITY JOE by Joe Alterio | CHICKEN LIT by Lisa Jane Persky | PINAKOTHEK by Luc Sante | ALL MY STARS by Joanne McNeil | BIGFOOT ISLAND by Michael Lewy | NOT OF THIS EARTH by Michael Lewy | ANIMAL MAGNETISM by Colin Dickey | KEEPERS by Steph Burt | AMERICA OBSCURA by Andrew Hultkrans | HEATHCLIFF, FOR WHY? by Brandi Brown | DAILY DRUMPF by Rick Pinchera | BEDROOM AIRPORT by "Parson Edwards" | INTO THE VOID by Charlie Jane Anders | WE REABSORB & ENLIVEN by Matthew Battles | BRAINIAC by Joshua Glenn | COMICALLY VINTAGE by Comically Vintage | BLDGBLOG by Geoff Manaugh | WINDS OF MAGIC by James Parker | MUSEUM OF FEMORIBILIA by Lynn Peril | ROBOTS + MONSTERS by Joe Alterio | MONSTOBER by Rick Pinchera | POP WITH A SHOTGUN by Devin McKinney | FEEDBACK by Joshua Glenn | 4CP FTW by John Hilgart | ANNOTATED GIF by Kerry Callen | FANCHILD by Adam McGovern | BOOKFUTURISM by James Bridle | NOMADBROW by Erik Davis | SCREEN TIME by Jacob Mikanowski | FALSE MACHINE by Patrick Stuart | 12 DAYS OF SIGNIFICANCE | 12 MORE DAYS OF SIGNIFICANCE | 12 DAYS OF SIGNIFICANCE (AGAIN) | ANOTHER 12 DAYS OF SIGNIFICANCE | UNBORED MANIFESTO by Joshua Glenn and Elizabeth Foy Larsen | H IS FOR HOBO by Joshua Glenn | 4CP FRIDAY by guest curators