INTO THE GROVE (14)
By: Brian Berger
May 26, 2017
One in a series of posts, by long-time HILOBROW friend and contributor Brian Berger, celebrating perhaps America's most exciting and controversial publisher: Barney Rosset's Grove Press.
*
Two Plays by Jean Genet: Maids, Death Watch (1947, 1954), translated by Bernard Frechtman
Jean Genet The Balcony: A Play (1958), translated by Bernard Frechtman
Jean Genet's The Blacks: A Clown Show (1958, 1960), translated by Bernard Frechtman
Jean Genet's The Screens (1961, 1963), translated by Bernard Frechtman
Jean Genet's Our Lady of the Flowers (1943, 1963), introduction by Jean-Paul Sarte translated by Bernard Frechtman
Jean Genet's Thief's Journal (1949, 1964) foreword by Jean-Paul Sartre, translated by Bernard Frechtman
Hubert Selby Jr.'s Last Exit to Brooklyn (1964)
Jean Genet's Miracle of the Rose (1946, 1966) translated by Bernard Frechtman
Jean Genet's Funeral Rites (1948, 1969) translated by Bernard Frechtman
Richard N. Coe's The Vision of Jean Genet (1969)
All cover designs by Roy Kuhlman
***
Vinnie was 12 the first time he was arrested. He had stolen a hearse.
— from "The Queen is Dead," Last Exit to Brooklyn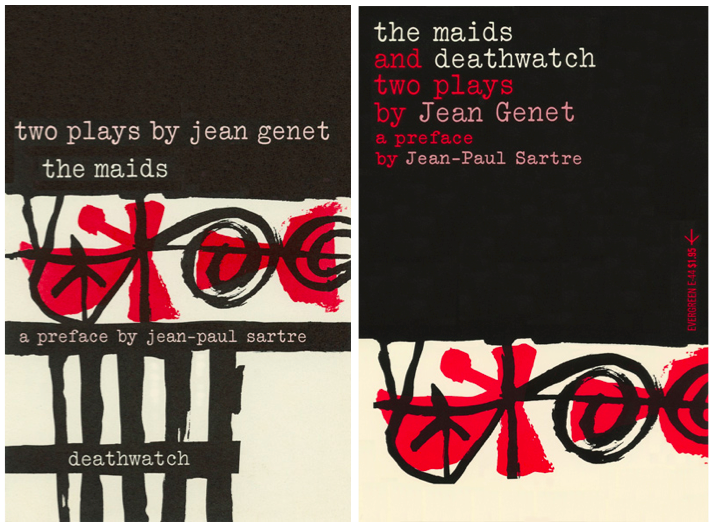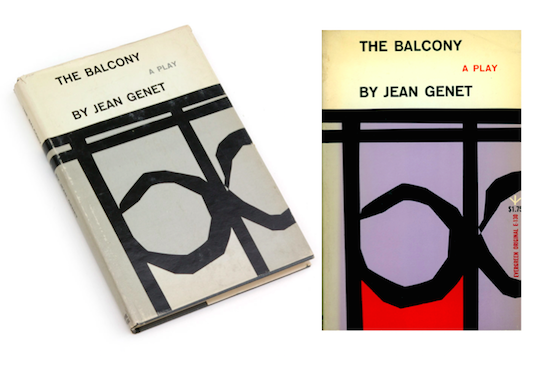 As with the works of Samuel Beckett (see Into The Grove 8), in America the writings of Jean Genet (1910–1986) are indelibly associated with Grove Press, Barney Rosset and, in their finest presentations, the book covers of Roy Kuhlman. As they lacked the explicit, censor-rousing gay sex scenes of his novels, Genet's theater works came first. Following the legal triumphs of Lady Chatterley's Lover (see Into The Grove 12), and Tropic of Cancer, then Genet's fiction would follow, as would the startling debut novel of the man Jack Kerouac once called "our veritable little old Genet," Hubert Selby Jr. (1928–2004).
Notable among Genet's plays are the differences between the hardcover and paperback editions — seeing the black and white versions of a Kuhlman cover well-known in color can be quite disorienting — and, in later printings, the paperbacks themselves. The later novels stand out for their photographic covers — including portraits by George Brassaï and Emil Cadoo — and if you have the looks, why not? Flaunt it.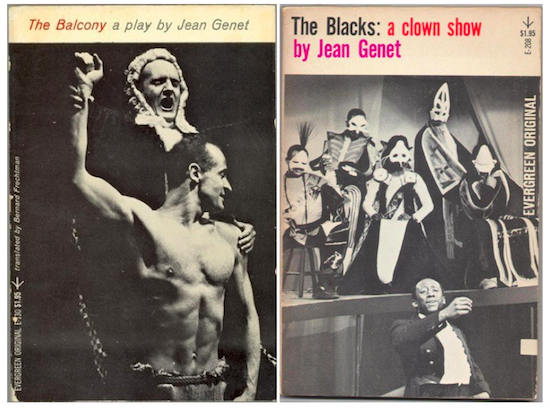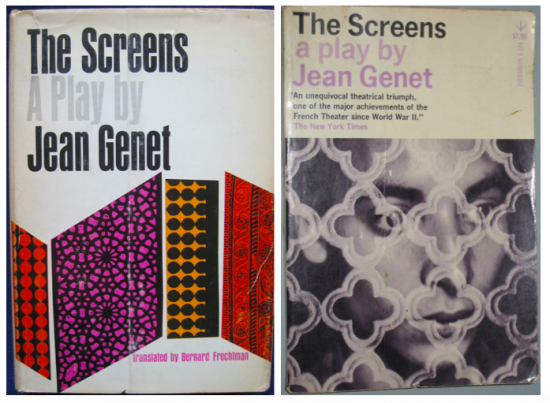 The guys slowly snapped out of the goof and soon the bennie got to their tongues too and everybody yakked. Goldie said she felt ever so much better. I guess I needed a good cry and she passed around the bennie again and they all popped bennie and sipped hot coffee and Goldie sat next to Malfie and asked and asked him if he was enjoying himself, and he said yeah, Im havin a ball; and Goldie just floated along on a soft purple cloud, feeling luxurious and slightly smug: a handsome piece of trade between her; wonderful girl friends; and a beautiful bennie connection in the corner drugstore where she could get a dozen 10 grain tablets for 50¢. O this is divine. I mean the candlelight and everything… it brings to mind Genet. Genet? I fail to see how this reminds you of her. Whose this junay? A french writer Vinnie. I really don't see how all this gloom reminds you of Genet
— from "The Queen is Dead," Last Exit to Brooklyn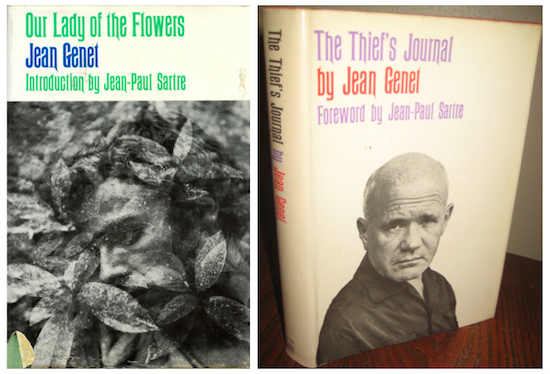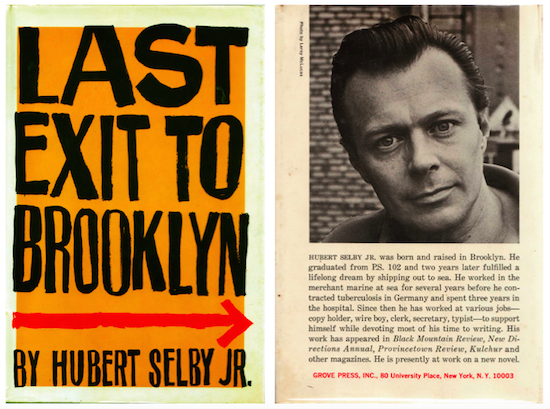 Hubert Selby Jr. was born and raised in Brooklyn. He graduated from P.S. 102 and two years later fulfilled a lifelong dream by shipping out to sea. He worked in the merchant marine at sea for several years before he contracted tuberculosis in Germany and spent three years in the hospital. Since then he has worked at various jobs — copy holder, wire boy, clerk, secretary, typist — to support himself while writing. His work has appeared in Black Mountain Review, New Directions Annual, Provincetown Review, Kulchur and other magazines. He is presently at work on a new novel.
On the Gowanus Expressway, just before the entrance to the Battery tunnel, there is a sign that says "Last Exit to Brooklyn." Leave the expressway at that exit and you find yourself in a jungle of waterfront docks, factory buildings, shabby bars, slum houses, and towering city apartment projects for the poor. Here live the people Hubert Selby writes about with unparalleled vigor and violence: toughs and thugs, soldiers and sailors, pimps and whores, johns and queers, with, on the fringes, the omnipresent, sullen cops — the dispossessed and downtrodden of the contemporary urban world.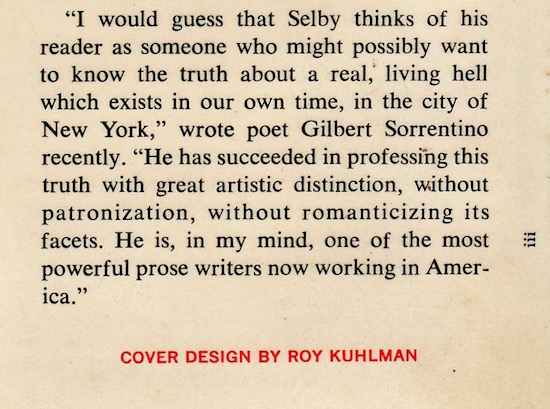 "I would guess that Selby thinks of his reader as someone who might possibly want to know the truth about a real, living hell which exists in our own time, in the city of New York," wrote poet Gilbert Sorrentino recently. "He has succeeded in professing this truth with great artistic distinction, without patronization, without romanticizing its facets. He is, in my mind, one of the most powerful prose writers now working in America." — first and last paragraphs, Last Exit hardcover jacket copy
What Sorrentino — the book's dedicatee — knew but, like many subsequent critics, neglected to mention, is that Selby is also very funny. It's often deadpan, and sometimes a bleak humor but it's there.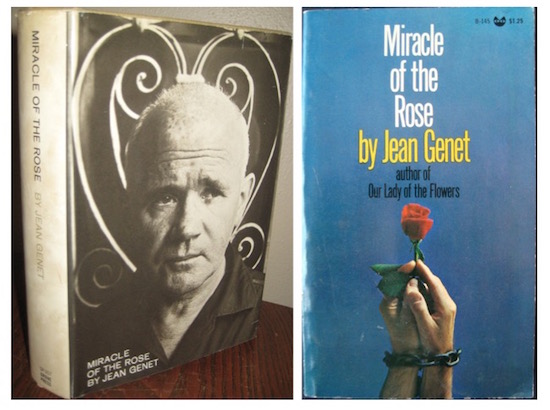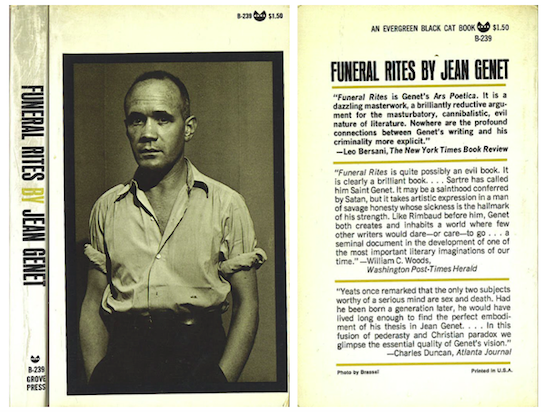 Funeral Rites is Genet's Ars Poetica. It is a dazzling masterwork, a brilliantly reductive argument for the masturbatory, cannibalistic, evil nature of literature. Nowhere are the profound connections between Genet's writing and his criminality more explicit.
— Leo Bersani, New York Times Book Review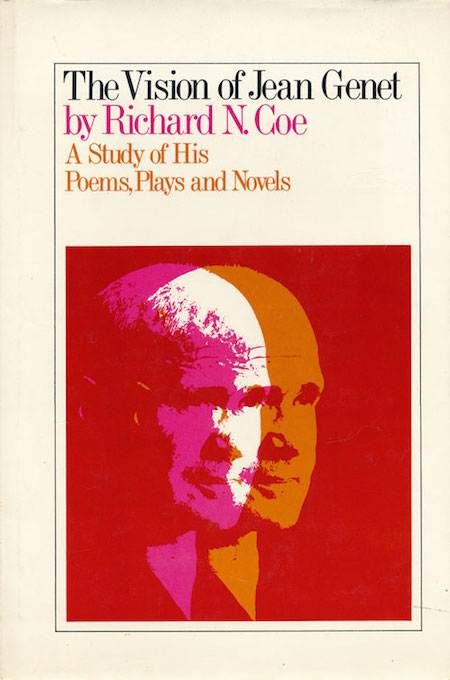 ***
BOOK COVERS at HILOBROW: INTO THE GROVE series by Brian Berger | FILE X series by Josh Glenn | THE BOOK IS A WEAPON series | HIGH-LOW COVER GALLERY series | RADIUM AGE COVER ART | BEST RADIUM AGE SCI-FI | BEST GOLDEN AGE SCI-FI | BEST NEW WAVE SCI-FI | REVOLUTION IN THE HEAD.