INTO THE GROVE (8)
By: Brian Berger
March 30, 2017
One in a series of posts, by long-time HILOBROW friend and contributor Brian Berger, celebrating perhaps America's most exciting and controversial publisher: Barney Rosset's Grove Press.
*
Samuel Beckett's Waiting for Godot (1954)
Samuel Beckett's Molloy (1951, 1955)
Samuel Beckett's Malone Dies (1956)
Samuel Beckett's Proust (1931, 1957), cover by Francine Felsenthal
Germaine Brée's Proust and Deliverance from Time (1955, 1958), translated by C.J. Richards and A.J. Truitt
Samuel Beckett's Murphy (1938, 1957), hardcover by Francine Felsenthal
Samuel Beckett's All That Fall (1957)
Samuel Beckett's Endgame (1958)
Samuel Beckett's The Unnamable (1958)
Samuel Beckett's Watt (1945, 1959), cover by Richard Brodney
All covers by Roy Kuhlman except where noted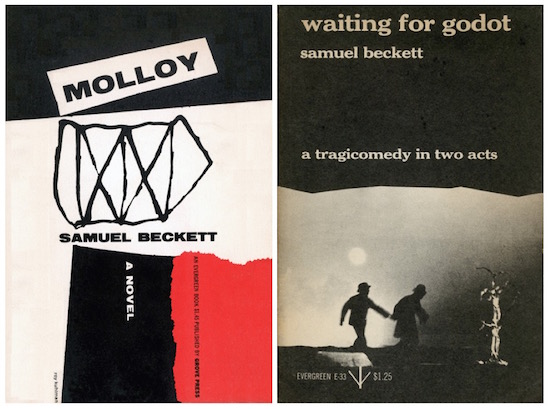 Though the Grove Press catalog would have been remarkable without Samuel Beckett, the jaunty Irishman's career-long devotion to having Barney Rosset as his American publisher is testament to both men's character. As the grand pooka of post-Joycean slapstick modernism, Beckett needs little defense, of course. That early on Rosset proved himself an empathetic, courageous partner is something all can be grateful for. From a letter to Rosset, dated Paris, June 25, 1953:
With regard to my work in general I hope you realize what you are getting yourself into. I do not mean the heart of the matter, which is unlikely to disturb anybody, but certain obscenities of form which may not have struck you in French as they will in English, and which frankly (it is better you should know this before we get going) I am not at all disposed to mitigate… Thanking you for taking this chance with my work and wishing us a fair wind, I am

Yours sincerely,

Samuel Beckett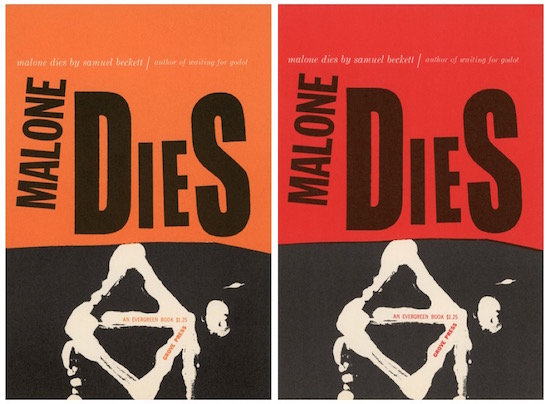 Spoiler Alert! Though there are two different color variations of Roy Kuhlman's Malone Dies, the ending is the same. While most Grove Press / Evergreen paperbacks would go through multiple printings without substantial changes in design, there were exceptions. Molloy, for example, would appear in five different color schemes. What version, if any, Kuhlman or Rosset considered "definitive" is unknown.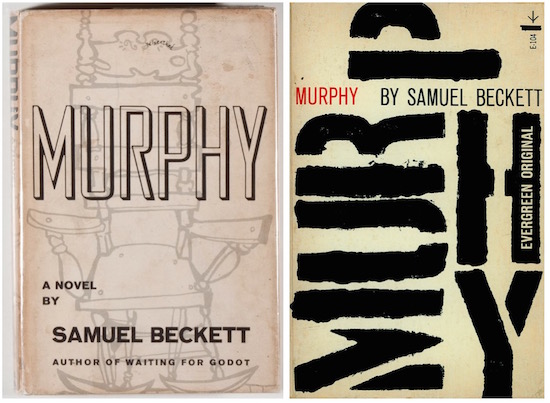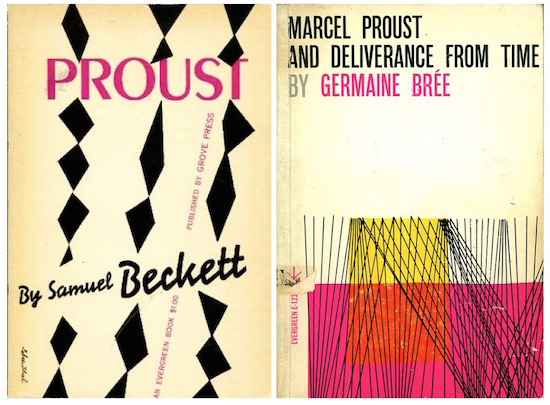 Francine Felsenthal (1922–2000) is one of the mysteries of the Grove Press story. A painter, designer and former classmate of Joan Mitchell's at the Art Institute of Chicago, it was Felsenthal who back in 1951 told Mitchell about the original Grove Press that Mitchell's then husband Barney Rosset would make his own. (See Into The Grove #2.) Now, half-a-decade later, she was back to design a couple handfuls of Grove Press book jackets. Unfortunately, neither of her Beckett titles — both hardcovers — show her at her best. By comparison, Roy Kuhlman's paperback Murphy — the first of what would be numerous all-text Beckett covers — is strength incarnate and his design for Germaine Brée's much praised Proust study exhibits an invention and boldness well beyond that granted Beckett on the same subject.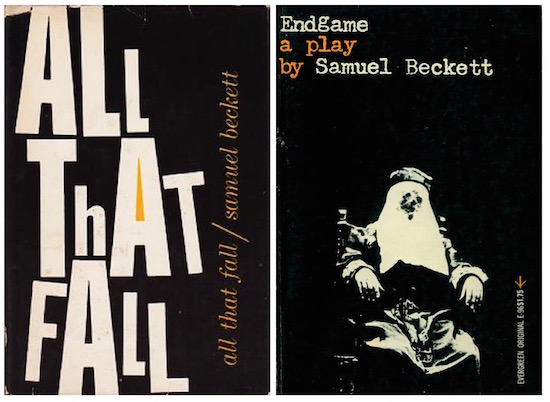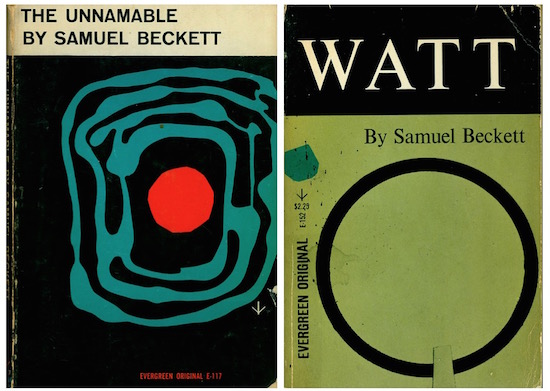 Not everyone was — what's the word? Impressed. Grove Press production manager Richard Brodney designed what we might call a Kuhlman-esque cover for Watt but Donald Barr, reviewing the book in the June 21, 1959 New York Times paid this no mind. ("Mr. Barr is a Columbia faculty member who frequently appraises contemporary fiction as an avocation.") The critic begins:
"Sir, he was dull," said Dr. Johnson of a famous poet, and explained: "He was dull in a new way and that made many people think him GREAT."

Mr. Beckett's fame was established by that odd play, "Waiting for Godot" — not so much a play as a charade, in which the actors, instead of making believe they are people, make believe they are symbols. Thus between 1954 and 1956 the author of several neglected though even odder novels (including "Watt," written in 1945) acquired three different publics that thought him GREAT.

The first group were the admirers who genuinely performed a critical judgement or an act of taste: these we cannot accuse of having been taken in by the New Tedium; for they are intellectuals who never tire of sly stories about how existence precedes Essence, just as vulgarians never tire of stories about how men chase women; also, it somehow consoles them to hear that all of us are equally futile; and of course when they see a character on page or stage behave as no normal human being ever behaved in life, they at once recognize a symbol of the common lot of mankind. Other admirers were simply seduced by vivacious acting. Others hated being left out of any advanced coterie: the more impenetrable the play or novel, the more exclusive and desirable the club, so to speak.

Now that "Watt" is available here, the first kind of admirers will make it truly their own. The second kind will be exquisitely bored. The third kind will naturally infer from their own inability to discover what on earth Mr. Beckett is talking about, that this is indeed a significant novel…"
** **
Barr goes on like this, hanging himself glibly with the rope of the age.
***
BOOK COVERS at HILOBROW: INTO THE GROVE series by Brian Berger | FILE X series by Josh Glenn | THE BOOK IS A WEAPON series | HIGH-LOW COVER GALLERY series | RADIUM AGE COVER ART | BEST RADIUM AGE SCI-FI | BEST GOLDEN AGE SCI-FI | BEST NEW WAVE SCI-FI | REVOLUTION IN THE HEAD.