Elisha Cook Jr.
By: Brian Berger
December 26, 2015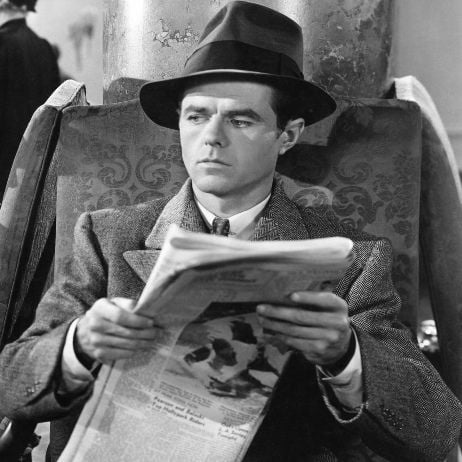 If he wasn't, as film scholar Jim Knipfel once joked, in "every movie ever made," so prolific and memorable was character actor ELISHA COOK JR (1903–95) that through his career one can see nearly the world entire. While I prefer not to argue against John Huston's The Maltese Falcon (October 1941) — no one has embodied tight-lipped cool or shifty-eyed rage better than Cook did here — please spare some time for the ridiculous yet astonishing Communist dupe satire, Public Deb No. 1 (September 1940), wherein our febrile anti-hero plays a fervent Red for the betterment of all. In Robert Wise's vicious Born To Kill (May 1947), Cook excels, slightly against type, as the lesser of myriad evils, here apotheosized by Lawrence Tierney, while in The Gangster (November 1947) — adapted by Daniel Fuchs from his 1938 Brooklyn underworld novel, Low Company — Cook returns to his discomfiting best. Jump cut a quarter century ahead and Cook's still there, witness to the avenging soul power of Blacula (August 1972) and rambling about "the blood moon" in the first rate coastal California horror film, Messiah of Evil (May 1973), as short-haired hippie ingénue Joy Bang enters the room. His death by Jack Palance's gun in George Stevens' Shane (April 1953) having changed the course of Western history, Sam Peckinpah included Cook in his ineffable masterpiece, Pat Garrett and Billy the Kid (May 1973), and in Electra Glide in Blue (August 1973), James William Guerico's audacious, Conrad Hall-shot reflection upon John Ford, Easy Rider and Don Siegel's Clint Eastwood collaborations, Cook plays Crazy Willie, a Monument Valley hermit with all the wizened poetry a long, weird life on the margins deserves.
THE MALTESE FALCON
BORN TO KILL
SHANE
BLACULA 
***
On his or her birthday, HiLobrow irregularly pays tribute to one of our high-, low-, no-, or hilobrow heroes. Also born this date: Henry Miller, Romer Wilson.
READ MORE about men and women born on the cusp between the Hardboiled (1894-1903) and Partisan (1904-13) Generations.