Justin Bieber
By: Flourish Klink
March 1, 2013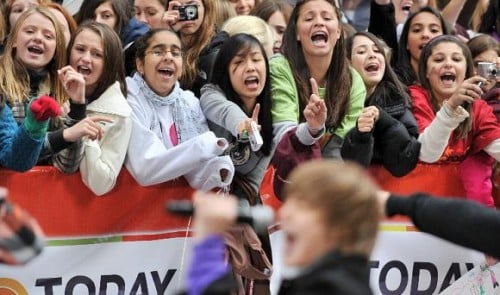 The child of a poor, intensely Christian single mother is selected by fairy godparents (Usher, talent manager Scooter Braun) to ascend to pop stardom, and acclaimed by the populace as the greatest singer in all the land. JUSTIN BIEBER (born 1994)'s story reads like a fairytale for the YouTube age. In his earliest videos, whether low-fi recordings in his mother's living room or highly produced danceathons, Bieber emits a kind of earnest youthfulness that is impossible to resist. He isn't an untouchable member of the Backstreet Boys, a grown man for tweens to swoon over: he's the hottest guy at your middle school, and he's just beginning to learn how to walk with a swagger, and what a voice! But for all his magnetism, his excellence as a performer, and the earworm-inescapability of "Baby" in the summer of 2010, Bieber is a cipher in comparison to the Beliebers. Whether you consider him the complete digital native (manipulating his online presence with ease, teaching the record industry as much as they teach him) or a bratty teenager (quickly outgrowing his corporate masters and keeping up a pleasant façade for the sake of making beaucoup bucks), the starring role in Bieber's story is played by his millions-strong fan following. Quit worrying that Anonymous and hackers and pornographers might threaten our children; worry instead that our children themselves might grow overly obsessive, might bully each other, might generally behave the way children do when they are left to their own devices. The Beliebers represent the terrifying forces of youth and social networking, the possibility that the internet might be impossible to tame.
***
On his or her birthday, HiLobrow irregularly pays tribute to one of our high-, low-, no-, or hilobrow heroes. Also born this date: Jacques Rivette, Harry Belafonte, and Georg Simmel.
READ MORE about men and women born on the cusp between the Social Darwikian (1984-93) and the TBA (1994–2003) Generations.