André the Giant
By: Jen Collins
May 19, 2010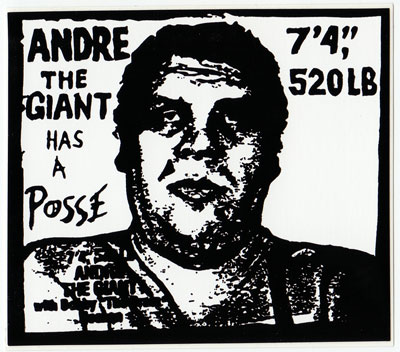 Growing up, my friends were boys, so despite being a short, skinny, nervous girl with glasses, I was into Pro Wrestling. Think daily Battle Royal enactments on a pile of mattresses in a hot attic, scrappy, prepubescent kids playing Hulk Hogan, the Wild Samoans, Jimmy "Superfly" Snuka, and Rowdy Roddy Piper. I usually got clobbered — I, ANDRÉ THE GIANT (André René Roussimoff, 1946–1993). I liked him best because I imagined him as solid, safe and honest. A "face" (or hero, opposite to "heel," or villain), but not a pompous pretty boy or a wise-ass. Never mind that Pro Wrestling is all gags and gimmicks, predictable roles and canned storylines; I didn't know that when I was eight. Other things I didn't know: He had once wrestled in Japan under the name Monster Roussimoff; he had played Bigfoot in The Six Million Dollar Man; and he suffered from acromegaly, a pituitary condition that would contribute to his death. Anyway, wasn't André just an extra-large regular guy trying to make a living? When somebody's big brother took us to a real Battle Royal, we waited backstage, hoping some superstars would come out for meet and greets. Up close, André was lumpy and wet and wearing huge, shiny underpants. I could have been terrified, but I was proud: A giant shook my hand.
ALSO BORN MAY 19: Joey Ramone.
***
Each day, HILOBROW pays tribute to one of our favorite high-, low-, no-, or hilobrow heroes on that person's birthday.
READ MORE about the Boomers.
READ MORE HiLo Hero shout-outs.
SUBSCRIBE to HiLo Hero updates via Facebook.
SHARE this post, by clicking on the toolbar below.