Hailing Frequencies
By: Peggy Nelson
February 5, 2013
Thursday morning, February 7, around 10:30am EST, Commander Chris Hadfield of the International Space Station will receive a call from Captain Kirk.
You heard me.
And you can hear them, as the exchange will be webcast live.
Hadfield (who bears more than a passing resemblance to Mr. Scott) and Shatner first corresponded over Twitter some time ago.
The two tweeted not long after Hadfield arrived on the station. Shatner tweeted Hadfield saying "Are you tweeting from space?" to which Hadfield replied "Yes, Standard Orbit, Captain. And we're detecting signs of life on the surface."
The two famous Canadians are both enthusiasts of space: real, fictional, and cyber. They'll be following up their initial contact with real-time exchange of frequencies.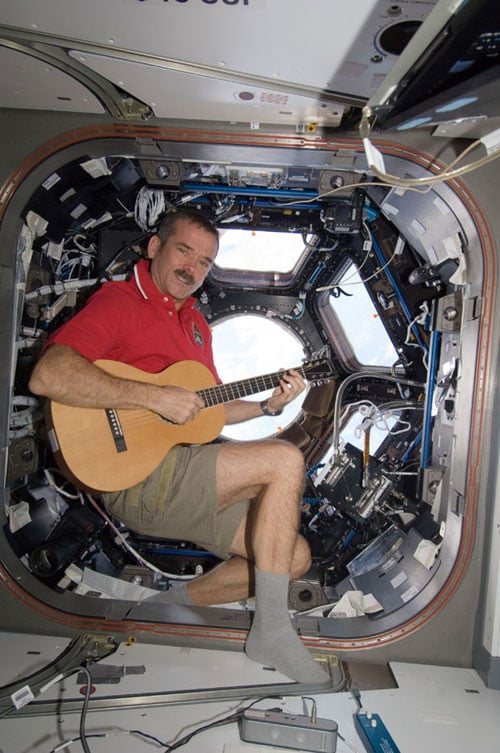 The phone call will be part of A Day in the Life of Chris Hadfield, an all-day Tweetup including @Cmdr_Hadfield and @williamshatner in the morning, as well as a number of other experts gathered by the Canadian Space Agency to discuss life in space, research, science and the future. The space to ground connection will be from 10:40am – 11:00am, with on-ground online activities and discussion continuing throughout the day.
Hadfield, a proponent of social media for education, also leverages his celestial platform for entertainment, tweeting a succession of stellar views of earth, as well as in-orbit music videos and field recordings.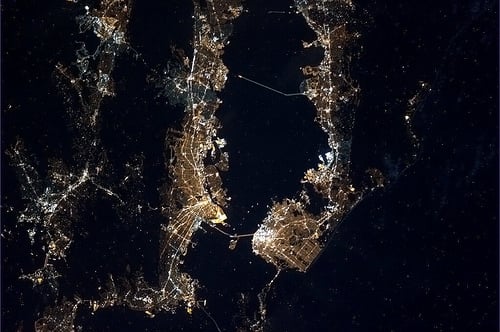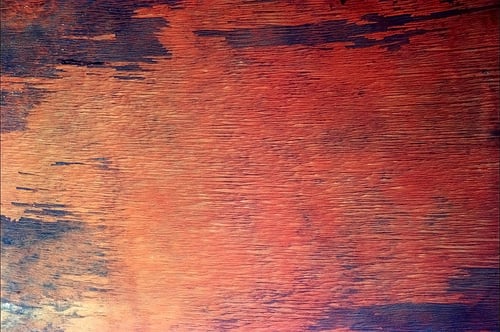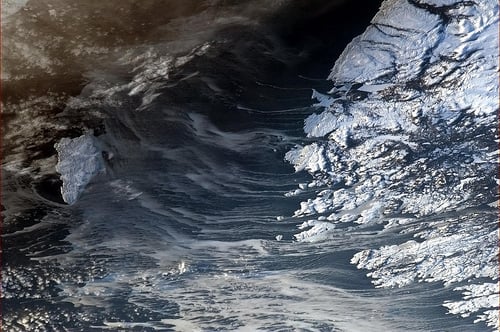 While Shatner, who might be said to have pioneered this particular perspective, has not only embraced Twitter with zeal, he has released a must-have poetry app, Shatoetry. Write poetry in the app and Shatner will perform your lines in the Kirk voice, with the Kirk diction! You can select an emphasis for each word, and even drop in pauses of varying lengths for — maximum — effect.
What will they talk about? Listen in. Space fans, Kirk fans, and HiLobrow readers: be sure not to miss Thursday's special episode.
CSA webcast: 10:30 – 11am, link: http://www.asc-csa.gc.ca/eng/webcast.asp.
Follow along on Twitter with hashtag #CSATweetup.
***
A Day in the Life of Chris Hadfield
@Cmdr_Hadfield
@WilliamShatner
Chris Hadfield's webpage
Chris Hadfield's ISS photos
More ISS field sounds
William Shatner's webpage
William Shatner's poetry app: Shatoetry
Read more:
Kirk Your Enthusiasm: A Series Celebrating Scenes with our Favorite Captain
William Shatner, HiLo Hero
Captain Kirk, virtual ambassador to the stars
To Boldy Go: Incubus, starring William Shatner. In Esperanto.