My First Critical Theory ABC (1)
By: Greg Rowland
September 9, 2012
Comrades! I present you with a radical counter-blast to the pervasive neo-fascism of the play group, a seven-day series of Critical Theory poems — radical quatrains that will enable children to challenge the dehumanising practices of the Kindergarten Konvention. Read this opus to your children, denounce parents who do not do so, and above all campaign, by any means necessary, for its print publication.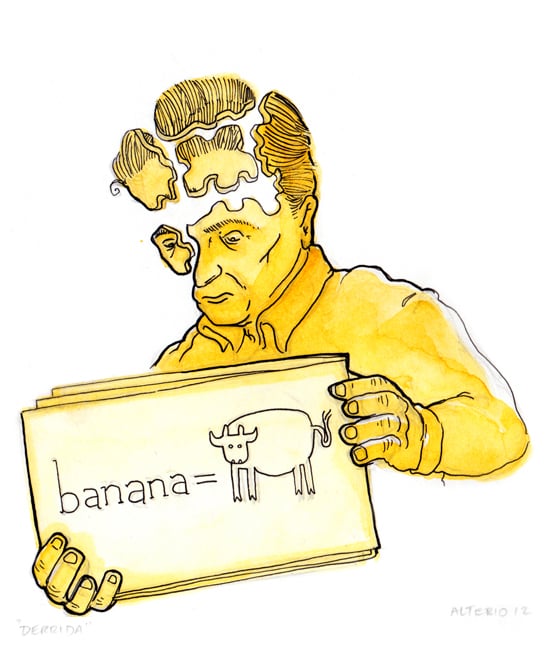 'A' is for Althusser, and taking and making
And walking the dog and birthday cake baking,
And how it joined up to big money and power,
To the rich and the poor, and the poo and the flower.

'B' is for Benjamin who liked to do thalking —
Walt's own special combo of thinking and walking.
He saw magic glow-stuff, the art of the night,
So sometimes, in moonshine, he was covered in Light.

Cixous, our 'C', says girls and boys all equal each other
And that kisses should land between one and another.
But Helene has a warning for all of your brothers:
Don't write with your willy, or you'll upset your Mothers.

Derrida ('D') confused lots of folks
When once he gave talking a bit of a poke:
Words are just silly — they don't make much sense,
Like a cup that's a lion but is really a fence.
***
A series of seven posts, written by Greg Rowland and illustrated by Joe Alterio.
Joe Alterio is an illustrator, animator, comic creator, and artist interested in narrative structure, interactive creativity, and the physical manifestations of story-telling. See more at JoeAlterio.com.
***
ALSO: Louis Althusser as HiLo Hero | Walter Benjamin as HiLo Hero | Greg Rowland on Dr. Seuss as HiLo Hero | More theory on HiLobrow