Recon vs. Pomo
By: Joshua Glenn
July 4, 2010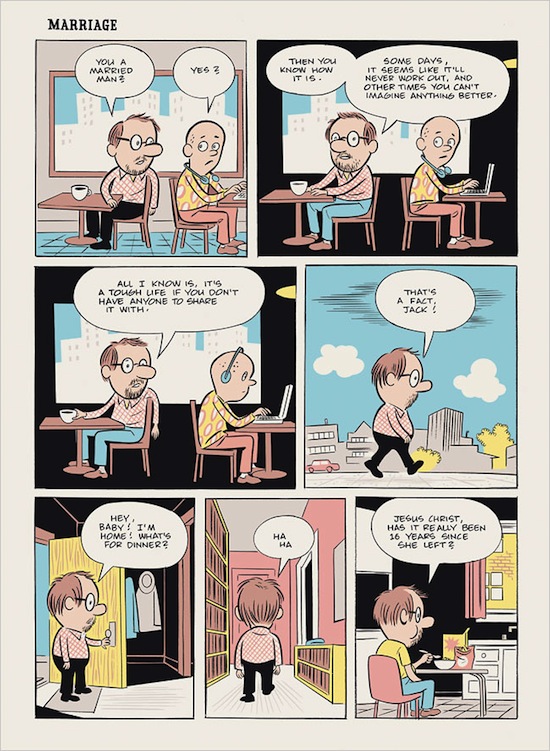 According to my periodization scheme, members of the Reconstructionist generation (born 1964-73) are post-deconstructionist. In addition to celebrating the eclecticism and hybridity lurking just beneath the modernist illusion of conceptual unity and institutional integrity, as we've learned to do from the Postmodernist generation (1924-33), we Recons seek (for better or worse; the jury is out) to reintegrate the cultural fragments we've inherited into a new, non-totalizing totality.
Which explains why Recons Sam Lipstyte (born 1968) and Dave Eggers (born 1970) take pains, in today's New York Time's Book Review, to rebuke literary critics who misuse the term "postmodernist."
In his featured review of David Mitchell's (born 1969) novel The Thousand Autumns of Jacob De Zoet, Eggers also refers to Mitchell's 2004 novel Cloud Atlas:
That book, like much of Mitchell's fiction, plays with narrative structure while never abandoning a traditional love of story­telling and an unmistakable affection for historical, and adventuresome, settings. Now comes "The Thousand Autumns of Jacob de Zoet," which retains those narrative tendencies while abandoning the structural complexities often (and often wrongly) called postmodern. This new book is a straight-up, linear, third-person historical novel, an achingly romantic story of forbidden love and something of a rescue tale — all taking place off the coast of Japan, circa 1799. Postmodern it's not.
Whereas Eggers, a pioneer of nobrow-middlebrow quatsch, is eager to find the heart and soul of an author who might appear to be a cool, nobrow ironist, Lipsyte's review of Daniel Clowes' (born 1961; he's an OGXer) graphic novel Wilson ends on a hilo note:
If Wilson is not, like Pechorin, meant to be a generational symbol, that's because the more resonant markers of our times reside not in the epiphany of a single character but in the varying lunges at under­standing achieved by the multiple Wilsons, the ways they stumble in and out of tragedy and farce. Which is to say there is something about this story that is very much a put-on, and something about it that is absolutely not. Yes, these qualities can coexist. Indeed, they require each other. It's the put-on, the aforementioned cackle, that clears the space for fragile feeling to thrive. But before anybody raises a cudgel and intones ancient curses against "postmodern trickery" and "irony" one more boring time, it's good to recall that artistic approaches like this have been around a while. Just ask another literary Wilson, name of Pudd'nhead.
Well played, Sam!
***
READ MORE essays by Joshua Glenn, originally published in: THE BAFFLER | BOSTON GLOBE IDEAS | BRAINIAC | CABINET | FEED | HERMENAUT | HILOBROW | HILOBROW: GENERATIONS | HILOBROW: RADIUM AGE SCIENCE FICTION | HILOBROW: SHOCKING BLOCKING | THE IDLER | IO9 | N+1 | NEW YORK TIMES BOOK REVIEW | SEMIONAUT | SLATE
Joshua Glenn's books include UNBORED: THE ESSENTIAL FIELD GUIDE TO SERIOUS FUN (with Elizabeth Foy Larsen); and SIGNIFICANT OBJECTS: 100 EXTRAORDINARY STORIES ABOUT ORDINARY THINGS (with Rob Walker).