Maria Leach
By: Devin McKinney
April 30, 2014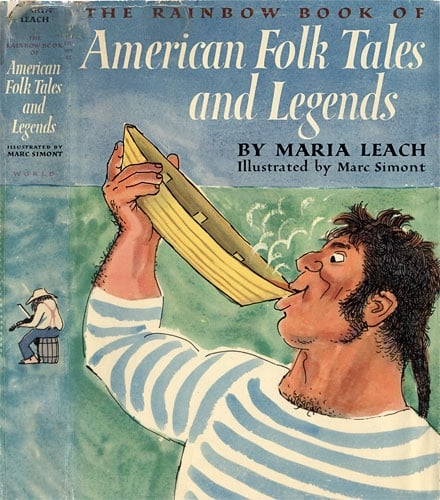 The Canadian folklorist Alice May Doane, better known as MARIA LEACH (1892–1977), followed up her reputation-making Standard Dictionary of Folklore and Mythology (1950) with thickly footnoted but richly readable tomes on the legendry of dogs, cats, riddles, creation myths, and the supernatural properties of common objects. But for a bookish American child of the 1970s, Maria Leach, respected scholar, was simply one of the keenest yarn-spinners around, mainstay of the grade-school library shelf and the Scholastic Book Club. Often checked out from the former was The Rainbow Book of American Folk Tales and Legends (1958), which, aided by Marc Simont's illustrations, gathered frontier fables, ghost stories, and modern myths of many hues in a child's garden of watercolor wonders. Beyond that, and even better, were The Thing at the Foot of the Bed (1959) and Whistle in the Graveyard (1974), spooky anthologies whose homilies and broad japes were overshadowed by stories containing that perverse germ of non-pedagogic horror known as "the creeps." The eerie atmosphere of "The Cradle That Rocked by Itself," emergent urban legend of "The Ghostly Hitchhiker," and nightmarish outcome of "The Dare" (this last stolen, or folk-told, by a 1961 Twilight Zone episode) are as responsible as any other influence for that '70s child's lifelong sense of culture as a collection of stories — and of the world itself as bounteous, macabre, and inexhaustibly mysterious.
***
On his or her birthday, HiLobrow irregularly pays tribute to one of our high-, low-, no-, or hilobrow heroes. Also born this date: Jaroslav Hašek, Willie Nelson, Blind Gary Davis, Alice B. Toklas, Lars Von Trier, Félix Guattari.
READ MORE about members of the Modernist Generation (1884–93).