THE UNTAMED (30)
By: Max Brand
March 10, 2023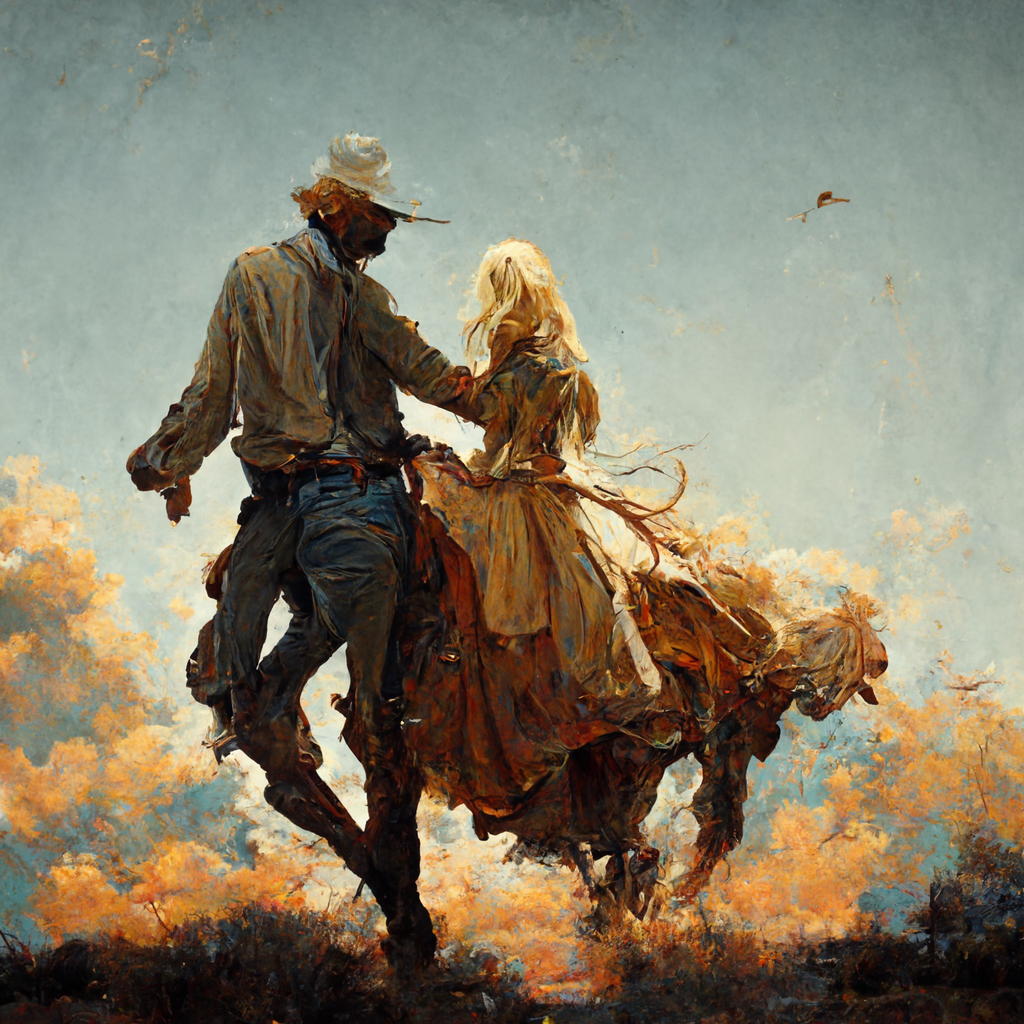 HiLoBooks is pleased to serialize Max Brand's 1919 western novel The Untamed for HILOBROW's readers. The original spaghetti western (complete with a Morricone-style whistling score), this yarn features a protagonist with uncanny violent abilities… leading one to wonder whether it's a Sarah Canary-esque work of Radium Age proto-sf about a mutant or possibly an alien? (Note that in 1919, Brand also serialized the superman novel Children of Night.) We'll let you decide.
ALL INSTALLMENTS: 1 | 2 | 3 | 4 | 5 | 6 | 7 | 8 | 9 | 10 | 11 | 12 | 13 | 14 | 15 | 16 | 17 | 18 | 19 | 20 | 21 | 22 | 23 | 24 | 25 | 26 | 27 | 28 | 29 | 30 | 31 | 32 | 33 | 34 | 35 | 36 | 37 | 38.
***
CHAPTER XXX
"THE MANHANDLING"
It was close to sunset time when they reached the old Salton place, where they found Silent sitting on the porch with Haines, Kilduff, Jordan, and Rhinehart. They stood up at sight of the newcomers and shouted a welcome. Buck waved his hand, but his thoughts were not for them. The music he had heard Dan whistle formed in his throat. It reached his lips not in sound but as a smile.
At the house he swung from the saddle and shook hands with Jim Silent. The big outlaw retained Buck's fingers.
"You're comin' in mighty late," he growled, "Didn't you get the signal?"
Buck managed to meet the searching eyes.
"I was doin' better work for you by stayin' around the house," he said.
"How d'you mean?"
"I stayed there to pick up things you might want to know. It wasn't easy. The boys are beginnin' to suspect me."
"The cowpunchers is gettin' so thick around those parts," broke in Purvis, "that Buck wouldn't even let me go back to his house with him to get my gun."
The keen eyes of Silent never left the face of Daniels.
"Don't you know that Gus Morris gives us all the news we need, Buck?"
Rhinehart and Jordan, who were chatting together, stopped to listen. Buck smiled easily.
"I don't no ways doubt that Morris tells you all he knows," he said, "but the pint is that he don't know everything."
"How's that?"
"The rangers is beginnin' to look sidewise an' whisper when Morris is around. He's played his game with us too long, an' the boys are startin' to think. Thinkin' is always dangerous."
"You seem to have been doin' some tall thinkin' yourself," said Silent drily; "you guess the cowpunchers are goin' on our trail on their own hook?"
"There ain't no doubt of it."
"Where'd you hear it?"
"Young Seaton."
"He's one of them?"
"Yes."
"I'll remember him. By the way, I see you got a little token of Whistlin' Dan on your arm."
He pointed to the bandage on Buck's right forearm.
"It ain't nothin'," said Buck, shrugging his shoulders. "The cuts are all healin' up. The arm's as good as ever now."
"Anyway," said Silent, "you got somethin' comin' to you for the play you made agin that devil."
He reached into his pocket, drew out several twenty dollar gold pieces (money was never scarce with a lone rider) and passed them to Buck. The latter received the coin gingerly, hesitated, and then returned it to the hand of the chief.
"What the hell's the matter?" snarled the big outlaw. "Ain't it enough?"
"I don't want no money till I earn it," said Buck.
"Life's gettin' too peaceful for you, eh?" grinned Silent.
"Speakin' of peace," chimed in Purvis, with a liberal wink at the rest of the gang, "Buck allows he's the boy who c'n bring the dove o' the same into this camp. He says he knows the way to bring the girl over there to see reason."
Buck followed the direction of Purvis's eyes and saw Kate sitting on a rock at a little distance from the shanty in which she lived with her father. She made a pitiful figure, her chin cupped in her hand, and her eyes staring fixedly down the valley. He was recalled from her by the general laughter of the outlaws.
"You fellers laugh," he said complacently, "because you don't know no more about women than a cow knows about pictures."
"What do you think we should do with her, Solomon?" Buck met the cold blue eye of Haines.
"Maybe I ain't Solomon," he admitted genially, "but I don't need no million wives to learn all there is to know about women."
"Don't make a fool of yourself, Buck," said Silent. "There ain't no way of movin' that damn girl. She's gone on a hunger strike an' she'll die in it. We can't send her out of the valley. It's hell to have her dyin' on our hands here. But there ain't no way to make her change her mind. I've tried pleadin' with her — I've even offered her money. It don't do no good. Think of that!"
"Sure it don't," sneered Buck. "Why, you poor bunch of yearlin' calves, she don't need no coaxin'. What she needs is a manhandlin'. She wants a master, that's what she wants."
"I suppose," said Haines, "you think you're man enough to change her?"
"None of that!" broke in Silent. "D'you really think you could do somethin' with her, Buck?"
"Can I do somethin' with her?" repeated Buck scornfully. "Why, boys, there ain't nothin' I can't do with a woman."
"Is it because of your pretty face or your winnin' smile?" growled the deep bass of Bill Kilduff.
"Both!" said Buck, promptly. "The wilder they are the harder they fall for me. I've had a thirty-year old maverick eatin' out of my hand like she'd been trained for it all her life. The edyoucated ones say I'm 'different'; the old maids allow that I'm 'naïve'; the pretty ones jest say I'm a 'man,' but they spell the word with capital letters."
"Daniels, you're drunk," said Haines.
"Am I? It'll take a better man than you to make me sober, Haines!"
The intervening men jumped back, but the deep voice of Silent rang out like a pistol shot: "Don't move for your six-guns, or you'll be playin' agin me!"
Haines transferred his glare to Silent, but his hand dropped from his gun. Daniels laughed.
"I ain't no mile post with a hand pointin' to trouble," he said gently. "All I say is that the girl needs excitement. Life's so damned dull for her that she ain't got no interest in livin'."
"If you're fool enough to try," said Silent, "go ahead. What are you plannin' to do?"
"You'll learn by watchin'," grinned Buck, taking the reins of his horse. "I'm goin' to ask the lady soft an' polite to step up to her cabin an' pile into some ham an' eggs. If she don't want to I'll rough her up a little, an' she'll love me for it afterwards!"
"The way she loves a snake!" growled Kilduff.
"By God, Silent," said Haines, his face white with emotion, "if Buck puts a hand on her I'll—"
"Act like a man an' not like a damn fool boy," said Silent, dropping a heavy hand on the shoulder of his lieutenant. "He won't hurt her none, Lee. I'll answer for that. Come on, Buck. Speakin' personal, I wish that calico was in hell."
Leading his horse, Buck followed Silent towards the girl. She did not move when they approached. Her eyes still held far down the valley. The steps of the big outlaw were shorter and shorter as they drew close to the girl. Finally he stopped and turned to Buck with a gesture of resignation.
"Look at her! This is what she's been doin' ever since yesterday. Buck, it's up to you to make good. There she is!"
"All right," said Buck, "it's about time for you amachoors to exit an' leave the stage clear for the big star. Now jest step back an' take notes on the way I do it. In fifteen minutes by the clock she'll be eatin' out of my hand."
Silent, expectant but baffled, retired a little. Buck removed his hat and bowed as if he were in a drawing-room.
"Ma'am," he said, "I got the honour of askin' you to side-step up to the shanty with me an' tackle a plate of ham an' eggs. Are you on?"
To this Chesterfieldian outpouring of the heart, she responded with a slow glance which started at Buck's feet, travelled up to his face, and then returned to the purple distance down the canyon. In spite of himself the tell-tale crimson flooded Buck's face. Far away he caught the muffled laughter of the outlaws. He replaced his hat.
"Don't make no mistake," he went on, his gesture including the bandits in the background, and Silent particularly, "I ain't the same sort as these other fellers. I c'n understand the way you feel after bein' herded around with a lot of tin horns like these. I'm suggestin' that you take a long look at me an' notice the difference between an imitation an' a real man."
She did look at him. She even smiled faintly, and the smile made Buck's face once more grow very hot. His voice went hard.
"For the last time, I'm askin' if you'll go up to the cabin."
There was both wonder and contempt in her smile.
In an instant he was in his saddle. He swung far to one side and caught her in his arms. Vaguely he heard the yell of excitement from the outlaws. All he was vividly conscious of was the white horror of her face. She fought like a wildcat. She did not cry out. She struck him full in the face with the strength of a man, almost. He prisoned her with a stronger grip, and in so doing nearly toppled from the saddle, for his horse reared up, snorting.
A gun cracked twice and two bullets hummed close to his head. From the corner of his eye he was aware of Silent and Rhinehart flinging themselves upon Lee Haines, who struggled furiously to fire again. He drove his spurs deep and the cattle pony started a bucking course for the shanty.
"Dan!" he muttered at her ear.
The yells of the men drowned his voice. She managed to jerk her right arm free and struck him in the face. He shook her furiously.
"For Whistling Dan!" he said more loudly. "He's dying!"
She went rigid in his arms.
"Don't speak!" he panted. "Don't let them know!"
The outlaws were running after them, laughing and waving their hats.
"Dan!"
"Faint, you fool!"
Her eyes widened with instant comprehension. Every muscle of her body relaxed; her head fell back; she was a lifeless burden in his arms. Buck dismounted from the saddle before the shanty. He was white, shaking, but triumphant. Rhinehart and Purvis and Jordan ran up to him. Silent and Kilduff were still struggling with Haines in the distance.
Rhinehart dropped his head to listen at her breast for the heartbeat.
"She's dead!" cried Jordan.
"You're a fool," said Buck calmly. "She's jest fainted, an' when she comes to, she'll begin tellin' me what a wonderful man I am."
"She ain't dead," said Rhinehart, raising his head from her heart, "but Haines'll kill you for this, Buck!"
"Kate!" cried an agonized voice from the shanty, and old white-haired Joe Cumberland ran towards them.
"Jest a little accident happened to your daughter," explained Buck. "Never mind. I c'n carry her in all right. You fellers stay back. A crowd ain't no help. Ain't no cause to worry, Mr. Cumberland. She ain't hurt!"
He hastened on into the shanty and laid her on the bunk within. Her father hurried about to bathe her face and throat. Buck pushed the other three men out of the room.
"She ain't hurt," he said calmly, "she's jest a little fussed up. Remember I said in fifteen minutes I'd have her eatin' out of my hand. I've still got ten minutes of that time. When the ten minutes is up you all come an' take a look through that window. If you don't see the girl eatin' at that table, I'll chaw up my hat."
He crowded them through the door and shut it behind them. A cry of joy came from old Joe Cumberland and Buck turned to see Kate sitting up on the bunk.
***
SERIALIZED BY HILOBOOKS: Jack London's The Scarlet Plague | Rudyard Kipling's With the Night Mail (and "As Easy as A.B.C.") | Arthur Conan Doyle's The Poison Belt | H. Rider Haggard's When the World Shook | Edward Shanks' The People of the Ruins | William Hope Hodgson's The Night Land | J.D. Beresford's Goslings | E.V. Odle's The Clockwork Man | Cicely Hamilton's Theodore Savage | Muriel Jaeger's The Man With Six Senses | Jack London's "The Red One" | Philip Francis Nowlan's Armageddon 2419 A.D. | Homer Eon Flint's The Devolutionist | W.E.B. DuBois's "The Comet" | Edgar Rice Burroughs's The Moon Men | Charlotte Perkins Gilman's Herland | Sax Rohmer's "The Zayat Kiss" | Eimar O'Duffy's King Goshawk and the Birds | Frances Hodgson Burnett's The Lost Prince | Morley Roberts's The Fugitives | Helen MacInnes's The Unconquerable | Geoffrey Household's Watcher in the Shadows | William Haggard's The High Wire | Hammond Innes's Air Bridge | James Branch Cabell's Jurgen | John Buchan's "No Man's Land" | John Russell's "The Fourth Man" | E.M. Forster's "The Machine Stops" | John Buchan's Huntingtower | Arthur Conan Doyle's When the World Screamed | Victor Bridges' A Rogue By Compulsion | Jack London's The Iron Heel | H. De Vere Stacpoole's The Man Who Lost Himself | P.G. Wodehouse's Leave It to Psmith | Richard Connell's "The Most Dangerous Game" | Houdini and Lovecraft's "Imprisoned with the Pharaohs" | Arthur Conan Doyle's "The Sussex Vampire" | Francis Stevens's "Friend Island" | George C. Wallis's "The Last Days of Earth" | Frank L. Pollock's "Finis" | A. Merritt's The Moon Pool | E. Nesbit's "The Third Drug" | George Allan England's "The Thing from — 'Outside'" | Booth Tarkington's "The Veiled Feminists of Atlantis" | H.G. Wells's "The Land Ironclads" | J.D. Beresford's The Hampdenshire Wonder | Valery Bryusov's "The Republic of the Southern Cross" | Algernon Blackwood's "A Victim of Higher Space" | A. Merritt's "The People of the Pit" | Max Brand's The Untamed | Julian Huxley's "The Tissue-Culture King" | Clare Winger Harris's "A Runaway World" | Francis Stevens's "Thomas Dunbar" | George Gurdjieff's "Beelzebub's Tales" | Robert W. Chambers's "The Harbor-Master".