THE UNTAMED (29)
By: Max Brand
March 5, 2023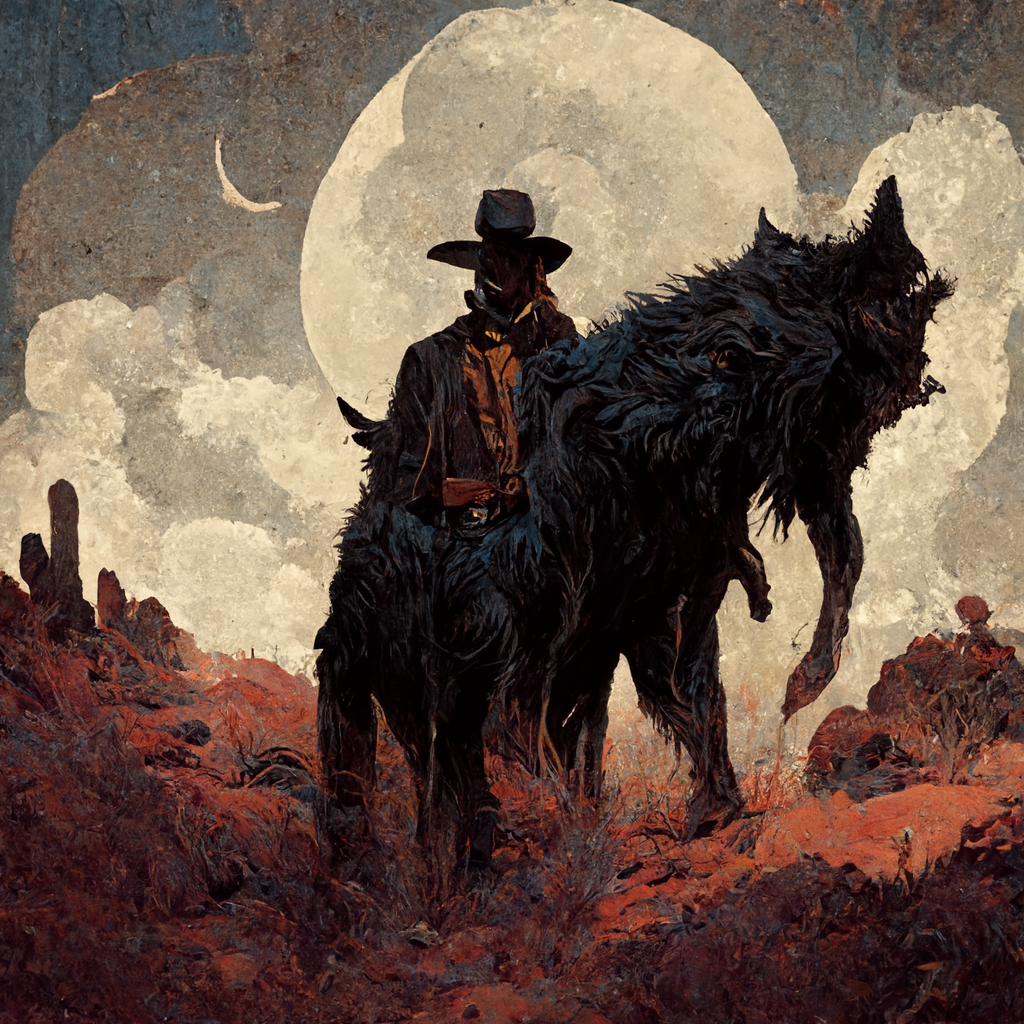 HiLoBooks is pleased to serialize Max Brand's 1919 western novel The Untamed for HILOBROW's readers. The original spaghetti western (complete with a Morricone-style whistling score), this yarn features a protagonist with uncanny violent abilities… leading one to wonder whether it's a Sarah Canary-esque work of Radium Age proto-sf about a mutant or possibly an alien? (Note that in 1919, Brand also serialized the superman novel Children of Night.) We'll let you decide.
ALL INSTALLMENTS: 1 | 2 | 3 | 4 | 5 | 6 | 7 | 8 | 9 | 10 | 11 | 12 | 13 | 14 | 15 | 16 | 17 | 18 | 19 | 20 | 21 | 22 | 23 | 24 | 25 | 26 | 27 | 28 | 29 | 30 | 31 | 32 | 33 | 34 | 35 | 36 | 37 | 38.
***
CHAPTER XXIX
"WEREWOLF"
Buck's cattle pony broke from the lope into a steady dog-trot. Now and then Buck's horse tossed his head high and jerked his ears quickly back and forth as if he were trying to shake off a fly. As a matter of fact he was bothered by his master's whistling. The only sound which he was accustomed to hear from the lips of his rider was a grunted curse now and then. This whistling made the mustang uneasy.
Buck himself did not know what the music meant, but it brought into his mind a thought of strong living and of glorious death. He had heard it whistled several times by Dan Barry when the latter lay delirious. It seemed to Buck, while he whistled this air, that the spirit of Dan travelled beside him, nerving him to the work which lay ahead, filling the messenger with his own wild strength.
As Buck dropped into a level tract of country he caught sight of a rider coming from the opposite direction. As they drew closer the other man swung his mount far to one side. Buck chuckled softly, seeing that the other evidently desired to pass without being recognized. The chuckle died when the stranger changed direction and rode straight for Buck. The latter pulled his horse to a quick stop and turned to face the on-comer. He made sure that his six-gun was loose in the holster, for it was always well to be prepared for the unusual in these chance meetings in the mountain-desert.
"Hey, Buck!" called the galloping horseman.
The hand of Daniels dropped away from his revolver, for he recognized the voice of Hal Purvis, who swiftly ranged alongside.
"What's the dope?" asked Buck, producing his tobacco and the inevitable brown papers.
"Jest lookin' the landscape over an' scoutin' around for news," answered Purvis.
"Pick up anything?"
"Yeh. Ran across some tenderfoot squatters jest out of Elkhead."
Buck grunted and lighted his cigarette.
"Which you've been sort of scarce around the outfit lately," went on Purvis.
"I'm headin' for the bunch now," said Buck.
"D'you bring along that gun of mine I left at your house?"
"Didn't think of it."
"Let's drop back to your house an' get it. Then I'll ride up to the camp with you."
Buck drew a long puff on his cigarette. He drew a quick mental picture of Purvis entering the house, finding Dan, and then —
"Sure," he said, "you c'n go back to the house an' ask pa for the gun, if you want to. I'll keep on for the hills."
"What's your hurry? It ain't more'n three miles back to your house. You won't lose no time to speak of."
"It ain't time I'm afraid of losin'," said Buck significantly.
"Then what the devil is it? I can't afford to leave that gun."
"All right," said Buck, forcing a grin of derision, "so long, Hal."
Purvis frowned at him with narrowing eyes.
"Spit it out, Buck. What's the matter with me goin' back for that gun? Ain't I apt to find it?"
"Sure. That's the point. You're apt to find lots of guns. Here's what I mean, Hal. Some of the cowpunchers are beginnin' to think I'm a little partial to Jim Silent's crowd. An' they're watchin' my house."
"The hell!"
"You're right. It is. That's one of the reasons I'm beatin' it for the hills."
He started his horse to a walk. "But of course if you're bound to have that gun, Hal—"
Purvis grinned mirthlessly, his lean face wrinkling to the eyes, and he swung his horse in beside Buck.
"Anyway," said Buck, "I'm glad to see you ain't a fool. How's things at the camp?"
"Rotten. They's a girl up there—"
"A girl?"
"You look sort of pleased. Sure they's a girl. Kate Cumberland, she's the one. She seen us hold up the train, an' now we don't dare let her go. She's got enough evidence to hang us all if it came to a show-down."
"Kate! Delilah."
"What you sayin'?"
"I say it's damn queer that Jim'll let a girl stay at the camp."
"Can't be helped. She's makin' us more miserable than a whole army of men. We had her in the house for a while, an' then Silent rigged up the little shack that stands a short ways—"
"I know the one you mean."
"She an' her dad is in that. We have to guard 'em at night. She ain't had no good word for any of us since she's been up there. Every time she looks at a feller she makes you feel like you was somethin' low-down — a snake, or somethin'."
"D'you mean to say none of the boys please her?" asked Buck curiously. He understood from Dan's delirious ravings that the girl was in love with Lee Haines and had deserted Barry for the outlaw. "Say, ain't Haines good-lookin' enough to please her?"
Purvis laughed unpleasantly.
"He'd like to be, but he don't quite fit her idea of a man. We'd all like to be, for that matter. She's a ravin' beauty, Buck. One of these blue-eyed, yaller-haired kind, see, with a voice like silk. Speakin' personal, I'm free to admit she's got me stopped."
Buck drew so hard on the diminishing butt of his cigarette that he burned his fingers.
"Can't do nothin' with her?" he queried.
"What you grinnin' about?" said Purvis hotly. "D'you think you'd have any better luck with her?"
Buck chuckled.
"The trouble with you fellers," he said complacently, "is that you're all too damned afraid of a girl. You all treat 'em like they was queens an' you was their slaves. They like a master."
The thin lips of Purvis curled.
"You're quite a man, ain't you?"
"Man enough to handle any woman that ever walked."
Purvis broke into loud laughter.
"That's what a lot of us thought," he said at last, "but she breaks all the rules. She's got her heart set on another man, an' she's that funny sort that don't never love twice. Maybe you'll guess who the man is?"
Buck frowned thoughtfully to cover his growing excitement.
"Give it up, Buck," advised Purvis. "The feller she loves is Whistlin' Dan Barry. You wouldn't think no woman would look without shiverin' at that hell-raiser. But she's goin' on a hunger strike on account of him. Since yesterday she wouldn't eat none. She says she'll starve herself to death unless we turn her loose. The hell of it is that she will. I know it an' so does the rest of the boys."
"Starve herself to death?" said Buck exuberantly. "Wait till I get hold of her!"
"You?"
"Me!"
Purvis viewed him with compassion.
"Me bein' your friend, Buck," he said, "take my tip an' don't try no fool stunts around that girl. Which she once belongs to Whistlin' Dan Barry an' therefore she's got the taboo mark on her for any other man. Everything he's ever owned is different, damned different!"
His voice lowered to a tone which was almost awe.
"Speakin' for myself, I don't hanker after his hoss like Bill Kilduff; or his girl, like Lee Haines; or his life, like the chief. All I want is a shot at that wolf-dog, that Black Bart!"
"You look sort of het up, Hal."
"He come near puttin' his teeth into my leg down at Morgan's place the day Barry cleaned up the chief."
"Why, any dog is apt to take a snap at a feller."
"This ain't a dog. It's a wolf. An' Whistlin' Dan—" he stopped.
"You look sort of queer, Hal. What's up?"
"You won't think I'm loco?"
"No."
"They's some folks away up north that thinks a man now an' then turns into a wolf."
Buck nodded and shrugged his shoulders. A little chill went up and down his back.
"Here's my idea, Buck. I've been thinkin' — no, it's more like dreamin' than thinkin' — that Dan Barry is a wolf turned into a man, an' Black Bart is a man turned into a wolf."
"Hal, you been drinkin'."
"Maybe."
"What made you think—" began Buck, but the long rider put spurs to his horse and once more broke into a fast gallop.
***
SERIALIZED BY HILOBOOKS: Jack London's The Scarlet Plague | Rudyard Kipling's With the Night Mail (and "As Easy as A.B.C.") | Arthur Conan Doyle's The Poison Belt | H. Rider Haggard's When the World Shook | Edward Shanks' The People of the Ruins | William Hope Hodgson's The Night Land | J.D. Beresford's Goslings | E.V. Odle's The Clockwork Man | Cicely Hamilton's Theodore Savage | Muriel Jaeger's The Man With Six Senses | Jack London's "The Red One" | Philip Francis Nowlan's Armageddon 2419 A.D. | Homer Eon Flint's The Devolutionist | W.E.B. DuBois's "The Comet" | Edgar Rice Burroughs's The Moon Men | Charlotte Perkins Gilman's Herland | Sax Rohmer's "The Zayat Kiss" | Eimar O'Duffy's King Goshawk and the Birds | Frances Hodgson Burnett's The Lost Prince | Morley Roberts's The Fugitives | Helen MacInnes's The Unconquerable | Geoffrey Household's Watcher in the Shadows | William Haggard's The High Wire | Hammond Innes's Air Bridge | James Branch Cabell's Jurgen | John Buchan's "No Man's Land" | John Russell's "The Fourth Man" | E.M. Forster's "The Machine Stops" | John Buchan's Huntingtower | Arthur Conan Doyle's When the World Screamed | Victor Bridges' A Rogue By Compulsion | Jack London's The Iron Heel | H. De Vere Stacpoole's The Man Who Lost Himself | P.G. Wodehouse's Leave It to Psmith | Richard Connell's "The Most Dangerous Game" | Houdini and Lovecraft's "Imprisoned with the Pharaohs" | Arthur Conan Doyle's "The Sussex Vampire" | Francis Stevens's "Friend Island" | George C. Wallis's "The Last Days of Earth" | Frank L. Pollock's "Finis" | A. Merritt's The Moon Pool | E. Nesbit's "The Third Drug" | George Allan England's "The Thing from — 'Outside'" | Booth Tarkington's "The Veiled Feminists of Atlantis" | H.G. Wells's "The Land Ironclads" | J.D. Beresford's The Hampdenshire Wonder | Valery Bryusov's "The Republic of the Southern Cross" | Algernon Blackwood's "A Victim of Higher Space" | A. Merritt's "The People of the Pit" | Max Brand's The Untamed | Julian Huxley's "The Tissue-Culture King" | Clare Winger Harris's "A Runaway World" | Francis Stevens's "Thomas Dunbar" | George Gurdjieff's "Beelzebub's Tales" | Robert W. Chambers's "The Harbor-Master".