THE UNTAMED (10)
By: Max Brand
October 28, 2022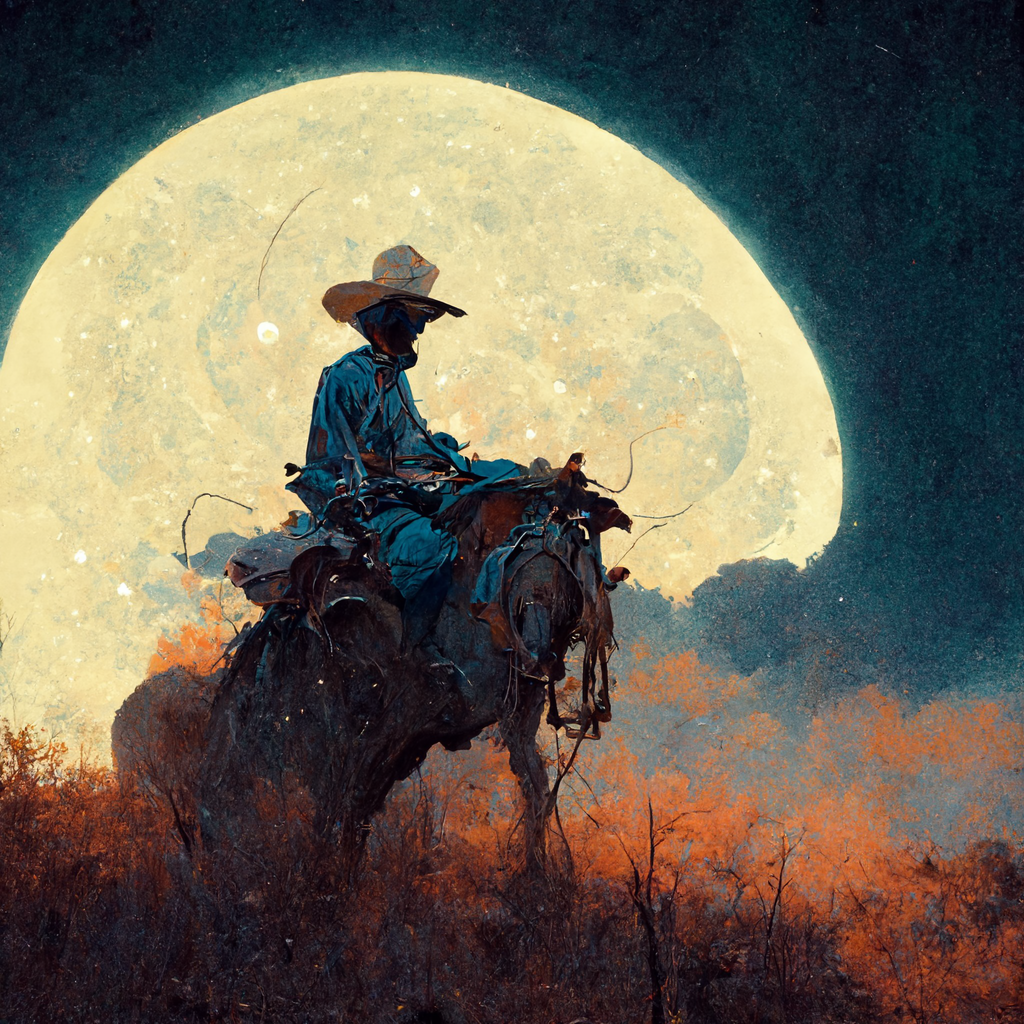 HiLoBooks is pleased to serialize Max Brand's 1919 western novel The Untamed for HILOBROW's readers. The original spaghetti western (complete with a Morricone-style whistling score), this yarn features a protagonist with uncanny violent abilities… leading one to wonder whether it's a Sarah Canary-esque work of Radium Age proto-sf about a mutant or possibly an alien? (Note that in 1919, Brand also serialized the superman novel Children of Night.) We'll let you decide.
ALL INSTALLMENTS: 1 | 2 | 3 | 4 | 5 | 6 | 7 | 8 | 9 | 10 | 11 | 12 | 13 | 14 | 15 | 16 | 17 | 18 | 19 | 20 | 21 | 22 | 23 | 24 | 25 | 26 | 27 | 28 | 29 | 30 | 31 | 32 | 33 | 34 | 35 | 36 | 37 | 38.
***
CHAPTER X
THE STRENGTH OF WOMEN
He rode swiftly into the dark of the willows, and the lack of noise told that he was picking his way carefully among the bended branches.
"It seems to me," said Terry Jordan, "which I'm not suggestin' anything—but it seems to me that the chief was in a considerable hurry to leave the camp."
"He was," said Hal Purvis, "an' if you seen that play in Morgan's place you wouldn't be wonderin' why. If I was the chief I'd do the same."
"Me speakin' personal," remarked Shorty Rhinehart, "I ain't layin' out to be no man-eater like the chief, but I ain't seen the man that'd make me take to the timbers that way. I don't noways expect there is such a man!"
"Shorty," said Haines calmly, "we all knows that you're quite a man, but you and Terry are the only ones of us who are surprised that Silent slid away. The rest of us who saw this Whistling Dan in action aren't a bit inclined to wonder. Suppose you were to meet a black panther down here in the willows?"
"I wouldn't give a damn if I had my Winchester with me."
"All right, Terry, but suppose the panther," broke in Hal Purvis, "could sling shootin' irons as well as you could—maybe that'd make you partic'ler pleased."
"It ain't possible," said Terry.
"Sure it ain't," grinned Purvis amiably, "an' this Barry ain't possible, either. Where you going, Lee?"
Haines turned from his task of saddling his mount.
"Private matter. Kilduff, you take my place while I'm gone. I may be back tomorrow night. The chief isn't apt to return so soon."
A few moments later Haines galloped out of the willows and headed across the hills towards old Joe Cumberland's ranch. He was remembering his promise to Kate, to keep Dan out of danger. He had failed from that promise once, but that did not mean that he had forgotten. He looked up to the yellow-bright mountain stars, and they were like the eyes of good women smiling down upon him. He guessed that she loved Barry and if he could bring her to Whistling Dan she might have strength enough to take the latter from Silent's trail. The lone rider knew well enough that to bring Dan and Kate together was to surrender his own shadowy hopes, but the golden eyes of the sky encouraged him. So he followed his impulse.
Haines could never walk that middle path which turns neither to the right nor the left, neither up nor down. He went through life with a free-swinging stride, and as the result of it he had crossed the rights of others. He might have lived a lawful life, for all his instincts were gentle. But an accident placed him in the shadow of the law. He waited for his legal trial, but when it came and false witness placed him behind the bars, the revolt came. Two days after his confinement, he broke away from his prison and went to the wilds. There he found Jim Silent, and the mountain-desert found another to add to its list of great outlaws.
Morning came as he drew close to the house, and now his reminiscences were cut short, for at a turn of the road he came upon Kate galloping swiftly over the hills. He drew his horse to a halt and raised his hand. She followed suit. They sat staring. If she had remembered his broken promise and started to reproach, he could have found answer, but her eyes were big with sorrow alone. He put out his hand without a word. She hesitated over it, her eyes questioning him mutely, and then with the ghost of a smile she touched his fingers.
"I want to explain," he said huskily.
"What?"
"You remember I gave you my word that no harm would come to Barry?"
"No man could have helped him."
"You don't hold it against me?"
A gust of wind moaned around them. She waved her arm towards the surrounding hills and her laugh blended with the sound of the wind, it was so faint. He watched her with a curious pang. She seemed among women what that morning was to the coming day—fresh, cool, aloof. It was hard to speak the words which would banish the sorrow from her eyes and make them brilliant with hope and shut him away from her thoughts with a barrier higher than mountains, and broader than seas.
"I have brought you news," he said at last, reluctantly.
She did not change.
"About Dan Barry."
Ay, she changed swiftly enough at that! He could not meet the fear and question of her glance. He looked away and saw the red rim of the sun pushing up above the hills. And colour poured up the throat of Kate Cumberland, up even to her forehead beneath the blowing golden hair.
Haines jerked his sombrero lower on his head. A curse tumbled up to his lips and he had to set his teeth to keep it back.
"But I have heard his whistle."
Her lips moved but made no sound.
"Five other men heard him."
She cried out as if he had hurt her, but the hurt was happiness. He knew it and winced, for she was wonderfully beautiful.
"In the willows of the river bottom, a good twenty miles south," he said at last, "and I will show you the way, if you wish."
He watched her eyes grow large with doubt.
"Can you trust me?" he asked. "I failed you once. Can you trust me now?"
Her hand went out to him.
"With all my heart," she said. "Let us start!"
"I've given my horse a hard ride. He must have some rest."
She moaned softly in her impatience, and then: "We'll go back to the house and you can stable your horse there until you're ready to start. Dad will go with us."
"Your father cannot go," he said shortly.
"Cannot?"
"Let's start back for the ranch," he said, "and I'll tell you something about it as we go."
As they turned their horses he went on: "In order that you may reach Whistling Dan, you'll have to meet first a number of men who are camping down there in the willows."
He stopped. It became desperately difficult for him to go on.
"I am one of those men," he said, "and another of them is the one whom Whistling Dan is following."
She caught her breath and turned abruptly on him.
"What are you, Mr. Lee?"
Very slowly he forced his eyes up to meet her gaze.
"In that camp," he answered indirectly, "your father wouldn't be safe!"
It was out at last!
"Then you are—"
"Your friend."
"Forgive me. You are my friend!"
"The man whom Dan is following," he went on, "is the leader. If he gives the command four practised fighters pit themselves against Barry."
"It is murder!"
"You can prevent it," he said. "They know Barry is on the trail, but I think they will do nothing unless he forces them into trouble. And he will force them unless you stop him. No other human being could take him off that trail."
"I know! I know!" she muttered. "But I have already tried, and he will not listen to me!"
"But he will listen to you," insisted Haines, "when you tell him that he will be fighting not one man, but six."
"And if he doesn't listen to me?"
Haines shrugged his shoulders.
"Can't you promise that these men will not fight with him?"
"I cannot."
"But I shall plead with them myself."
He turned to her in alarm.
"No, you must not let them dream you know who they are," he warned, "for otherwise—"
Again that significant shrug of the shoulders.
He explained: "These men are in such danger that they dare not take chances. You are a woman, but if they feel that you suspect them you will no longer be a woman in their eyes."
"Then what must I do?"
"I shall ride ahead of you when we come to the willows, after I have pointed out the position of our camp. About an hour after I have arrived, for they must not know that I have brought you, you will ride down towards the camp. When you come to it I will make sure that it is I who will bring you in. You must pretend that you have simply blundered upon our fire. Whatever you do, never ask a question while you are there — and I'll be your warrant that you will come off safely. Will you try?"
He attempted no further persuasion and contented himself with merely meeting the wistful challenge of her eyes.
"I will," she said at last, and then turning her glance away she repeated softly, "I will."
He knew that she was already rehearsing what she must say to Whistling Dan.
"You are not afraid?"
She smiled.
"Do you really trust me as far as this?"
With level-eyed tenderness that took his breath, she answered: "An absolute trust, Mr. Lee."
"My name," he said in a strange voice, "is Lee Haines."
Of one accord they stopped their horses and their hands met.
***
SERIALIZED BY HILOBOOKS: Jack London's The Scarlet Plague | Rudyard Kipling's With the Night Mail (and "As Easy as A.B.C.") | Arthur Conan Doyle's The Poison Belt | H. Rider Haggard's When the World Shook | Edward Shanks' The People of the Ruins | William Hope Hodgson's The Night Land | J.D. Beresford's Goslings | E.V. Odle's The Clockwork Man | Cicely Hamilton's Theodore Savage | Muriel Jaeger's The Man With Six Senses | Jack London's "The Red One" | Philip Francis Nowlan's Armageddon 2419 A.D. | Homer Eon Flint's The Devolutionist | W.E.B. DuBois's "The Comet" | Edgar Rice Burroughs's The Moon Men | Charlotte Perkins Gilman's Herland | Sax Rohmer's "The Zayat Kiss" | Eimar O'Duffy's King Goshawk and the Birds | Frances Hodgson Burnett's The Lost Prince | Morley Roberts's The Fugitives | Helen MacInnes's The Unconquerable | Geoffrey Household's Watcher in the Shadows | William Haggard's The High Wire | Hammond Innes's Air Bridge | James Branch Cabell's Jurgen | John Buchan's "No Man's Land" | John Russell's "The Fourth Man" | E.M. Forster's "The Machine Stops" | John Buchan's Huntingtower | Arthur Conan Doyle's When the World Screamed | Victor Bridges' A Rogue By Compulsion | Jack London's The Iron Heel | H. De Vere Stacpoole's The Man Who Lost Himself | P.G. Wodehouse's Leave It to Psmith | Richard Connell's "The Most Dangerous Game" | Houdini and Lovecraft's "Imprisoned with the Pharaohs" | Arthur Conan Doyle's "The Sussex Vampire" | Francis Stevens's "Friend Island" | George C. Wallis's "The Last Days of Earth" | Frank L. Pollock's "Finis" | A. Merritt's The Moon Pool | E. Nesbit's "The Third Drug" | George Allan England's "The Thing from — 'Outside'" | Booth Tarkington's "The Veiled Feminists of Atlantis" | H.G. Wells's "The Land Ironclads" | J.D. Beresford's The Hampdenshire Wonder | Valery Bryusov's "The Republic of the Southern Cross" | Algernon Blackwood's "A Victim of Higher Space" | A. Merritt's "The People of the Pit" | Max Brand's The Untamed | Julian Huxley's "The Tissue-Culture King" | Clare Winger Harris's "A Runaway World" | Francis Stevens's "Thomas Dunbar" | George Gurdjieff's "Beelzebub's Tales" | Robert W. Chambers's "The Harbor-Master" | Mary E. Wilkins Freeman's "The Hall Bedroom" | Clare Winger Harris's "The Fifth Dimension" | Francis Stevens's "Behind the Curtain" | more to come.