THE UNTAMED (8)
By: Max Brand
October 14, 2022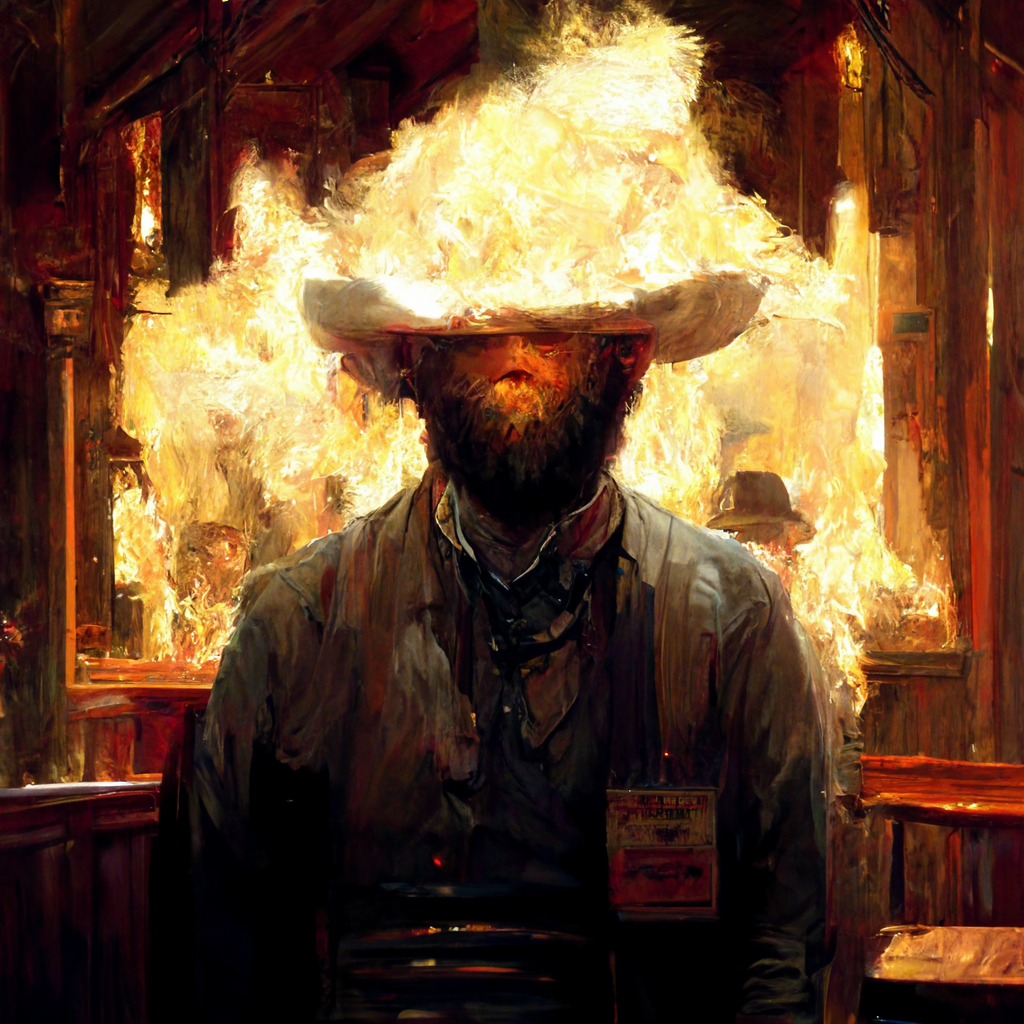 HiLoBooks is pleased to serialize Max Brand's 1919 western novel The Untamed for HILOBROW's readers. The original spaghetti western (complete with a Morricone-style whistling score), this yarn features a protagonist with uncanny violent abilities… leading one to wonder whether it's a Sarah Canary-esque work of Radium Age proto-sf about a mutant or possibly an alien? (Note that in 1919, Brand also serialized the superman novel Children of Night.) We'll let you decide.
ALL INSTALLMENTS: 1 | 2 | 3 | 4 | 5 | 6 | 7 | 8 | 9 | 10 | 11 | 12 | 13 | 14 | 15 | 16 | 17 | 18 | 19 | 20 | 21 | 22 | 23 | 24 | 25 | 26 | 27 | 28 | 29 | 30 | 31 | 32 | 33 | 34 | 35 | 36 | 37 | 38.
***
CHAPTER VIII
RED WRITING
He stirred.
"Dan — dear!"
"My head," he muttered, "it sort of aches, Kate, as if —"
He was silent and she knew that he remembered.
"You're all right now, honey. I've come here to take care of you — I won't leave you. Poor Dan!"
"How did you know?" he asked, the words trailing.
"Black Bart came for me."
"Good ol' Bart!"
The great wolf slunk closer, and licked the outstretched hand.
"Why, Kate, I'm on the floor and it's dark. Am I still in Morgan's place? Yes, I begin to see clearer."
He made an effort to rise, but she pressed him back.
"If you try to move right away you may get a fever. I'm going back to the house, and I'll bring you down some blankets. Morgan says you shouldn't attempt to move for several hours. He says you've lost a great deal of blood and that you mustn't make any effort or ride a horse till tomorrow."
Dan relaxed with a sigh.
"Kate."
"Yes, honey."
Her hand travelled lightly as blown snow across his forehead. He caught it and pressed the coolness against his cheek.
"I feel as if I'd sort of been through a fire. I seem to be still seein' red."
"Dan, it makes me feel as if I never knew you! Now you must forget all that has happened. Promise me you will!"
He was silent for a moment and then he sighed again.
"Maybe I can, Kate. Which I feel, though, as if there was somethin' inside me writ — writ in red letters — I got to try to read the writin' before I can talk much."
She barely heard him. Her hand was still against his face. A deep awe and content was creeping through her, so that she began to smile and was glad that the dark covered her face. She felt abashed before him for the first time in her life, and there was a singular sense of shame. It was as if some door in her inner heart had opened so that Dan was at liberty to look down into her soul. There was terror in this feeling, but there was also gladness.
"Kate."
"Yes — honey!"
"What were you hummin'?"
She started.
"I didn't know I was humming, Dan."
"You were, all right. It sounded sort of familiar, but I couldn't figger out where I heard it."
"I know now. It's one of your own tunes."
Now she felt a tremor so strong that she feared he would notice it.
"I must go back to the house, Dan. Maybe Dad has returned. If he has, perhaps he can arrange to have you carried back tonight."
"I don't want to think of movin', Kate. I feel mighty comfortable. I'm forgettin' all about that ache in my head. Ain't that queer? Why, Kate, what in the world are you laughin' about?"
"I don't know, Dan. I'm just happy!"
"Kate."
"Yes?"
"I like you pretty much."
"I'm so glad!"
"You an' Black Bart, an' Satan —"
"Oh!" Her tone changed.
"Why are you tryin' to take your hand away, Kate?"
"Don't you care for me any more than for your horse — and your dog?"
He drew a long breath, puzzled.
"It's some different, I figger."
"Tell me!"
"If Black Bart died —"
The wolf-dog whined, hearing his name.
"Good ol' Bart! Well, if Black Bart died maybe I'd some day have another dog I'd like almost as much."
"Yes."
"An' if Satan died — even Satan! — maybe I could sometime like another hoss pretty well — if he was a pile like Satan! But if you was to die — it'd be different, a considerable pile different."
"Why?"
His pauses to consider these questions were maddening.
"I don't know," he muttered at last.
Once more she was thankful for the dark to hide her smile.
"Maybe you know the reason, Kate?"
Her laughter was rich music. His hold on her hand relaxed. He was thinking of a new theme. When he laughed in turn it startled her. She had never heard that laugh before.
"What is it, Dan?"
"He was pretty big, Kate. He was bigger'n almost any man I ever seen! It was kind of funny. After he hit me I was almost glad. I didn't hate him —"
"Dear Dan!"
"I didn't hate him — I jest nacherally wanted to kill him — and wantin' to do that made me glad. Isn't that funny, Kate?"
He spoke of it as a chance traveller might point out a striking feature of the landscape to a companion.
"Dan, if you really care for me you must drop the thought of him."
His hand slipped away.
"How can I do that? That writin' I was tellin' you about —"
"Yes?"
"It's about him!"
"Ah!"
"When he hit me the first time —"
"I won't hear you tell of it!"
"The blood come down my chin — jest a little trickle of it. It was warm, Kate. That was what made me hot all through."
Her hands fell limp, cold, lifeless.
"It's as clear as the print in a book. I've got to finish him. That's the only way I can forget the taste of my own blood."
"Dan, listen to me!"
He laughed again, in the new way. She remembered that her father had dreaded the very thing that had come to Dan — this first taste of his own powers — this first taste (she shuddered) of blood!
"Dan, you've told me that you like me. You have to make a choice now, between pursuing this man, and me."
"You don't understand," he explained carefully. "I got to follow him. I can't help it no more'n Black Bart can help howlin' when he sees the moon."
He fell silent, listening. Far across the hills came the plaintive wail of a coyote — that shrill bodiless sound. Kate trembled.
"Dan!"
Outside, Satan whinnied softly like a call. She leaned and her lips touched his. He thrust her away almost roughly.
"They's blood on my lips, Kate! I can't kiss you till they're clean."
He turned his head.
"You must listen to me, Dan!"
"Kate, would you talk to the wind?"
"Yes, if I loved the wind!"
He turned his head.
She pleaded: "Here are my hands to cover your eyes and shut out the thoughts of this man you hate. Here are my lips, dear, to tell you that I love you unless this thirst for killing carries you away from me. Stay with me! Give me your heart to keep gentle!"
He said nothing, but even through the dark she was aware of a struggle in his face, and then, through the gloom, she began to see his eyes more clearly. They seemed to be illuminated by a light from within — they changed — there was a hint of yellow in the brown. And she spoke again, blindly, passionately.
"Give me your promise! It is so easy to do. One little word will make you safe. It will save you from yourself."
Still he answered nothing. Black Bart came and crouched at his head and stared at her fixedly.
"Speak to me!"
Only the yellow light answered her. Cold fear fought in her heart, but love still struggled against it.
"For the last time — for God's sake, Dan!"
Still that silence. She rose, shaking and weak. The changeless eyes followed her. Only fear remained now. She backed towards the door, slowly, then faster, and faster. At the threshold she whirled and plunged into the night.
Up the road she raced. Once she stumbled and fell to her knees. She cried out and glanced behind her, breathing again when she saw that nothing followed. At the house she made no pause, though she heard the voice of her father singing. She could not tell him. He should be the last in all the world to know. She went to her room and huddled into bed.
Presently a knock came at her door, and her father's voice asked if she were ill. She pleaded that she had a bad headache and wished to be alone. He asked if she had seen Dan. By a great effort she managed to reply that Dan had ridden to a neighbouring ranch. Her father left the door without further question. Afterwards she heard him in the distance singing his favourite mournful ballads. It doubled her sense of woe and brought home the clinging fear. She felt that if she could weep she might live, but otherwise her heart would burst. And after hours and hours of that torture which burns the name of "woman" in the soul of a girl, the tears came. The roosters announced the dawn before she slept.
Late the next morning old Joe Cumberland knocked again at her door. He was beginning to fear that this illness might be serious. Moreover, he had a definite purpose in rousing her.
"Yes?" she called, after the second knock.
"Look out your window, honey, down to Morgan's place. You remember I said I was goin' to clean up the landscape?"
The mention of Morgan's place cleared the sleep from Kate's mind and it brought back the horror of the night before. Shivering she slipped from her bed and went to the window. Morgan's place was a mass of towering flames!
She grasped the window-sill and stared again. It could not be. It must be merely another part of the nightmare, and no reality. Her father's voice, high with exultation, came dimly to her ears, but what she saw was Dan as he had laid there the night before, hurt, helpless, too weak to move!
"There's the end of it," Joe Cumberland was saying complacently outside her door. "There ain't goin' to be even a shadow of the saloon left nor nothin' that's in it. I jest travelled down there this mornin' and touched a match to it!"
Still she stared without moving, without making a sound. She was seeing Dan as he must have wakened from a swoonlike sleep with the smell of smoke and the heat of rising flames around him. She saw him struggle, and fail to reach his feet. She almost heard him cry out — a sound drowned easily by the roar of the fire, and the crackling of the wood. She saw him drag himself with his hands across the floor, only to be beaten back by a solid wall of flame. Black Bart crouched beside him and would not leave his doomed master. Fascinated by the raging fire the black stallion Satan would break from the shed and rush into the flames! — and so the inseparable three must have perished together!
"Why don't you speak, Kate?" called her father.
"Dan!" she screamed, and pitched forward to the floor.
***
SERIALIZED BY HILOBOOKS: Jack London's The Scarlet Plague | Rudyard Kipling's With the Night Mail (and "As Easy as A.B.C.") | Arthur Conan Doyle's The Poison Belt | H. Rider Haggard's When the World Shook | Edward Shanks' The People of the Ruins | William Hope Hodgson's The Night Land | J.D. Beresford's Goslings | E.V. Odle's The Clockwork Man | Cicely Hamilton's Theodore Savage | Muriel Jaeger's The Man With Six Senses | Jack London's "The Red One" | Philip Francis Nowlan's Armageddon 2419 A.D. | Homer Eon Flint's The Devolutionist | W.E.B. DuBois's "The Comet" | Edgar Rice Burroughs's The Moon Men | Charlotte Perkins Gilman's Herland | Sax Rohmer's "The Zayat Kiss" | Eimar O'Duffy's King Goshawk and the Birds | Frances Hodgson Burnett's The Lost Prince | Morley Roberts's The Fugitives | Helen MacInnes's The Unconquerable | Geoffrey Household's Watcher in the Shadows | William Haggard's The High Wire | Hammond Innes's Air Bridge | James Branch Cabell's Jurgen | John Buchan's "No Man's Land" | John Russell's "The Fourth Man" | E.M. Forster's "The Machine Stops" | John Buchan's Huntingtower | Arthur Conan Doyle's When the World Screamed | Victor Bridges' A Rogue By Compulsion | Jack London's The Iron Heel | H. De Vere Stacpoole's The Man Who Lost Himself | P.G. Wodehouse's Leave It to Psmith | Richard Connell's "The Most Dangerous Game" | Houdini and Lovecraft's "Imprisoned with the Pharaohs" | Arthur Conan Doyle's "The Sussex Vampire" | Francis Stevens's "Friend Island" | George C. Wallis's "The Last Days of Earth" | Frank L. Pollock's "Finis" | A. Merritt's The Moon Pool | E. Nesbit's "The Third Drug" | George Allan England's "The Thing from — 'Outside'" | Booth Tarkington's "The Veiled Feminists of Atlantis" | H.G. Wells's "The Land Ironclads" | J.D. Beresford's The Hampdenshire Wonder | Valery Bryusov's "The Republic of the Southern Cross" | Algernon Blackwood's "A Victim of Higher Space" | A. Merritt's "The People of the Pit" | Max Brand's The Untamed | Julian Huxley's "The Tissue-Culture King" | Clare Winger Harris's "A Runaway World" | Francis Stevens's "Thomas Dunbar" | George Gurdjieff's "Beelzebub's Tales" | Robert W. Chambers's "The Harbor-Master" | Mary E. Wilkins Freeman's "The Hall Bedroom" | Clare Winger Harris's "The Fifth Dimension" | Francis Stevens's "Behind the Curtain" | more to come.