THE MOON POOL (5)
By: A. Merritt
August 4, 2021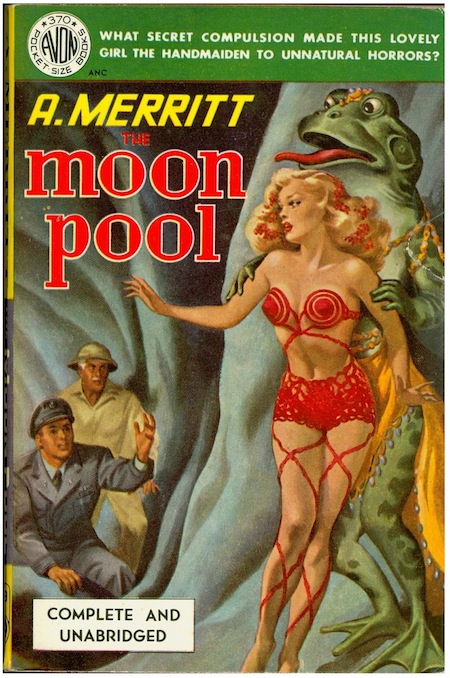 A 1951 paperback edition.
HiLoBooks is pleased to serialize A. Merritt's 1919 proto-sf novel The Moon Pool for HILOBROW's readers. Often cited as an influence on Lovecraft's Cthulhu mythos, it was first published in All-Story Weekly (1918–19) as two short stories.
ALL INSTALLMENTS: 1 | 2 | 3 | 4 | 5 | 6 | 7 | 8 | 9 | 10 | 11 | 12 | 13 | 14 | 15 | 16 | 17 | 18 | 19 | 20 | 21 | 22 | 23 | 24 | 25 | 26 | 27 | 28 | 29 | 30 | 31 | 32 | 33 | 34 | 35 | 36.
***

CHAPTER IV


The First Vanishings

"We carried Thora back, down to where Edith was waiting. We told her what had happened and what we had found. She listened gravely, and as we finished Thora sighed and opened her eyes.
"'I would like to see the stone,' she said. 'Charles, you stay here with Thora.' We passed through the outer court silently—and stood before the rock. She touched it, drew back her hand as I had; thrust it forward again resolutely and held it there. She seemed to be listening. Then she turned to me.
"'David,' said my wife, and the wistfulness in her voice hurt me—'David, would you be very, very disappointed if we went from here—without trying to find out any more about it—would you?'
"Walter, I never wanted anything so much in my life as I wanted to learn what that rock concealed. Nevertheless, I tried to master my desire, and I answered—'Edith, not a bit if you want us to do it.'
"She read my struggle in my eyes. She turned back toward the grey rock. I saw a shiver pass through her. I felt a tinge of remorse and pity!
"'Edith,' I exclaimed, 'we'll go!'
"She looked at me again. 'Science is a jealous mistress,' she quoted. 'No, after all it may be just fancy. At any rate, you can't run away. No! But, Dave, I'm going to stay too!'
"And there was no changing her decision. As we neared the others she laid a hand on my arm.
"'Dave,' she said, 'if there should be something—well—inexplicable tonight—something that seems—too dangerous—will you promise to go back to our own islet tomorrow, if we can—and wait until the natives return?'
"I promised eagerly—the desire to stay and see what came with the night was like a fire within me.
"We picked a place about five hundred feet away from the steps leading into the outer court.
"The spot we had selected was well hidden. We could not be seen, and yet we had a clear view of the stairs and the gateway. We settled down just before dusk to wait for whatever might come. I was nearest the giant steps; next me Edith; then Thora, and last Stanton.
"Night fell. After a time the eastern sky began to lighten, and we knew that the moon was rising; grew lighter still, and the orb peeped over the sea; swam into full sight. I glanced at Edith and then at Thora. My wife was intently listening. Thora sat, as she had since we had placed ourselves, elbows on knees, her hands covering her face.
"And then from the moonlight flooding us there dripped down on me a great drowsiness. Sleep seemed to seep from the rays and fall upon my eyes, closing them—closing them inexorably. Edith's hand in mine relaxed. Stanton's head fell upon his breast and his body swayed drunkenly. I tried to rise—to fight against the profound desire for slumber that pressed on me.
"And as I fought, Thora raised her head as though listening; and turned toward the gateway. There was infinite despair in her face—and expectancy. I tried again to rise—and a surge of sleep rushed over me. Dimly, as I sank within it, I heard a crystalline chiming; raised my lids once more with a supreme effort.
"Thora, bathed in light, was standing at the top of the stairs.
"Sleep took me for its very own—swept me into the heart of oblivion!
"Dawn was breaking when I wakened. Recollection rushed back; I thrust a panic-stricken hand out toward Edith; touched her and my heart gave a great leap of thankfulness. She stirred, sat up, rubbing dazed eyes. Stanton lay on his side, back toward us, head in arms.
"Edith looked at me laughingly. 'Heavens! What sleep!' she said. Memory came to her.
"'What happened?' she whispered. 'What made us sleep like that?'
"Stanton awoke.
"'What's the matter!' he exclaimed. 'You look as though you've been seeing ghosts.'
"Edith caught my hands.
"'Where's Thora?' she cried. Before I could answer she had run out into the open, calling.
"'Thora was taken,' was all I could say to Stanton, 'together we went to my wife, now standing beside the great stone steps, looking up fearfully at the gateway into the terraces. There I told them what I had seen before sleep had drowned me. And together then we ran up the stairs, through the court and to the grey rock.
"The slab was closed as it had been the day before, nor was there trace of its having opened. No trace? Even as I thought this Edith dropped to her knees before it and reached toward something lying at its foot. It was a little piece of gay silk. I knew it for part of the kerchief Thora wore about her hair. She lifted the fragment. It had been cut from the kerchief as though by a razor-edge; a few threads ran from it—down toward the base of the slab; ran on to the base of the grey rock and—under it!
"The grey rock was a door! And it had opened and Thora had passed through it!
"I think that for the next few minutes we all were a little insane. We beat upon that portal with our hands, with stones and sticks. At last reason came back to us.
"Goodwin, during the next two hours we tried every way in our power to force entrance through the slab. The rock resisted our drills. We tried explosions at the base with charges covered by rock. They made not the slightest impression on the surface, expending their force, of course, upon the slighter resistance of their coverings.
"Afternoon found us hopeless. Night was coming on and we would have to decide our course of action. I wanted to go to Ponape for help. But Edith objected that this would take hours and after we had reached there it would be impossible to persuade our men to return with us that night, if at all. What then was left? Clearly only one of two choices: to go back to our camp, wait for our men, and on their return try to persuade them to go with us to Nan-Tauach. But this would mean the abandonment of Thora for at least two days. We could not do it; it would have been too cowardly.
"The other choice was to wait where we were for night to come; to wait for the rock to open as it had the night before, and to make a sortie through it for Thora before it could close again.
"Our path lay clear before us. We had to spend that night on Nan-Tauach!
"We had, of course, discussed the sleep phenomena very fully. If our theory that lights, sounds, and Thora's disappearance were linked with secret religious rites of the natives, the logical inference was that the slumber had been produced by them, perhaps by vapours—you know as well as I, what extraordinary knowledge these Pacific peoples have of such things. Or the sleep might have been simply a coincidence and produced by emanations either gaseous or from plants, natural causes which had happened to coincide in their effects with the other manifestations. We made some rough and ready but effective respirators.
"As dusk fell we looked over our weapons. Edith was an excellent shot with both rifle and pistol. We had decided that my wife was to remain in the hiding-place. Stanton would take up a station on the far side of the stairway and I would place myself opposite him on the side near Edith. The place I picked out was less than two hundred feet from her, and I could reassure myself now and then as to her safety as it looked down upon the hollow wherein she crouched. From our respective stations Stanton and I could command the gateway entrance. His position gave him also a glimpse of the outer courtyard.
"A faint glow in the sky heralded the moon. Stanton and I took our places. The moon dawn increased rapidly; the disk swam up, and in a moment it was shining in full radiance upon ruins and sea.
"As it rose there came a curious little sighing sound from the inner terrace. Stanton straightened up and stared intently through the gateway, rifle ready.
"'Stanton, what do you see?' I called cautiously. He waved a silencing hand. I turned my head to look at Edith. A shock ran through me. She lay upon her side. Her face, grotesque with its nose and mouth covered by the respirator, was turned full toward the moon. She was again in deepest sleep!
"As I turned again to call to Stanton, my eyes swept the head of the steps and stopped, fascinated. For the moonlight had thickened. It seemed to be—curdled—there; and through it ran little gleams and veins of shimmering white fire. A languor passed through me. It was not the ineffable drowsiness of the preceding night. It was a sapping of all will to move. I tried to cry out to Stanton. I had not even the will to move my lips. Goodwin—I could not even move my eyes!
"Stanton was in the range of my fixed vision. I watched him leap up the steps and move toward the gateway. The curdled radiance seemed to await him. He stepped into it—and was lost to my sight.
"For a dozen heart beats there was silence. Then a rain of tinklings that set the pulses racing with joy and at once checked them with tiny fingers of ice—and ringing through them Stanton's voice from the courtyard—a great cry—a scream—filled with ecstasy insupportable and horror unimaginable! And once more there was silence. I strove to burst the bonds that held me. I could not. Even my eyelids were fixed. Within them my eyes, dry and aching, burned.
"Then Goodwin—I first saw the—inexplicable! The crystalline music swelled. Where I sat I could take in the gateway and its basalt portals, rough and broken, rising to the top of the wall forty feet above, shattered, ruined portals—unclimbable. From this gateway an intenser light began to flow. It grew, it gushed, and out of it walked Stanton.
"Stanton! But—God! What a vision!"
A deep tremor shook him. I waited—waited.
***
RADIUM AGE PROTO-SF: "Radium Age" is Josh Glenn's name for the nascent sf genre's c. 1900–1935 era, a period which saw the discovery of radioactivity, i.e., the revelation that matter itself is constantly in movement — a fitting metaphor for the first decades of the 20th century, during which old scientific, religious, political, and social certainties were shattered. More info here.
SERIALIZED BY HILOBOOKS: Jack London's The Scarlet Plague | Rudyard Kipling's With the Night Mail (and "As Easy as A.B.C.") | Arthur Conan Doyle's The Poison Belt | H. Rider Haggard's When the World Shook | Edward Shanks' The People of the Ruins | William Hope Hodgson's The Night Land | J.D. Beresford's Goslings | E.V. Odle's The Clockwork Man | Cicely Hamilton's Theodore Savage | Muriel Jaeger's The Man With Six Senses | Jack London's "The Red One" | Philip Francis Nowlan's Armageddon 2419 A.D. | Homer Eon Flint's The Devolutionist | W.E.B. DuBois's "The Comet" | Edgar Rice Burroughs's The Moon Men | Charlotte Perkins Gilman's Herland | Sax Rohmer's "The Zayat Kiss" | Eimar O'Duffy's King Goshawk and the Birds | Frances Hodgson Burnett's The Lost Prince | Morley Roberts's The Fugitives | Helen MacInnes's The Unconquerable | Geoffrey Household's Watcher in the Shadows | William Haggard's The High Wire | Hammond Innes's Air Bridge | James Branch Cabell's Jurgen | John Buchan's "No Man's Land" | John Russell's "The Fourth Man" | E.M. Forster's "The Machine Stops" | John Buchan's Huntingtower | Arthur Conan Doyle's When the World Screamed | Victor Bridges' A Rogue By Compulsion | Jack London's The Iron Heel | H. De Vere Stacpoole's The Man Who Lost Himself | P.G. Wodehouse's Leave It to Psmith | Richard Connell's "The Most Dangerous Game" | Houdini and Lovecraft's "Imprisoned with the Pharaohs" | Arthur Conan Doyle's "The Sussex Vampire" | Francis Stevens's "Friend Island" | George C. Wallis's "The Last Days of Earth" | Frank L. Pollock's "Finis" | A. Merritt's The Moon Pool | E. Nesbit's "The Third Drug" | George Allan England's "The Thing from — 'Outside'" | Booth Tarkington's "The Veiled Feminists of Atlantis" | H.G. Wells's "The Land Ironclads" | J.D. Beresford's The Hampdenshire Wonder | Valery Bryusov's "The Republic of the Southern Cross" | Algernon Blackwood's "A Victim of Higher Space" | A. Merritt's "The People of the Pit" | Max Brand's The Untamed | Julian Huxley's "The Tissue-Culture King" | Clare Winger Harris's "A Runaway World" | Francis Stevens's "Thomas Dunbar" | George Gurdjieff's "Beelzebub's Tales" | Robert W. Chambers's "The Harbor-Master" | Mary E. Wilkins Freeman's "The Hall Bedroom" | Clare Winger Harris's "The Fifth Dimension" | Francis Stevens's "Behind the Curtain" | more to come.