THE MOON POOL (3)
By: A. Merritt
July 25, 2021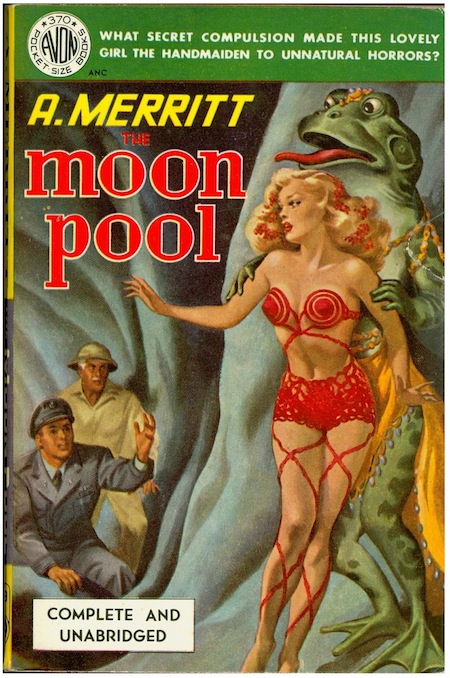 A 1951 paperback edition.
HiLoBooks is pleased to serialize A. Merritt's 1919 proto-sf novel The Moon Pool for HILOBROW's readers. Often cited as an influence on Lovecraft's Cthulhu mythos, it was first published in All-Story Weekly (1918–19) as two short stories.
ALL INSTALLMENTS: 1 | 2 | 3 | 4 | 5 | 6 | 7 | 8 | 9 | 10 | 11 | 12 | 13 | 14 | 15 | 16 | 17 | 18 | 19 | 20 | 21 | 22 | 23 | 24 | 25 | 26 | 27 | 28 | 29 | 30 | 31 | 32 | 33 | 34 | 35 | 36.
***

CHAPTER II


"Dead! All Dead!"

He was sitting, face in hands, on the side of his berth as I entered. He had taken off his coat.
"Throck," I cried. "What was it? What are you flying from, man? Where is your wife—and Stanton?"
"Dead!" he replied monotonously. "Dead! All dead!" Then as I recoiled from him—"All dead. Edith, Stanton, Thora—dead—or worse. And Edith in the Moon Pool—with them—drawn by what you saw on the moon path—that has put its brand upon me—and follows me!"
He ripped open his shirt.
"Look at this," he said. Around his chest, above his heart, the skin was white as pearl. This whiteness was sharply defined against the healthy tint of the body. It circled him with an even cincture about two inches wide.
"Burn it!" he said, and offered me his cigarette. I drew back. He gestured—peremptorily. I pressed the glowing end of the cigarette into the ribbon of white flesh. He did not flinch nor was there odour of burning nor, as I drew the little cylinder away, any mark upon the whiteness.
"Feel it!" he commanded again. I placed my fingers upon the band. It was cold—like frozen marble.
He drew his shirt around him.
"Two things you have seen," he said. "It—and its mark. Seeing, you must believe my story. Goodwin, I tell you again that my wife is dead—or worse—I do not know; the prey of—what you saw; so, too, is Stanton; so Thora. How—"
Tears rolled down the seared face.
"Why did God let it conquer us? Why did He let it take my Edith?" he cried in utter bitterness. "Are there things stronger than God, do you think, Walter?"
I hesitated.
"Are there? Are there?" His wild eyes searched me.
"I do not know just how you define God," I managed at last through my astonishment to make answer. "If you mean the will to know, working through science—"
He waved me aside impatiently.
"Science," he said. "What is our science against—that? Or against the science of whatever devils that made it—or made the way for it to enter this world of ours?"
With an effort he regained control.
"Goodwin," he said, "do you know at all of the ruins on the Carolines; the cyclopean, megalithic cities and harbours of Ponape and Lele, of Kusaie, of Ruk and Hogolu, and a score of other islets there? Particularly, do you know of the Nan-Matal and the Metalanim?"
"Of the Metalanim I have heard and seen photographs," I said. "They call it, don't they, the Lost Venice of the Pacific?"
"Look at this map," said Throckmartin. "That," he went on, "is Christian's chart of Metalanim harbour and the Nan-Matal. Do you see the rectangles marked Nan-Tauach?"
"Yes," I said.
"There," he said, "under those walls is the Moon Pool and the seven gleaming lights that raise the Dweller in the Pool, and the altar and shrine of the Dweller. And there in the Moon Pool with it lie Edith and Stanton and Thora."
"The Dweller in the Moon Pool?" I repeated half-incredulously.
"The Thing you saw," said Throckmartin solemnly.
A solid sheet of rain swept the ports, and the Southern Queen began to roll on the rising swells. Throckmartin drew another deep breath of relief, and drawing aside a curtain peered out into the night. Its blackness seemed to reassure him. At any rate, when he sat again he was entirely calm.
"There are no more wonderful ruins in the world," he began almost casually. "They take in some fifty islets and cover with their intersecting canals and lagoons about twelve square miles. Who built them? None knows. When were they built? Ages before the memory of present man, that is sure. Ten thousand, twenty thousand, a hundred thousand years ago—the last more likely.
"All these islets, Walter, are squared, and their shores are frowning seawalls of gigantic basalt blocks hewn and put in place by the hands of ancient man. Each inner water-front is faced with a terrace of those basalt blocks which stand out six feet above the shallow canals that meander between them. On the islets behind these walls are time-shattered fortresses, palaces, terraces, pyramids; immense courtyards strewn with ruins—and all so old that they seem to wither the eyes of those who look on them.
"There has been a great subsidence. You can stand out of Metalanim harbour for three miles and look down upon the tops of similar monolithic structures and walls twenty feet below you in the water.
"And all about, strung on their canals, are the bulwarked islets with their enigmatic walls peering through the dense growths of mangroves—dead, deserted for incalculable ages; shunned by those who live near.
"You as a botanist are familiar with the evidence that a vast shadowy continent existed in the Pacific—a continent that was not rent asunder by volcanic forces as was that legendary one of Atlantis in the Eastern Ocean.[1] My work in Java, in Papua, and in the Ladrones had set my mind upon this Pacific lost land. Just as the Azores are believed to be the last high peaks of Atlantis, so hints came to me steadily that Ponape and Lele and their basalt bulwarked islets were the last points of the slowly sunken western land clinging still to the sunlight, and had been the last refuge and sacred places of the rulers of that race which had lost their immemorial home under the rising waters of the Pacific.
"I believed that under these ruins I might find the evidence that I sought.
"My—my wife and I had talked before we were married of making this our great work. After the honeymoon we prepared for the expedition. Stanton was as enthusiastic as ourselves. We sailed, as you know, last May for fulfilment of my dreams.
"At Ponape we selected, not without difficulty, workmen to help us—diggers. I had to make extraordinary inducements before I could get together my force. Their beliefs are gloomy, these Ponapeans. They people their swamps, their forests, their mountains, and shores, with malignant spirits—ani they call them. And they are afraid—bitterly afraid of the isles of ruins and what they think the ruins hide. I do not wonder—now!
"When they were told where they were to go, and how long we expected to stay, they murmured. Those who, at last, were tempted made what I thought then merely a superstitious proviso that they were to be allowed to go away on the three nights of the full moon. Would to God we had heeded them and gone too!"
"We passed into Metalanim harbour. Off to our left—a mile away arose a massive quadrangle. Its walls were all of forty feet high and hundreds of feet on each side. As we drew by, our natives grew very silent; watched it furtively, fearfully. I knew it for the ruins that are called Nan-Tauach, the 'place of frowning walls.' And at the silence of my men I recalled what Christian had written of this place; of how he had come upon its 'ancient platforms and tetragonal enclosures of stonework; its wonder of tortuous alleyways and labyrinth of shallow canals; grim masses of stonework peering out from behind verdant screens; cyclopean barricades,' and of how, when he had turned 'into its ghostly shadows, straight-way the merriment of guides was hushed and conversation died down to whispers.'"
He was silent for a little time.
"Of course I wanted to pitch our camp there," he went on again quietly, "but I soon gave up that idea. The natives were panic-stricken—threatened to turn back. 'No,' they said, 'too great ani there. We go to any other place—but not there.'
"We finally picked for our base the islet called Uschen-Tau. It was close to the isle of desire, but far enough away from it to satisfy our men. There was an excellent camping-place and a spring of fresh water. We pitched our tents, and in a couple of days the work was in full swing."
*
[1] For more detailed observations on these points refer to G. Volkens, Uber die Karolinen Insel Yap, in Verhandlungen Gesellschaft Erdkunde Berlin, xxvii (1901); J. S. Kubary, Ethnographische Beitrage zur Kentniss des Karolinen Archipel (Leiden, 1889-1892); De Abrade Historia del Conflicto de las Carolinas, etc. (Madrid, 1886).—W. T. G.
***
RADIUM AGE PROTO-SF: "Radium Age" is Josh Glenn's name for the nascent sf genre's c. 1900–1935 era, a period which saw the discovery of radioactivity, i.e., the revelation that matter itself is constantly in movement — a fitting metaphor for the first decades of the 20th century, during which old scientific, religious, political, and social certainties were shattered. More info here.
SERIALIZED BY HILOBOOKS: Jack London's The Scarlet Plague | Rudyard Kipling's With the Night Mail (and "As Easy as A.B.C.") | Arthur Conan Doyle's The Poison Belt | H. Rider Haggard's When the World Shook | Edward Shanks' The People of the Ruins | William Hope Hodgson's The Night Land | J.D. Beresford's Goslings | E.V. Odle's The Clockwork Man | Cicely Hamilton's Theodore Savage | Muriel Jaeger's The Man With Six Senses | Jack London's "The Red One" | Philip Francis Nowlan's Armageddon 2419 A.D. | Homer Eon Flint's The Devolutionist | W.E.B. DuBois's "The Comet" | Edgar Rice Burroughs's The Moon Men | Charlotte Perkins Gilman's Herland | Sax Rohmer's "The Zayat Kiss" | Eimar O'Duffy's King Goshawk and the Birds | Frances Hodgson Burnett's The Lost Prince | Morley Roberts's The Fugitives | Helen MacInnes's The Unconquerable | Geoffrey Household's Watcher in the Shadows | William Haggard's The High Wire | Hammond Innes's Air Bridge | James Branch Cabell's Jurgen | John Buchan's "No Man's Land" | John Russell's "The Fourth Man" | E.M. Forster's "The Machine Stops" | John Buchan's Huntingtower | Arthur Conan Doyle's When the World Screamed | Victor Bridges' A Rogue By Compulsion | Jack London's The Iron Heel | H. De Vere Stacpoole's The Man Who Lost Himself | P.G. Wodehouse's Leave It to Psmith | Richard Connell's "The Most Dangerous Game" | Houdini and Lovecraft's "Imprisoned with the Pharaohs" | Arthur Conan Doyle's "The Sussex Vampire" | Francis Stevens's "Friend Island" | George C. Wallis's "The Last Days of Earth" | Frank L. Pollock's "Finis" | A. Merritt's The Moon Pool | E. Nesbit's "The Third Drug" | George Allan England's "The Thing from — 'Outside'" | Booth Tarkington's "The Veiled Feminists of Atlantis" | H.G. Wells's "The Land Ironclads" | J.D. Beresford's The Hampdenshire Wonder | Valery Bryusov's "The Republic of the Southern Cross" | Algernon Blackwood's "A Victim of Higher Space" | A. Merritt's "The People of the Pit" | Max Brand's The Untamed | Julian Huxley's "The Tissue-Culture King" | Clare Winger Harris's "A Runaway World" | Francis Stevens's "Thomas Dunbar" | George Gurdjieff's "Beelzebub's Tales" | Robert W. Chambers's "The Harbor-Master" | Mary E. Wilkins Freeman's "The Hall Bedroom" | Clare Winger Harris's "The Fifth Dimension" | Francis Stevens's "Behind the Curtain" | more to come.