Eye Candy (46)
By: Peggy Nelson
April 28, 2021
Eye Candy would like you to consider your teacup. More broadly, all the ceramics in your space. Did you still have the set you picked up on a whim 15 years ago from the Ikea in Emeryville because, omg cheap? Perhaps a decorative espresso set is tucked away on a high shelf. Maybe you're really into tea and have a proper Portmeirion teapot with a cozy and a box of Barry's ready to hand. Or maybe, you hipster you, you've salvaged your parents' commemorative plates from the Bicentennial, or the wedding of Charles and Diana, back in the day. Functional, possibly. Ironic, possibly. But ceramics as an agent of critical inquiry?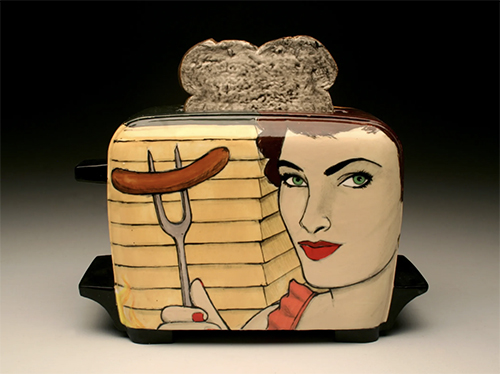 Actually that one's a yes. Master ceramicist Shalene Valenzuela uses slipcasting and her own take on images of women in 20th century advertising to reimagine the objects that populate the domestic sphere, and to reimagine that sphere accordingly. And the choice of material is deliberate: despite occasional forays into the fine arts space, ceramics trail a persuasive interior and functional pedigree. Valenzuela confronts that pedigree head-on.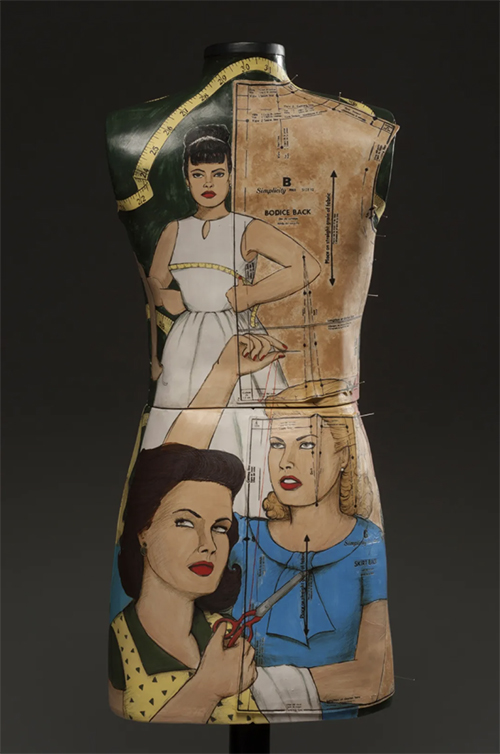 Painted in deceptively bright colors, with deceptively bright expressions, Valenzuela's midcentury-style housewives peering out from reimagined toasters and ironing boards invite us to question just how delighted — actually — anyone could be at the prospect of a domestic appliance. Because delighted we were definitely supposed to be. And, in important ways, the expectation is still there. Despite decades of feminism, the domestic sphere is still the woman's sphere. How many online "Agony Aunt" columns are still filled with complaints that the man around the house — whomever he or she or they might be — is not doing his share of the housework?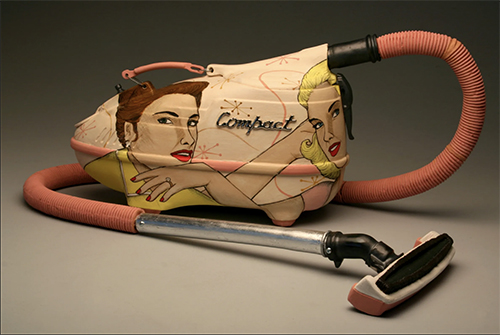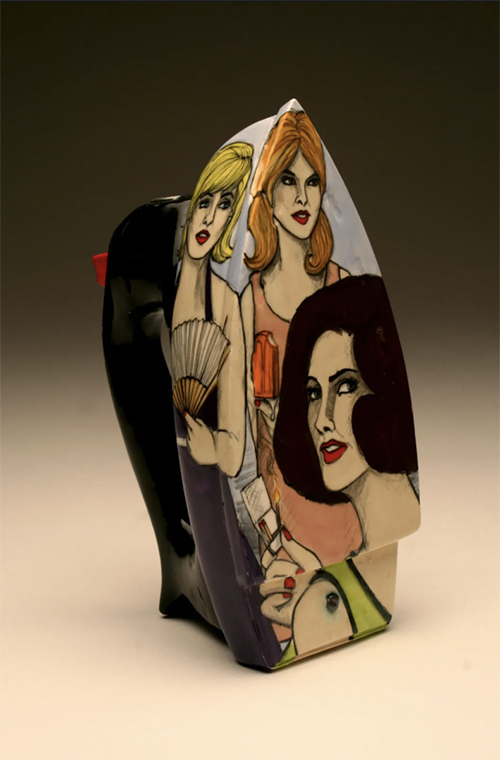 From Valenzuela's artist statement:
My ceramic sculptures reflect upon a variety of issues with a thoughtful, yet humorous and ironic tone. I reproduce everyday common objects primarily through slipcasting, and illustrate the surfaces with handpainted imagery. The narratives I create reference fairytales, urban mythologies, consumer culture, societal expectations, etiquette, politics, and coming-of-age issues. Stylistically, my imagery is pulled from somewhat dated sources that represent an idealized time in society and advertising. Beneath the shiny veneer of these relics hides a complex and sometimes contradicting truth of what things seem to appear as upon first glance.

My works are essentially a form of trompe l'oeil with a twist. In using clay to reinvent everyday objects, I play with the notion that things are not what they initially seem to be. The object being referenced remains recognizable while the illustrations are imperative in creating the narratives that weave various dialogues and statements within and about the physical object.
Branching out from toasters and irons, Valenzuela also applies this treatment to hammers, saws, tool boards and other traditionally male objects, commenting both on the welcome blurring of outdated gender roles, but also on the "pink" trend — where a hammer or other denizen of the man cave is issued in pink or flowers or other girly imagery to tap an underserved market demographic.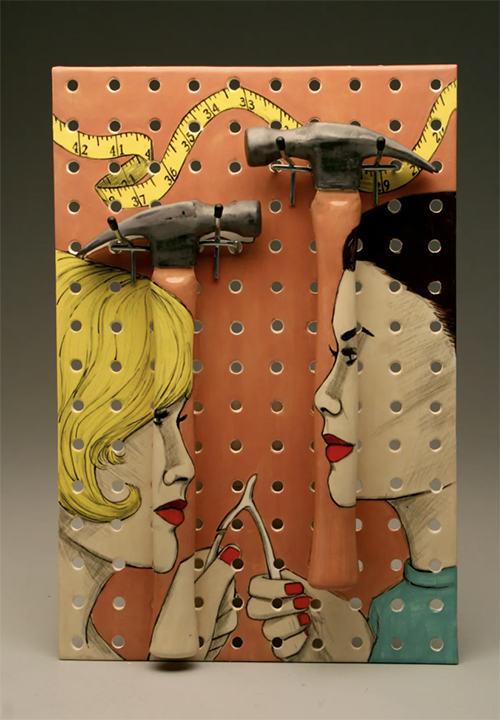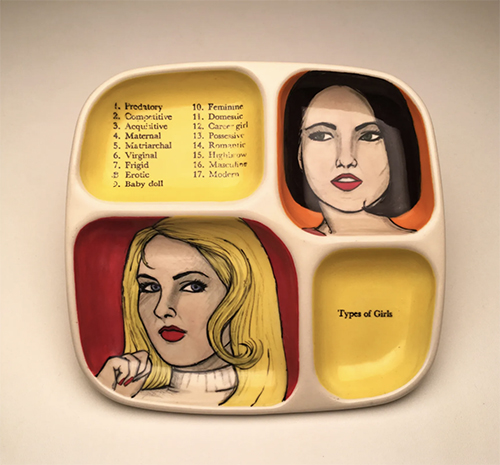 Valenzuela's work also confronts the uneasy dual lineage of the woman artist. In art history, we are generally relegated to the role of muse, or subject. We are passive, the holders of a notion of beauty or other projections, which we accept, silently of course. And if we don't fit into that narrative we are invisible, erased. Any woman artist must confront the fact that she is a maker, an agent in a space long-gendered to exclude her. Is she then her own muse? What about those centuries of silent poses — how does her work relate to this heritage? Does she owe them a voice? What would those voices say? And what about her own?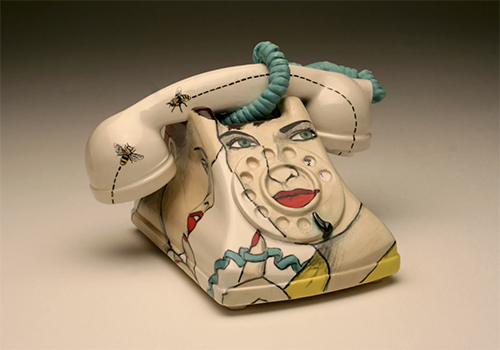 Valenzuela's work speaks loudly, for all of us.
***
Shalene Valenzuela: website; Instagram
Radius Gallery
Skidmore Contemporary Art (Santa Monica, CA)
Belger Arts (Kansas City, MO)
Natsoulas Gallery
Upcoming show: Materials Redefined , June 28 – August 17 , Chautauqua Institution – Fowler-Kellogg Art Center. Participating artists – Lisa Alonzo, Natalia Arbelaez, Carin MIncemoyer, Jaydan Moore, Brent Nakamoto, Shalene Valenzuela and Imen Yeh.