INTO THE GROVE (17)
By: Brian Berger
June 17, 2017
One in a series of posts, by long-time HILOBROW friend and contributor Brian Berger, celebrating perhaps America's most exciting and controversial publisher: Barney Rosset's Grove Press.
*
Robert Linder's Rebel Without a Cause (1944, 1956)
Frank O'Hara's Meditations on an Emergency (1957)
Alfred Kazin's A Walker in the City (1951, 1958)
Frank Norris' Vandover and the Brute (1914, 1959)
Alan W. Watts' Myth and Ritual in Christianity (1954, 1960)
Marya Zaturenska's Terraces of Light (1960)
Fernando Arrabal's Baal Babylon (1961), translated by Richard Howard
Albert Ellis' The Folklore of Sex (1961)
John Mortimer's The Dock Brief & Other Plays (1962)
Jean Evans' Three Men (1954, 1962)
Bertolt Brecht's Parables for the Theater: Two Plays (1963), Eric Bentley and Maja Apelman
Erich Fromm's Sigmund Freud's Mission (1963)
Bertolt Brecht's The Caucasian Chalk Circle (1966), revised English version by Eric Bentley
Bertolt Brecht's The Good Woman of Setzuan (1966), revised English version by Eric Bentley
Ted Berrigan The Sonnets (1964)
Jean Harlow's Today Is Tonight (1965)
Juan Goytisolo's The Party's Over (1966), translated by José Ygelsias
Jakov Lind's Landscape in Concrete (1966), translated by Ralph Manheim
Marguerite Duras' The Ravishing of Lol Stein (1966), translated by Richard Seaver
Harold Pinter's The Homecoming (1966)
Albertine Sarrazin's Astragal (1967), translated by Patsy Southgate
Lenore Kandel's Word Alchemy (1967)
Yukio Mishima's Madame de Sade translated by Donald Keene
Witold Grombowicz's Ferdydurke (1961, 1968), translated by Eric Mosbacher
Kenzaburo Oe's A Personal Matter (1968), translated by John Nathan
Armand Coppens' Memoirs of an Erotic Bookseller (1969)
Kenneth Tindall's Great Heads (1969)
William Eastlake's A Child's Garden of Verses for the Revolution (1970)
All cover designs by Roy Kuhlman.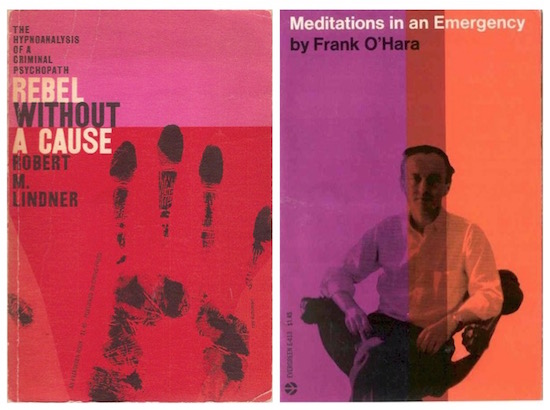 For a young actor I am begging
peace, gods. Alone in
in the empty streets of New York
I am its dirty feet and head
and he is dead.
— Frank O'Hara, from "For James Dean"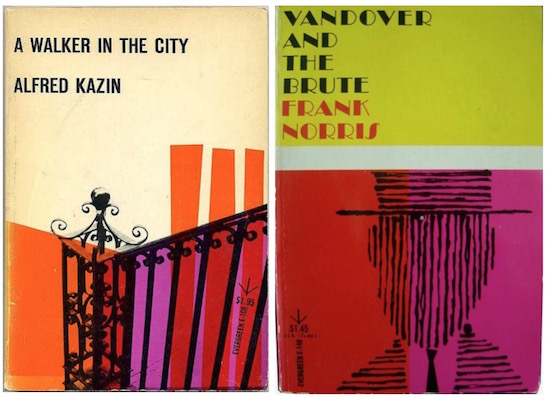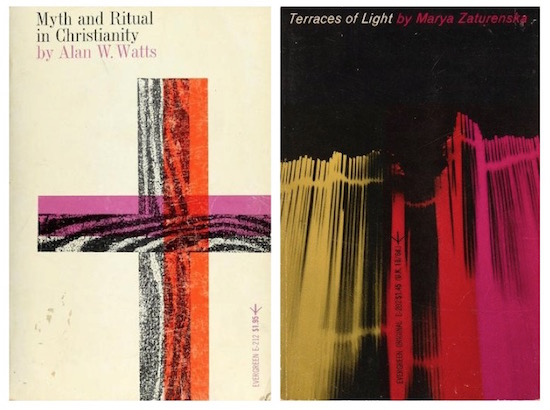 The mid-century rocks: its figures rise
Madman, hesitant saints, whose eyes
Close on the brutal world and silently
Perform with grace their miracle and depart
But leave a blessing on the astonished heart
Time, time, alone can thwart and threaten me.
— Marya Zaturenska, from "A Song With Refrain"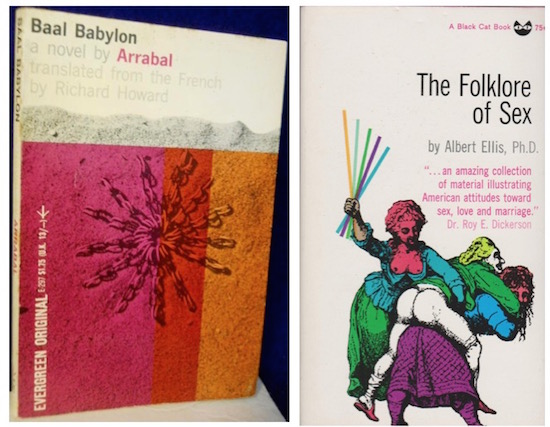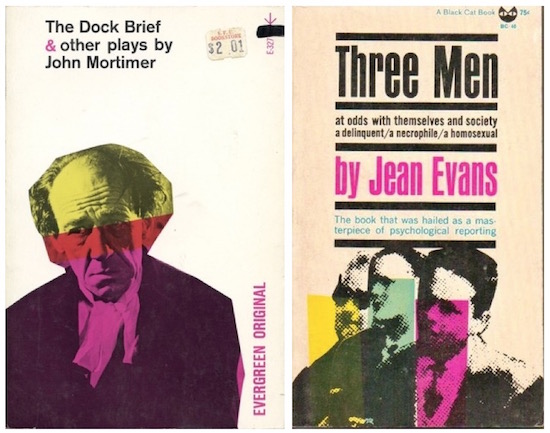 Three Men at odds with themselves and society
a delinquent / a necrophile / a homosexual

JOHNNY ROCCOL — Tough-on the outside — but plagued by his sense of sin and guilt.

WILLIAM MILLER — Blind and lonely, obsessed with death and nature.

MARTIN BEARDSON — Articulate homosexual, wrapped in a cocoon of weird ritual.

These brilliant personality portraits have been hailed as a new kind of psychological reporting-"biographies of emotion." Novelists and psychiatrists, critics and teachers have joined in a unanimous chorus of praise for their insight, vividness, sympathy, excellence of style.

"I found Miss Evans' book completely fascinating, and I can only admire how alive and vivid she succeeded in making the three men." — Norman Mailer

"Miss Evans' book is invaluable for the teacher and student of psychology… (She) writes beautifully." — Erich Fromm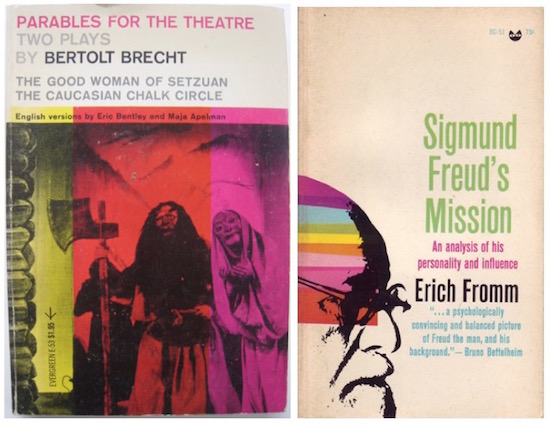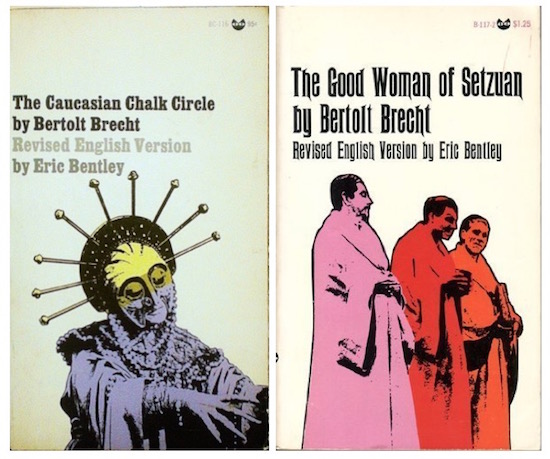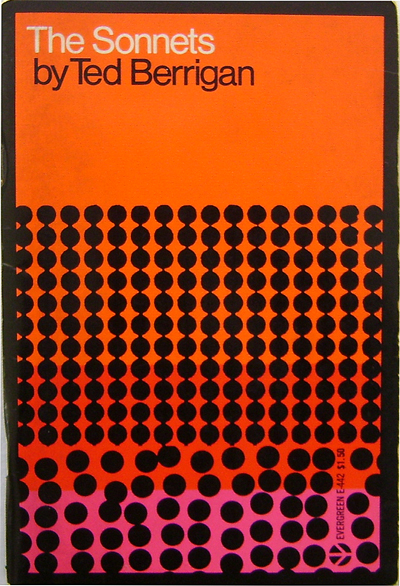 It's 8:54 a.m. in Brooklyn it's the 26th of July
and it's probably 8:54 in Manhattan but I'm
in Brooklyn I'm eating English muffins and drinking
Pepsi and I'm thinking of how Brooklyn is
New York City too how odd I usually think of it
as something all its own like Bellows Falls like
Little Chute like Uijongbu
— Ted Berrigan, from "Personal Poem #9"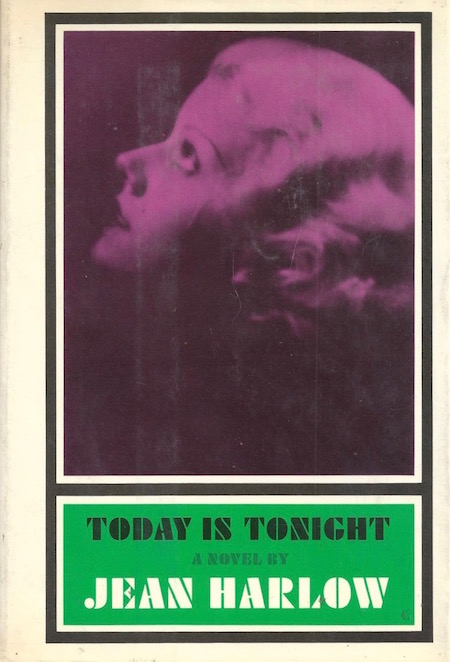 Joseph Cotten puzzling and Orson Welles puzzled and Dolores del Rio
eating orchids for lunch and breaking mirrors, Gloria Swanson reclining,
and Jean Harlow reclining and wiggling and Alice Faye reclining
and wiggling and singing
— Frank O'Hara, from "To The Film Industry In Crisis"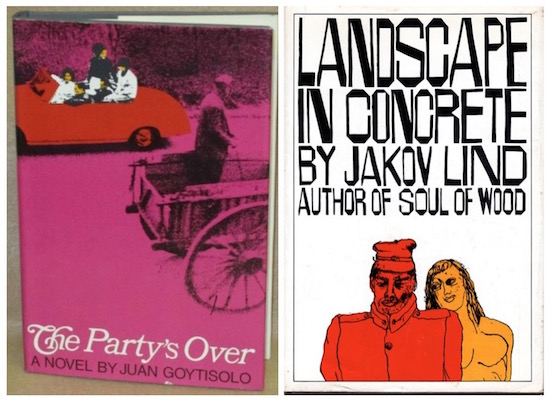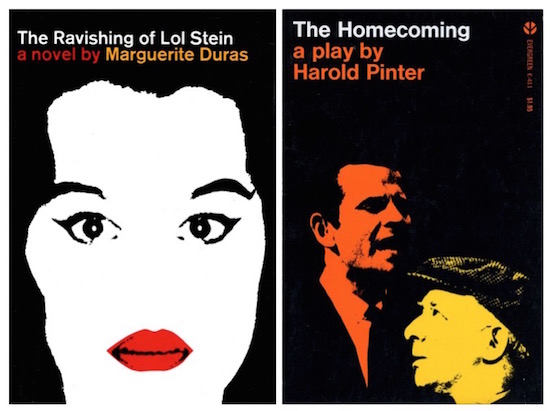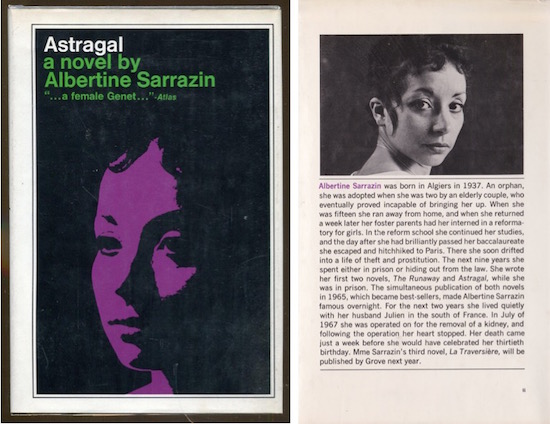 Albertine Sarrazin was born in Algiers in 1937. An orphan, she was adopted when she was two by an elderly couple, who eventually proved incapable of bringing her up. When she was fifteen she ran away from home, and when she returned a week later her foster parents had interned her in a reformatory for girls. In the reform school, she continued her studies, and the day after she escaped and hitchhiked to Paris. There she soon drifted into a life of theft and prostitution. The next nine years she spent either in Prison or hiding from the law. She wrote her first two novels, The Runaway and Astragal, while she was in prison. The simultaneous publication of both novels in 1965, which became best-sellers, made Albertine Sarrazin famous overnight. For the next two years she lived quietly with her husband Julien in the south of France. In July of 1967 she was operated on for the removal of a kidney, and following the operation her heart stopped. Her death came just a week before she would have celebrated her thirtieth birthday. Mme Sarrazin's third novel, La Traversière, will be published by Grove next year.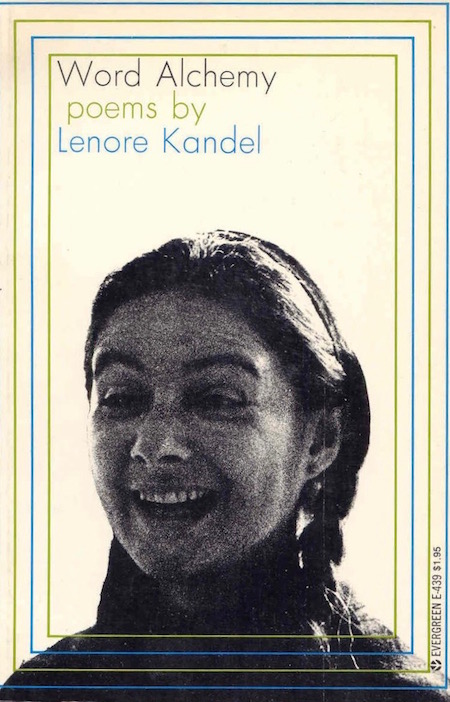 who finked on the angels?
who stole the holy grail and hocked it for a jug of wine?
who fucked up Gabriel's golden horn?
was it an inside job?
who barbecued the lamb of god?
who flushed St. Peter's keys down the mouth of a
North Beach toilet?
who raped St. Mary with a plastic dildo stamped with the
Good Housekeeping seal of approval?
was it an outside job?
— Lenore Kandel, from "First They Slaughtered The Angels"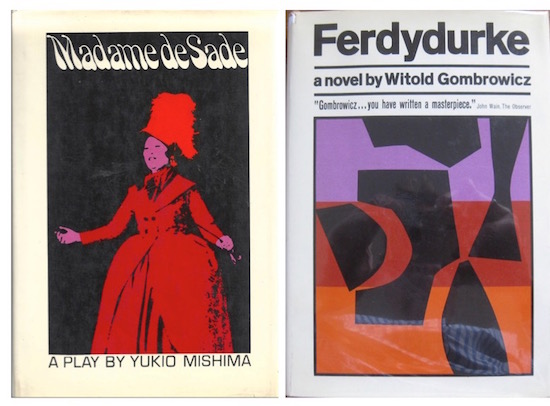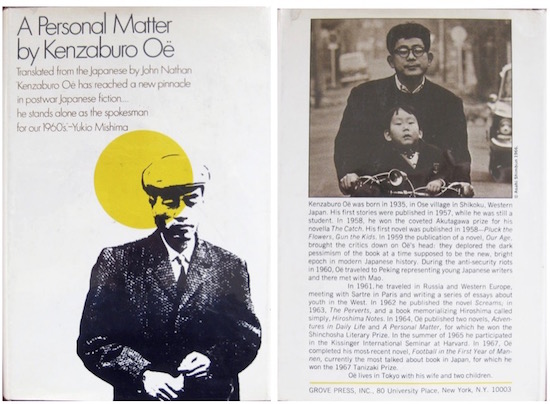 Kenzaburo Oë was born in 1935, in Ose village in Shihoku, Western Japan. His first stories were published in 1957, while he was still a student. In 1958, he won the coveted Akutagawa prize for his novella The Catch. His first novel was published in 1958 — Pluck the Flowers, Gun the Kids. In 1959, the publication of a novel, Our Age, brought the critics down in Oë's head: they deplored the dark pessimism of the book at a time supposed to be the new, bright epoch in modern Japanese history. During the anti-security riots in 1960, Oë traveled to Peking representing young Japanese writers and there met with Mao.

In 1961, he traveled to Russia and Western Europe, meeting with Sarte in Paris and writing a series of essay about youth in the West. In 1962, he published the novel Screams; in 1963, The Perverts, and a book memorializing Hiroshima called simply, Hiroshima Notes. In 1964, Oë published two novels, Adventures in Daily Life and A Personal Matter. In the summer of 1965, he participated in the Kissinger International Seminar at Harvard. In 1967, Oë completed his most recent novel, Football in the First Year of Mannen, currently the most talked about novels in Japan, for which he won the 1967 Tanizaki Prize.

Oë lives in Tokyo with his wife and two children.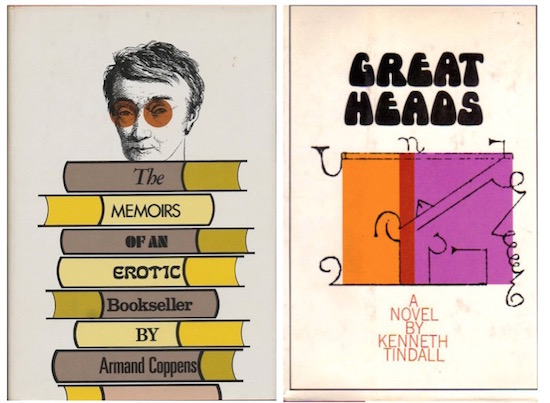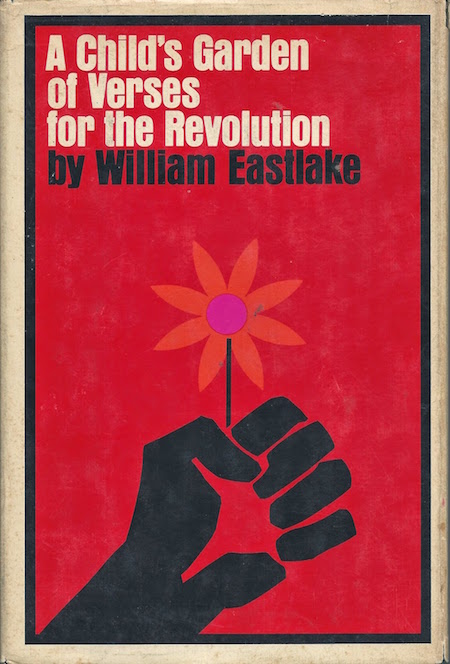 ***
BOOK COVERS at HILOBROW: INTO THE GROVE series by Brian Berger | FILE X series by Josh Glenn | THE BOOK IS A WEAPON series | HIGH-LOW COVER GALLERY series | RADIUM AGE COVER ART | BEST RADIUM AGE SCI-FI | BEST GOLDEN AGE SCI-FI | BEST NEW WAVE SCI-FI | REVOLUTION IN THE HEAD.