INTO THE GROVE (5)
By: Brian Berger
March 12, 2017
One in a series of posts, by long-time HILOBROW friend and contributor Brian Berger, celebrating perhaps America's most exciting and controversial publisher: Barney Rosset's Grove Press.
*
Federico García Lorca's Poet in New York (1955), Angel del Rio introduction, Ben Belitt translator
Arturo Barea's Lorca: A Poet and His People (1949, 1958), Ilsa Barea translator
Miguel de Unamuno's Three Exemplary Novels, Angel del Rio introduction, Angel Flores translator (1920, 1955)
Ten Centuries of Spanish Poetry (1955), Pedro Salinas introduction, Eleanor L. Turnbull editor
Laurette Séjourné's Burning Water: Thought and Religion in Ancient Mexico (1956, 1960)
Bernaz Diaz del Castillo's The Discovery and Conquest of Mexico, 1517-1521 (1958), Irving A. Leonard introduction, A.P. Maudslay translator
The Selected Writings of Juan Ramón Jiménez (1957, 1958), Eugenio Florit introduction, H.R. Hays translator
All cover designs by Roy Kuhlman
*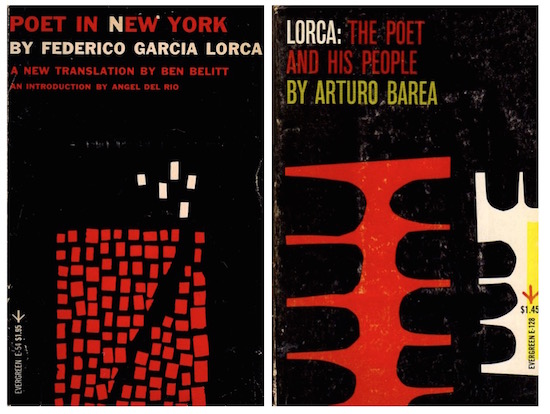 Among its 1950s world literature ventures, the engagement of Grove Press with Spain and its diaspora deserves special attention. The best-known of these books is almost certainly Lorca's (1898-1936) Poet in New York here — following Rolfe Humphries' pioneering effort of 1940 — in only its second English translation, which Grove itself commissioned. (Teenage Barney Rosset was obsessed with the Spanish Civil War and the genius and tragedy of Lorca had great resonance for him.) Roy Kuhlman's jazzy cover is among his very best and while Ben Belitt's Lorca has been subject to much criticism over the years, I'm inclined to be generous. First for the work itself — whose particular biases Columbia University professor Ángel del Río notes in his introduction — and second, simply because Belitt's was the Anglophone's de facto Poet in New York for decades and as such, it has an importance beyond its translator's foibles. Even today, reviewing what could be pages from my own spiritual autobiography, "Paisaje de la multitud que vomita (Anochecher de Coney Island)" — "Landscape of a Vomiting Multitude (Dusk at Coney Island)" — some lines of Belitt are unsurpassed. Journalist Arturo Barea (1897-1957), a Spanish Civil War exile removed to England, usefully examines the highly fraught conditions of the martyred poet's homeland in Lorca: A Poet in his People which, like Preston Sturges' Sullivan's Travels (1941), has more than a little sex in it.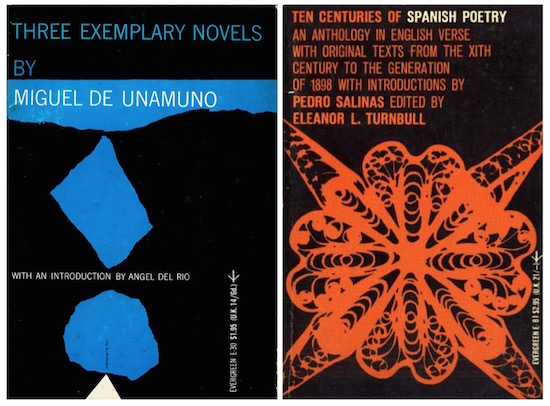 One of the intellectual giants of modern Spain, if writer and philosopher Miguel de Unamuno (1864-1936) remains obscure to most Americans, it wasn't Grove Press's fault. Following up his introduction to Lorca, Angel del Rio — himself a Civil War refugee — guides the reader onward:
No Spanish voice was heard during the fifty years of his active intellectual life which could compare with his in the strength of his passion nor in the profound seriousness with which he challenged every complacency, whether of literature, politics or philosophy. He was primarily a non-conformist, a spiritual rebel in the tradition of great heretics: a searcher for a truth that was not rational but that living sort which man has to find within himself.
First published in hardcover by Johns Hopkins Press in 1955, twenty pages of Unamuno's poetry — translated by the anthology's editor, Eleanor Turnbull — appear in the revelatory Ten Centuries of Spanish Poetry, with Spanish and English verses facing.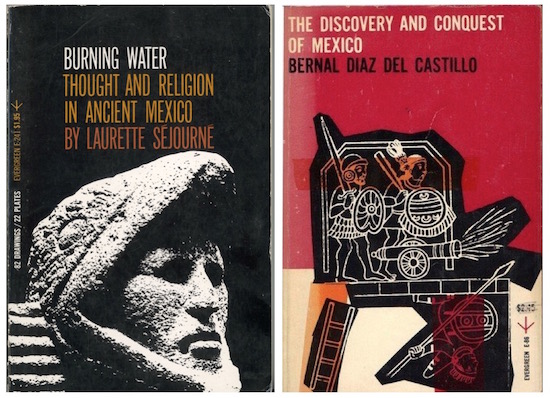 Once there was New Spain, Neuva España, and here also Grove Press was attentive. In Burning Water: Thought and Religion in Ancient Mexico — first published by Vanguard Press in 1956 — the remarkable Franco-Mexican archeologist Laurette Séjourné (1911-2003) uses the story of her excavations at Teotihuacan as the starting point for a bold, and amply illustrated, study of Huitzilopochtli, Quetzalcoatl, Xipe Totec and many others in the Whole Sick Crew of Pre-Hispanic deities. Séjourné, it should be noted, offers no love for the ignorance and barbarity of Hernán Cortés, nor should anyone. As many questions as it raises, The Discovery and Conquest of Mexico by Bernaz del Diaz Castillo, a disaffected Spanish soldier who served under Cortés and first published posthumously in 1632, is as staggering — and as gripping — a monument to human fortitude and imperial arrogance as any book ever written. File on the New World top shelf with Cabeza de Vaca, Alexis de Tocqueville and William Carlos Williams' In The American Grain (1925), and when doing so, wonder who should have read Castillo before committing the United States further and further to the war in Vietnam.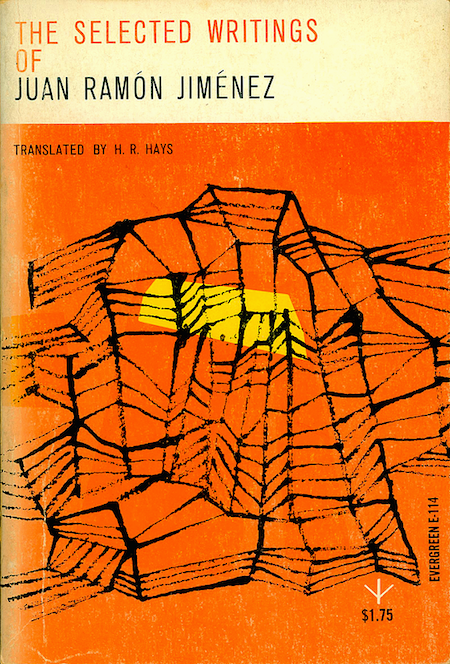 Though widely recognized as one of the 20th century's major Spanish-language writers — he won the Nobel Prize for Literature in 1956, among other honors — the brilliance of Juan Ramón Jiménez (1881-1958) seems rather under-known here. Yet another exile of the Spanish Civil War, Jiménez and his wife, the poet and translator Zanobia Camprubí (1887-1956) eventually settled in Puerto Rico but also spent considerable time in the U.S. While The Selected Writings of Jiménez — first published in hardcover by Farrar, Straus and Cudahy in 1957 — is compelling, it only goes so far: 260 pages, all English, and seemingly well-translated but with such minimal notes, who knows? As an introduction to Jiménez's poetry and prose, it's an impressive appetizer that leaves the reader wanting more. From Diaro de in poeta recien casado (1916), more than a decade before Lorca's arrival in America:
LONG LIVE SPRING

New York, the virago with dirty nails, wakes up. As the clear stars at nightfall come surging into the light from darkness, so do the black ships in the turbid Hudson, anchored in an iron circle. Day is taking its place and picks up the telephone in its Broadway office.
NB: For a notably engaging account of how a brilliant Spanish poet became a popular and sometimes misused American icon, see Apocryphal Lorca: Translation, Parody, Kitsch (2009) by Kansas University Spanish professor Jonathan Mayhew.
***
BOOK COVERS at HILOBROW: INTO THE GROVE series by Brian Berger | FILE X series by Josh Glenn | THE BOOK IS A WEAPON series | HIGH-LOW COVER GALLERY series | RADIUM AGE COVER ART | BEST RADIUM AGE SCI-FI | BEST GOLDEN AGE SCI-FI | BEST NEW WAVE SCI-FI | REVOLUTION IN THE HEAD.