INTO THE GROVE (4)
By: Brian Berger
March 9, 2017
One in a series of posts, by long-time HILOBROW friend and contributor Brian Berger, celebrating perhaps America's most exciting and controversial publisher: Barney Rosset's Grove Press.
*
Pillow Book of Sei-Shonagon, Arthur Waley translator (1928, 1953)
The No Plays of Japan, Arthur Waley translator (1920, 1954)
Anthology of Japanese Literature, Donald Keene editor (1955)
Herbert A. Giles, A History of Chinese Literature (1901, 1958)
The Way and Its Power (1934, 1958), Arthur Waley translator
Yuan Mei: 18th Century Chinese Poet (1956, 1958), Arthur Waley translator
Wu Cheng'en, Monkey: Folk Novel of China (1942, 1958), Arthur Waley translator
All cover designs by Roy Kuhlman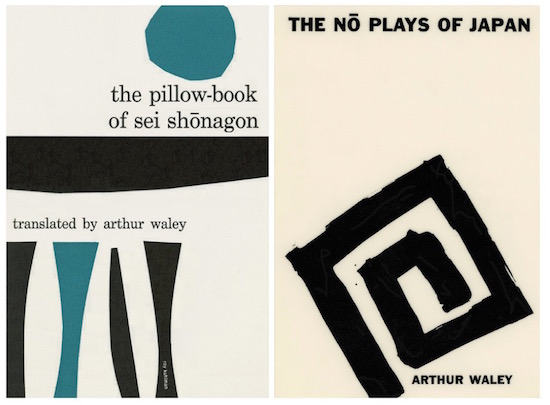 Barney Rosset's Grove Press didn't just look to Europe and America for inspiration. Its purview would be the world, and its Chinese and Japanese offerings were remarkable. Rosset, it will be recalled, had served in China during World War II, and Grove's most important early editor, Donald Allen (1914–1990), had also been in the Pacific as a Japanese translator. By 1953, Grove began reprinting the first of numerous translations by British Sinologist Arthur Waley and would soon commission a landmark anthology of Japanese literature by Donald Keene (b. 1922), who, like Allen, had spent the war as a Japanese translator and was then in the early years of what would become an extraordinary career at Columbia University.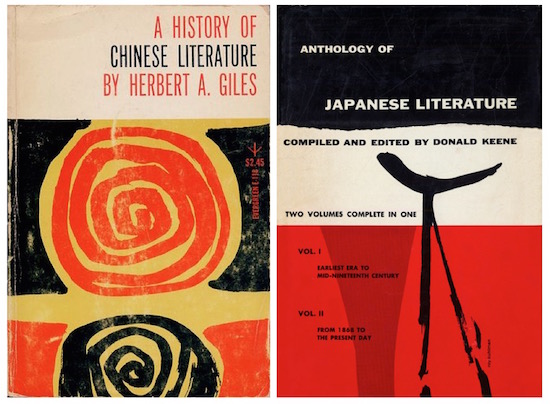 Historically, the oldest of these books, first published in 1901, is by the British diplomat and later professor, Herbert Giles (1845–1935). However outdated parts of Giles' work might have been by mid-century, read alone, his book remained a compelling and for some, a crucial text, not least for its direct inspirations upon Ezra Pound's epochal Chinese poetry collection Cathay (1915).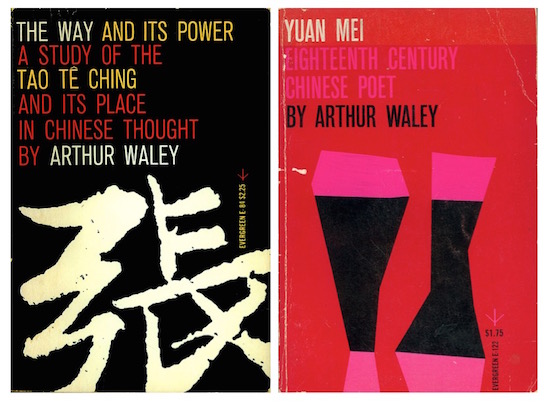 Arthur Waley (1899–1966) is a one of the most singular and compelling figures in 20th century English letters. Born Arthur David Schloss in Kent, England to German Jewish parents, Waley would follow Pound's lead with self-taught philological rigor. Waley was friends with T.S. Eliot and a welcome figure among the Bloomsbury Group; he extolled the brilliance of Ronald Firbank; his translation of the No play "Taniko" was adapted into the Kurt Weill-Bertolt Brecht opera Der Jasager (1930); and the far-sightedness of his Eastern visions made his works Beat touchstones. Yet Waley, despite frequent invitation, never visited China or Japan; never held an academic position; and had a recondite enough personality that his achievements — including many notable works published by firms other than Grove — can seem enigmatic.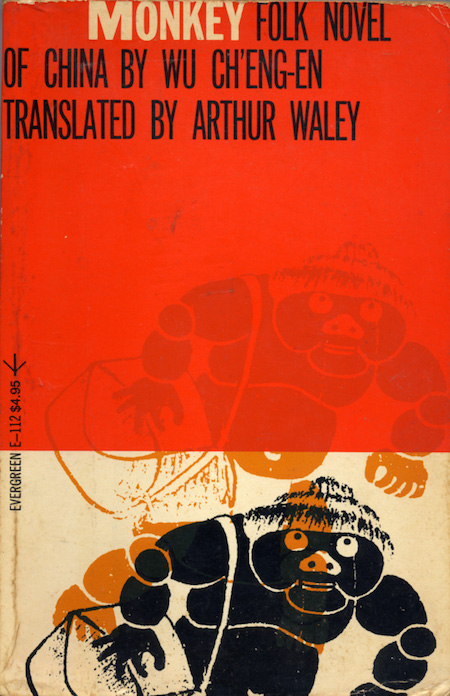 No matter, Waley is beloved, as is Roy Kuhlman's cover to Monkey especially. Were this design ever a t-shirt, I — and I imagine many others — would wear it proudly.
NB: Readers interested in learning more about Arthur Waley are especially directed to books by Ivan Morris — himself a lauded professor and translator — Madly Singing In The Mountains: An Appreciation & Anthology of Arthur Waley (1970) and John Walter de Gruchy's Orienting Arthur Waley: Japonism, Orientalism, and the Creation of Japanese Literature in English (2003).
***
BOOK COVERS at HILOBROW: INTO THE GROVE series by Brian Berger | FILE X series by Josh Glenn | THE BOOK IS A WEAPON series | HIGH-LOW COVER GALLERY series | RADIUM AGE COVER ART | BEST RADIUM AGE SCI-FI | BEST GOLDEN AGE SCI-FI | BEST NEW WAVE SCI-FI | REVOLUTION IN THE HEAD.