INTO THE GROVE (2)
By: Brian Berger
March 3, 2017
One in a series of posts, by long-time HILOBROW friend and contributor Brian Berger, celebrating perhaps America's most exciting and controversial publisher: Barney Rosset's Grove Press.
*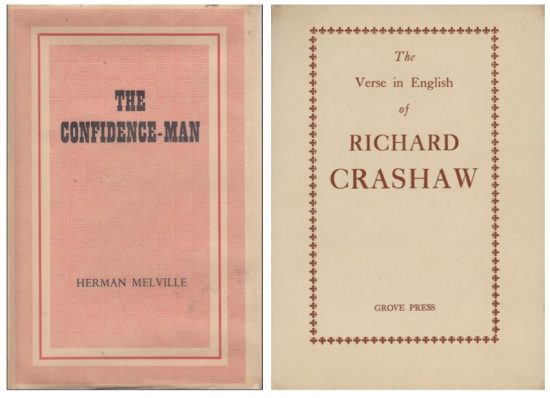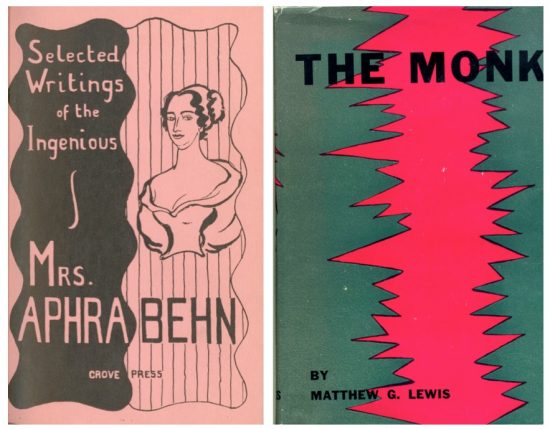 Herman Melville, The Confidence Man (1857; 1949, cover unknown)
The Verse in English of Richard Cranshaw (1950, cover unknown)
Selected Writings of the Ingenious Mrs. Aphra Behn (1950, cover design Cynthia Balcomb)
Matthew G. Lewis, The Monk with introduction by John Berryman (1796; 1952, cover unknown)
In 1949, two New York bibliophiles, Robert Phelps and John Balcomb, founded a book company. They named their enterprise The Grove Press, after the address of their enterprise, 18 Grove Street, a three-story townhouse at the corner of Bedford, in Greenwich Village. Over the next two years, the duo published three titles, each reclaimed from the public domain: Herman Melville's The Confidence Man; The Verse in English of Richard Crashaw; and Selected Writings of the Ingenious Mrs. Aphra Behn. The books, all quality paperbacks with sewn bindings, sold for $1.25 each. A publisher's note in the last volume states:
The function of the Grove Press, as we understand it, is to publish the kind of books that other publishers publish books about — those "unexpected" masterpieces of the past and present that have been more read about than read simply because they have been hitherto inaccessible to the general reader.
Two further volumes were promised for the Fall of 1950, The Adventures of Caleb Williams by William Godwin and The Verse in English of Thomas Campion. Neither of these books appeared. Noble as their endeavor was, Phelps and Balcomb were out of money.
Enter in early 1951 — via his then wife, the brilliant painter Joan Mitchell — an unsettled, wealthy, aspiring publisher named Barney Rosset. A thousand dollars bought him Phelps's share of Grove Press; a couple grand more to Balcomb — whose literary taste he admired but with whom Rosset personally didn't get along — some months later and Grove Press was all his: one 19th-century American heretic; one 18th-century English Catholic mystic; one 17th-century English woman icon and cipher. It's unclear what projects Rosset and Balcomb projects worked on during their brief time together but it's likely that Matthew G. Lewis's The Monk — late 18th-century English gothic eros — in hardcover was one.
Born in Chicago in 1922, Rosset was the only child of a Russian-Jewish investment banker and an Irish-Catholic mother. He attended the progressive Francis W. Parker School, where his friends included another young radical, Haskell Wexler. A fitful college student, Rosset entered the Army in 1942, serving in a motion picture unit in China. Returning to Chicago, Rosset, met Mitchell — another Parker school alum three years his junior — and followed her to New York, where he produced leftist filmmaker Leo Hurwitz's anti-racism documentary Strange Victory; then Paris, where he and Mitchell wed; then back to the Village in New York. Rosset's and Mitchell's marriage wouldn't last but her influence did. She'd taught him much about art and literature and she told him about the moribund Grove Press. So prepared, when a young freelance designer named Roy Kuhlman found him, Rosset, a man of many impulsive decisions, made a great one. Rosset was unimpressed with most of Kuhlman's portfolio but upon seeing the series of abstract designs he also had — ideas he'd intended planning to pitch to Ahmet Ertegun of Atlantic Records — Kuhlman was hired. That's what Rosset wanted.
Born in Fort Worth, Texas in 1923, Kuhlman grew up in Glendale, California, where his father was a car mechanic, his mother a nurse with wide artistic interests. As a teenager, Kuhlman studied with Ernest Tonk, a traditional Western artist who also did set painting in Hollywood. Ineligible for the draft because of a genetic heart condition it would take then experimental surgery to repair, Kuhlman earned scholarships first to the Chouinard Art Institute in Los Angeles and then the Art Students League in New York, where he moved in 1946. Immersed in the city's great creative foment, Kuhlman transformed himself, from painting to design, and from realism to abstract expression. Like Rosset, Kuhlman had an anarchist's spirit and like the then unpublished and publicly unknown William S. Burroughs, he was strongly influenced by the radical Austrian psychologist Wilhelm Reich.
Together — Rosset's books and Kuhlman's covers — they would make history many times over.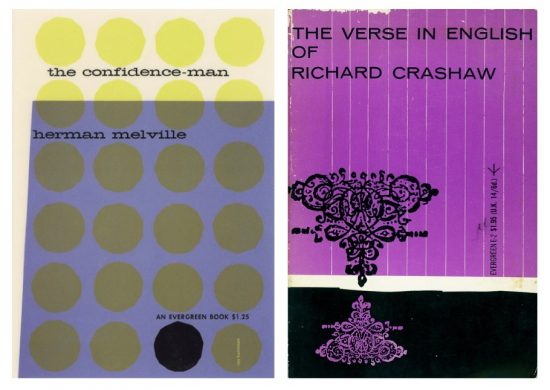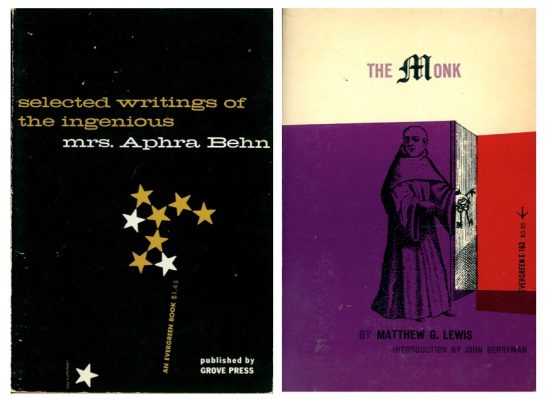 ***
BOOK COVERS at HILOBROW: INTO THE GROVE series by Brian Berger | FILE X series by Josh Glenn | THE BOOK IS A WEAPON series | HIGH-LOW COVER GALLERY series | RADIUM AGE COVER ART | BEST RADIUM AGE SCI-FI | BEST GOLDEN AGE SCI-FI | BEST NEW WAVE SCI-FI | REVOLUTION IN THE HEAD.