Dick Gregory
By: Brian Berger
October 12, 2015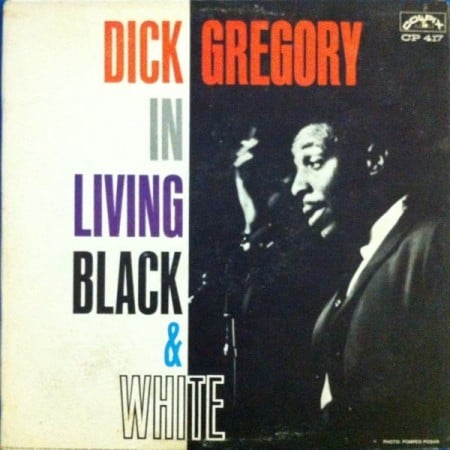 Sometimes memorials foretell more than they intend and such was case for young DICK GREGORY (born 1932) of all-black Sumner High School in St. Louis. Founded as the High School for Colored Children in 1875, the institution was soon renamed to honor Senator Charles H. Sumner of Massachusetts, the ardent black civil rights champion nearly caned to death in May 1856 by Representative Preston Brooks of South Carolina following a somewhat scurrilous anti-slavery speech. Words matter — "We're not poor, just busted and there's a difference," Gregory's mother told him — though it was track and cross country, not his gift for language, that got the teenager into Southern Illinois University in Carbondale. Distressed by the town's segregation, Gregory found in college — including his membership in the black fraternity Alpha Phi Alpha — a gift for satire he'd carry onto the black Chicago nightclub circuit and thence, in January 1961, the ecstatically reviewed fill-in gig at Hugh Hefner's Playboy Club that made him a star, with record and book deals following. Gregory provocations — equaled only by those of Lenny Bruce, who at least wasn't a Negro — didn't amuse everyone, with black comedian Slappy White ("I don't tell racial jokes because it doesn't solve anything") and Ed Sullivan (who scored Gregory's "sepia twist to Mort Sahl's brilliant pioneering"), among those objecting. Having made it, Gregory would remake himself again, frequently forsaking show business for the Civil Rights movement and having seen both his friend, Medgar Evers, and President Kennedy assassinated — he wrote, with co-author Robert Lipsyte, the plainspoken and deeply powerful Nigger: An Autobiography. Published by E.P. Dutton October 1964, its dedication reads:
Dear Momma: Wherever you are, if you ever hear the word "nigger" again, remember they are advertising my book.
"Not Poor, Just Busted" 1961
CBC interview 1962
***
On his or her birthday, HiLobrow irregularly pays tribute to one of our high-, low-, no-, or hilobrow heroes. Also born this date: Aleister Crowley, H.P. Kraus.
READ MORE about members of the Postmodernist Generation (1924-33).