Arthur Alexander
By: Devin McKinney
May 10, 2015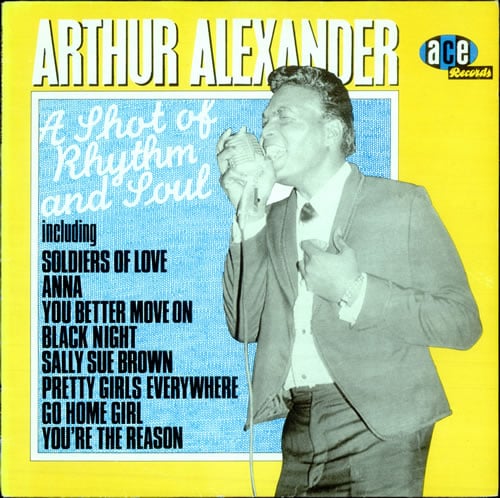 Born a few miles from Muscle Shoals, Alabama, ARTHUR ALEXANDER (1940–93) stands out even in the unfathomably rich fields of Southern soul music. That's not primarily because his songs were covered, at one time or another, by the Beatles, the Rolling Stones, Elvis, and Dylan. (Though the fires lit in a young John Lennon by "Anna," "Soldier of Love," and "Where Have You Been All My Life" argue for a subterranean cultural influence shared by few singer-songwriters of the twentieth century.) It's more because of his career-long commitment to genre fusion: where country music has often been called the white man's soul music, Alexander sang soul as if it were the black man's country. Based not in Memphis but in Nashville, he made pure soul statements out of contemporary country hits by Bobby Bare, Jerry Lee Lewis, and Charlie Rich, and crystallized the kinship of black and white ruralities in his 1962 recording of "In the Middle of it All," as perfect a tear-in-the-beer jukebox drama as ever came out of Music City.
Alexander's is among the less inspiriting biographies in the pop annals. His music unheralded except by English treasurers of the underside, he switched labels frequently, and was always undersold and mismanaged. (E.g., "In the Middle of it All" went unreleased for 25 years.) His great records sank in the mid-Sixties pop market like heavy stones in a cold river; multiple stays in mental hospitals took him off the road at the height of his powers. Come the Eighties, he was driving a bus in Cleveland. Then, out of nowhere, in 1991, rediscovery: an appearance was made at The Bottom Line in New York, a comeback album was recorded, and an author began to write his life story. Arthur Alexander tasted anticipation one more time. At that moment his heart attacked him, and he lay dead at age 53, in a music publisher's office in Nashville.
***
On his or her birthday, HiLobrow irregularly pays tribute to one of our high-, low-, no-, or hilobrow heroes. Also born this date: Marcel Mauss, Olaf Stapledon, Fred Astaire, Donovan, Sid Vicious.
READ MORE about members of the Anti-Anti-Utopian Generation (1934-43).