Miklos Rozsa
By: Brian Berger
April 18, 2015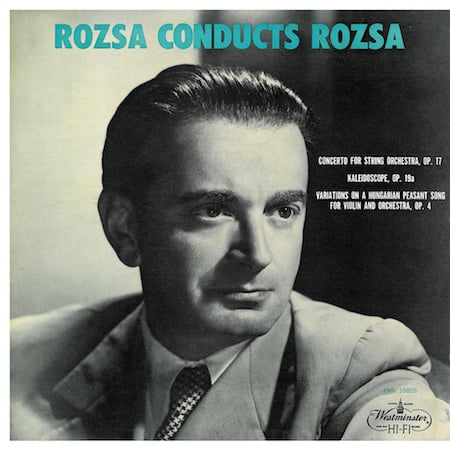 Among the composers of Golden Age Hollywood, none was more vivid than MIKLÓS RÓZSA (1907–95). Born into an affluent family in Budapest, Rósza studied violin and piano, his nationalist forebears (Liszt, Kodaly and Bartok), and the folk music of northern Hungary's Palóc people before enrolling at Leipzig Conservatory. Rósza's talent for composition soon revealed itself: Breitkopf & Härtel published his first works while Rósza was still a student and in 1934, two years after he moved to Paris, his orchestral Theme, Variations and Finale, Op. 13 became an international success. Inspired by his friend Arthur Honegger's experience scoring Raymond Bernard's Les Miserables, in 1937, Rózsa accepted Hungarian producer/director Alexander Korda's invitation to compose for him in London and, when German bombs began falling there, America. Thus came Rózsa's first cinematic masterpiece, Thief of Baghdad (1940) and another, Jungle Book (April 1942), which begat his first soundtrack album. Rózsa's Hollywood work with Billy Wilder was exceptional: the underknown Nazi-occupation picture, Five Graves to Cairo (May 1943), Double Indemnity (April 1944) and Lost Weekend (November 1945), the last featuring theremin, an innovation also heard a month later in Spellbound, the schlock pyschodrama which earned Rózsa his first Oscar. Much superior films followed: Robert Siodmak's The Killers (1946) and Criss Cross (1948), Jules Dassin's Brute Force (1947) and Naked City (1948), which together made Rózsa the mid-century underworld's foremost sonic avatar. Brilliant as Rozsa's subsequent historical epics could be — Quo Vadis (1951) and Ben-Hur (1959) especially — his earlier darkness was sometimes missed.
FIVE GRAVES TO CAIRO
BRUTE FORCE
NAKED CITY
QUO VADIS
***
On his or her birthday, HiLobrow irregularly pays tribute to one of our high-, low-, no-, or hilobrow heroes. Also born this date: Gatemouth Brown, Kathy Acker.
READ MORE about members of the Partisan Generation (1904-13).