People You Meet in Hell (4)
By: Adam McGovern
September 4, 2014
Fourth in a weeklong series of five posts surveying some of the main characters in the meta-monster Image Comics series Nightworld by HiLobrow regular Adam McGovern and artist/creator Paolo Leandri.
Hellena was called "Devila" in Paolo Leandri's embryonic version of Nightworld, but even though that name radiated a feel of midcentury movie fatales much in line with our grindhouse aesthetic, she seemed, in Paolo's regal conception, to have already outgrown it — looking like some classic Greek warrior-woman, I thought something more…hell-enistic was fitting.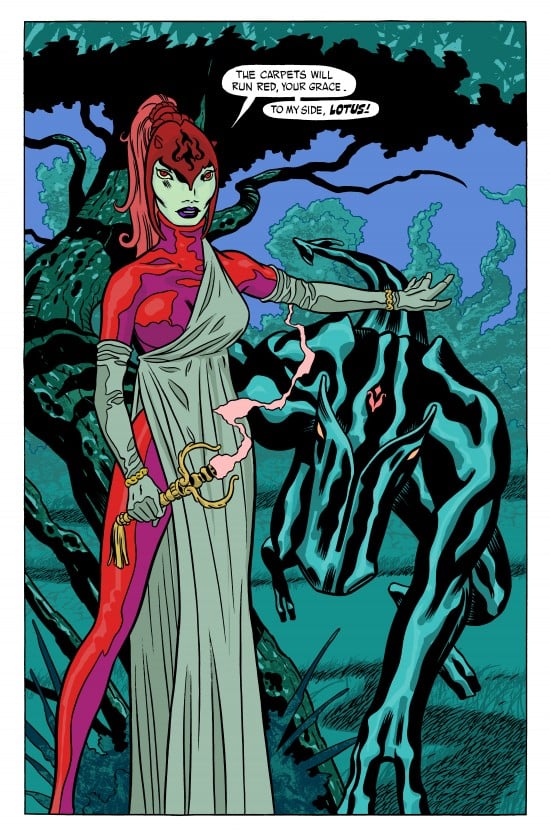 Hellena is the one who does the dirty work in Underboss' business, but has the seasoned elegance of the fantasy assassin. She may not be the heroine of her own story, but once no one else is left, she'll have the remaining jobs. As this is written only two issues of Nightworld are on the shelves and it's not until Number 3 that we learn where Helena came from, but we get the idea from her classical costuming that it may have been a long way.
Upon seeing Paolo's design (he created her, like all but one character you'll see in Nightworld's first four-issue miniseries), I started thinking that not all agents of the The Empyre, that stygian cartel (cart-hell?) around which our story centers, would be from the same time period — people have been dying and trading their souls away for a long time. We'll see what made her the way she is in Nightworld #3, a story I contributed as if I were guessing a real person's background, which these characters came to be for me in Paolo's vivid visions.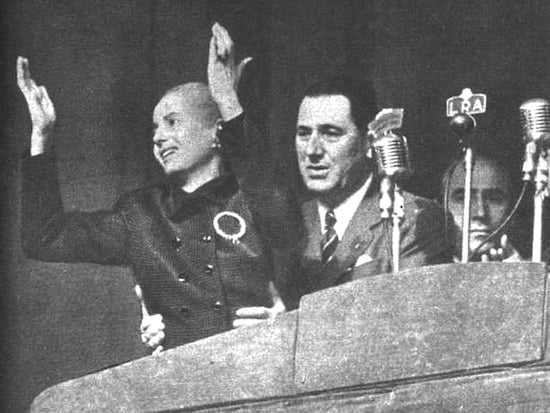 I've written elsewhere that the great villains of both history and fantasy are not incorrigible, they're inconsolable, and there is a hurt at the core of Hellena's cruelty — I won't say a lot about just how accurate the image above is, but we can all see how a person like Eva Peron felt herself justified in rising to power over what had once overpowered her.
Hellena is the rage that justifies itself, fuels itself — and which may be looking to either be consumed or calmed for good. Much pulp concerns itself with people on a blurry line between good and evil; but Helena is a symbol of my belief that we are not on the line, we are the line — "good," "evil" and many variations between are all within us to be drawn on, brought to the surface according to our choices.
One more demon in our lineup, who never stays in his lane, is at our finish line tomorrow!
***
COMICS WRITTEN by ADAM McGOVERN & FIRST PUBLISHED by HILOBROW: The Idoru Jones comic "the–urban_legend_of_idoru_jones" (drawn by Paolo Leandri, 2011) | The Idoru Jones comic "boulevard–of–broken–code" (drawn by Paolo Leandri, 2012) | "Face Reality" (drawn by Frank Reynoso, 2011)
MORE ADAM McGOVERN POSTS at HILOBROW: PEOPLE YOU MEET IN HELL, a 5-part series about characters in Adam McGovern and Paolo Leandri's comic Nightworld | Two IDORU JONES comics by Adam McGovern and Paolo Leandri | BOWIEOLOGY: Celebrating 50 years of Bowie | ODD ABSURDUM: How Felix invented the 21st century self | CROM YOUR ENTHUSIASM: C.L. Moore's JIREL OF JOIRY stories | KERN YOUR ENTHUSIASM: Data 70 | HERC YOUR ENTHUSIASM: "Freedom" | KIRK YOUR ENTHUSIASM: Captain Camelot | KIRB YOUR ENTHUSIASM: "Full Fathom Five," an analysis of a panel from Jack Kirby's New Gods | A 5-part series on Jack Kirby's Fourth World mythos | Reviews of Annie Nocenti's comics Katana, Catwoman, Klarion, and Green Arrow | The 10-part review series FANCHILD | To see all of Adam McGovern's posts, including HiLo Hero items on Lilli Carré, Judy Garland, Laurie Anderson, George Takei, Meshell Ndegeocello, Wally Wood, Gilbert Hernandez, Cindy Sherman, David Bowie, Adam West, and others: CLICK HERE