Mary Shelley
By: Anthony Miller
August 30, 2014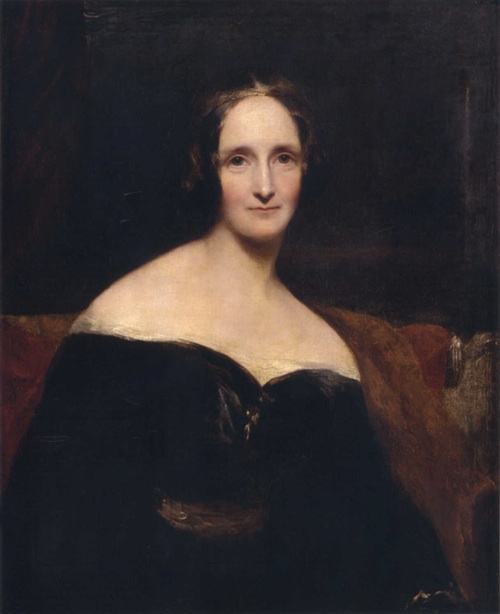 "I bid my hideous progeny go forth and prosper," proclaimed MARY SHELLEY (1797–1851) in her introduction to the 1831 edition of Frankenstein; or, The Modern Prometheus, little realizing she had birthed the posthuman. Fifteen years earlier, in a ghost-story competition on a rainy summer night, an 18-year-old Mary unleashed a vision that even now casts its inescapable shadow over our understanding of technology and humanity. A work of Rousseauist science fiction, Frankenstein explores the terrors of creation through the eyes of both creator and created. Those who only know the grunting monster of cinema will be surprised to encounter the novel's articulate creature. Like the being cobbled together from corpses by Victor Frankenstein, that default metonym for mad scientist, this patchwork girl constructed her narrative from fragments of the scientific, poetic, and philosophical concepts swirling around her. The daughter of novelist and anarchist William Godwin and proto-feminist Mary Wollstonecraft, she forged her own path when she met (then ran away with) the poet Percy Bysshe Shelley. The couple fuelled one another in an eight-year creative union whose intensity was matched by its brevity. After Percy's death, Mary wrote well-regarded novels, travelogues, and biographical sketches for Dionysius Lardner's Cabinet Cyclopædia. No man, despite overtures from Prosper Mérimée and an infatuation with Washington Irving, would replace Percy. Along with the archetypal monster tale, Mary introduced another populist genre: the apocalyptic plague story. The Last Man, her valediction to the Romantic era published in 1826 and rediscovered in the 1960s, concerns a man immune to a contagion ravaging the world at the end of the 21st century. Having braved the phantasmagoric tempests of her times, the author who once called herself "the last relic of a beloved race" left behind writings that ushered readers into the future.
***
On his or her birthday, HiLobrow irregularly pays tribute to one of our high-, low-, no-, or hilobrow heroes. Also born this date: Fred MacMurray, Virginia Lee Burton, Anna Politkovskaya.
READ MORE about members of the Monomaniac Generation (1795–1804).