Milla Jovovich
By: Mike Fleisch
December 17, 2013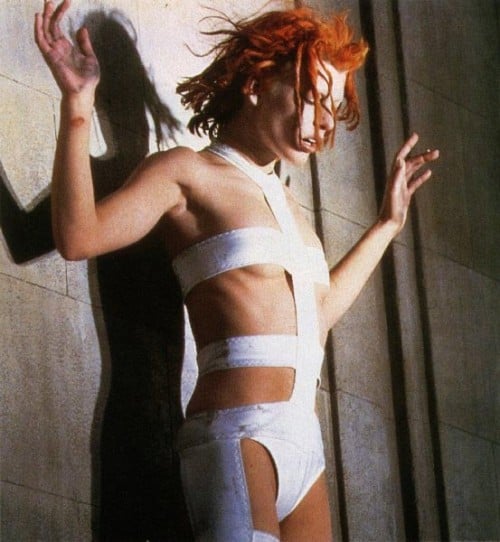 One of Revlon's Most Unforgettable Women in the World at age 13, MILLA JOVOVICH (Milica Jovović, born 1975) attained legit multihyphenate status in her teens, with her 1994 album The Divine Comedy, and Linklater's Dazed and Confused. Despite her almost nonverbal role, the 1993 film's promotional poster would have you believe she's the star, and what graphic designer could be blamed? With a face simultaneously Rita Hayworth and David Bowie, ice-queen glares bursting into open smiles, Jovovich belonged in movies, and none more than Luc Besson's The Fifth Element, in which Jovovich's demigod Leeloo is born in cross-section before our eyes, constructed reverse-pepperoni style in a 23rd-century glass tube. Seeing is believing, and the only way to defend her theoretical human half… Jovovich absorbs and responds to the confluence of narrative, Jean Paul Gaultier's costumes, and the radiant anti-Blade Runner designs of comic-book artists Moebius and Mezieres with embodied divinity, an impossibly innocent badass. Sing-songing an alien language she helped create, Jovovich guarantees that Leeloo will spawn other instances, the career funnel towards bioweaponry now visible. With five Resident Evil films behind and one forthcoming, Jovovich still frets about whether she's satisfactorily pronouncing "multipass" for fans who want to hear Leeloo's most famous word.
***
On his or her birthday, HiLobrow irregularly pays tribute to one of our high-, low-, no-, or hilobrow heroes. Also born this date: Penelope Houston, John Kennedy Toole, Ford Madox Ford.
READ MORE about members of the Revivalist Generation (1974-82).