Eye Candy (19)
By: Peggy Nelson
September 12, 2013
Eye Ear Candy today investigates the take-away.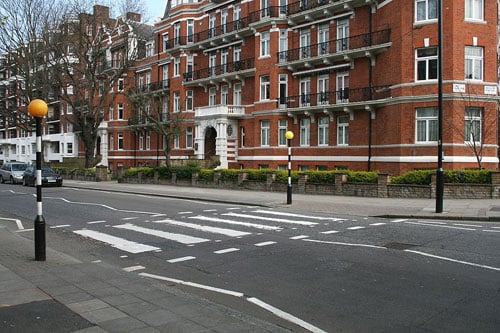 Abbey Road, empty
It's not the latest in Oulipian acrobatics—although it could be. It's the vocal track, and only the vocal track, of a pop song. Neither an acoustic version, reworked for a more folksy delivery, nor an a capella, meant to either imitate full orchestration or soar into space on its own; Vocal Track Only is the extracted vocals from the fully-produced studio version with which you are undoubtedly familiar. With precision gaps for the guitar riffs, the drum solos, and everything else, each of these tracks were engineered to fit.
But what is remarkable is that each one also stand on its own. It both triggers the familiar and leaves it behind, inviting one to contemplate what a remarkable piece of mixing and engineering the human voice can be. A bridge, perchance… a stairway…?
Of course it's not really called Vocal Track Only, that's just a search term I found useful in Google (and the GooTube), and the available versions are perhaps too few to be a trend. Yet. But these tracks, although never meant to be listened to alone, except maybe by sound engineers, not only reward your attention, they compel it. If you will.
And you will. Give a listen:
David Bowie and Freddie Mercury, Under Pressure
The Beatles, Abbey Road, side 2 medley
Led Zeppelin, Ramble On
***
Linkage via openculture.com, an excellent resource for mining the mediaspace: nothing overlooked, all welcome.