Blow Up Your Comics (17)
By: John Hilgart
May 13, 2012
Seventeenth in a series of thirty posts by John Hilgart. HiLobrow yields to no one in our admiration for his spelunkery into the mysterious and gorgeous depths of comics that we grew up reading without ever noticing what he's shown us. Check out the manifesto and FAQ of Hilgart's 4CP project.
Steam Robot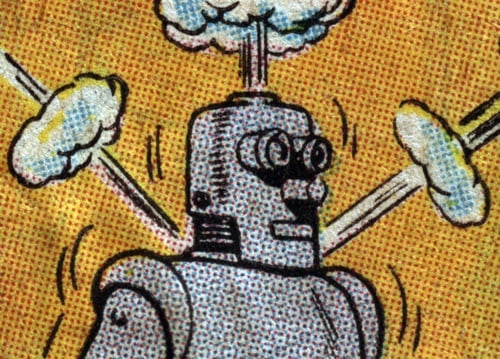 *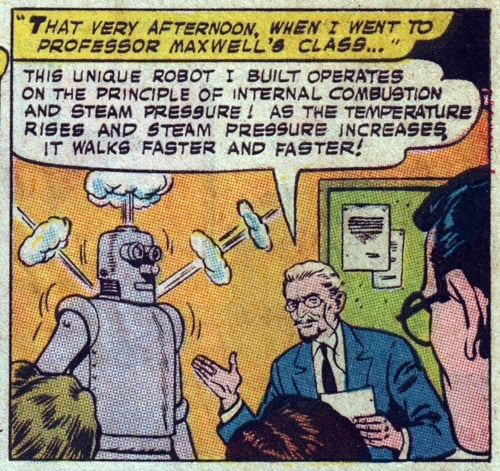 CREDITS: Superman #183, 1966. Art by Kurt Schaffenberger.
***
SIMILAR HILOBROW SERIES: SUBSUPERMEN — Golden Age heroes who didn't make the grade | MASKED MAN | LIMERICKANIA | MEET THE L.I.S. — John Hilgart discovers "implicit superheroes" concealed within comic-book mastheads | 4CP FRIDAY — themed comic-book detail galleries, curated by admirers of John Hilgart's 4CP project | KIRB YOUR ENTHUSIASM — 25 writers on 25 Jack Kirby panels | ANNOTATED GIF — Kerry Callen brings comic book covers to life | CHESS MATCH — a gallery of pulp fiction chess games | COMICALLY VINTAGE — that's-what-she-said vintage comic panels | DC — THE NEW 52 — an 11-year-old reviews DC's new lineup | FILE X — a one-of-a-kind gallery of "X" pulp paperback covers | SECRET PANEL — Silver Age comics' double entendres | SKRULLICISM — they lurk among us
CLICK HERE for more comics and cartoon-related posts on HiLobrow.