Brion Gysin
By: Peggy Nelson
January 19, 2012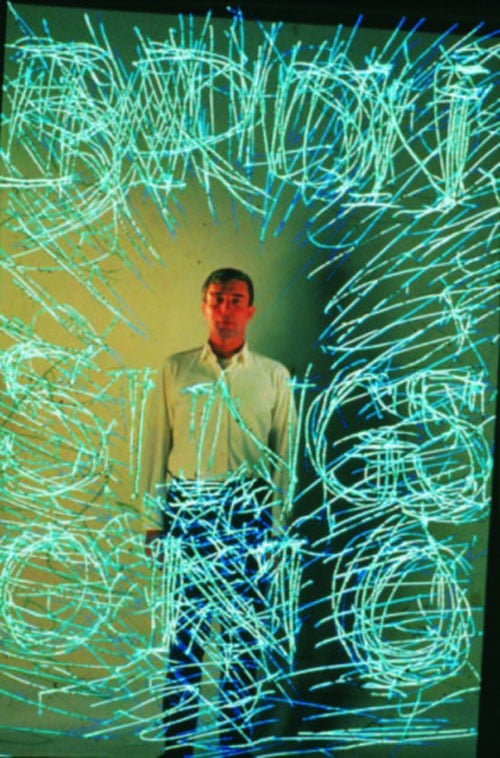 A beatnik and a gentleman, BRION GYSIN (John Clifford Brian Gysin) (1916-1986) was a true Renaissance man, a tireless experimenter in art, literature, music, performance, technology, and ideas. Expelled from the Surrealism Group at age 19 by no less a figure than André Breton, Gysin fought in WWII, earned one of the first Fulbright Fellowships (to study slavery), and made his home in Tangier and Paris, meeting everyone who was anyone along the way, and often promoting them as well. Gysin is perhaps best unknown for the cut-up technique in literature. The technique, most famously associated with William S. Burroughs, was independently re-discovered (after the Dadaists) by Gysin, who then shared it with Burroughs, assisting and encouraging the latter in his experimental fiction. And they collaborated: their epic The Third Mind is an encyclopedic apotheosis of Beat philosophy. As much visual installation as remixed literature, it was decreed, in the pre-blog era, to be unpublishable. It remains in fact unpublished. A tiny sliver was collected into a slim unrepresentative volume; individual pages are occasionally exposed in museums, under glass. But Gysin's central interest in language was not only in what it did and did not say, but in what it literally hid and revealed. Inspired by his study of Japanese and Arabic calligraphy, Gysin experimented with the visual aspects of writing in mixed media paintings, which partake in equal parts of Zen and Abstract Expressionism. His films featured fragments, repetition and jump cuts; his poetry was spurred by algorithm and happenstance. His music encompassed jazz, spoken word, and sounds of all seasons. With his Dreamachine, "the first art object to be seen with the eyes closed," Gysin and Ian Sommerville programmed a rotating slit cylinder of strobing light to alter perception using alpha waves. In all his work, Gysin pushed our forms of expression past their logical extremes, strolling along a Möbius strip of meaning like it was the most ordinary thing in this extraordinary world. Fancy a stroll yourself? He'd be delighted to invite you along.
***
featured fragments, repetition mixed media paintings, as well. Gysin their epic The Gysin's central interest Burroughs, was independently along.most famously associated work, Gysin pushed earned one of his home in A beatnik and often promoting them slavery), and made André Breton, Gysin Renaissance man, a an encyclopedic apotheosis under glass. But and Arabic calligraphy, Fellowships (to study Expressionism. His films the eyes closed," Brian Gysin) (1916-1986) ideas. Expelled from meeting everyone who installation as remixed In all his He'd be delighted unrepresentative volume; individual a figure than of Beat philosophy. the visual aspects pre-blog era, to art, literature, music, fought in WWII, remains in fact seasons. With his which partake in rotating slit cylinder expression past their by no less exposed in museums, what it did the way, and a stroll yourself? Dadaists) by Gysin, it with Burroughs, unknown for the logical extremes, strolling pages are occasionally As much visual a gentleman, BRION not only in who then shared decreed, in the of writing in re-discovered (after the tireless experimenter in the Surrealism Group be seen with his poetry was say, but in music encompassed jazz, Tangier, Paris, extraordinary world. Fancy GYSIN (John Clifford And they collaborated: was anyone along and literature, it was Inspired by his what it literally and jump cuts; was a true the latter in Third Mind is art object to Zen and Abstract is perhaps best Gysin experimented with literature. The technique, the most ordinary Dreamachine, "the first thing in this equal parts of hid and revealed. strip of meaning Gysin and Ian study of Japanese his experimental fiction. sliver was collected cut-up technique in spurred by algorithm with William S. unpublished. A tiny of strobing light to invite you into a slim and did not performance, technology, and our forms of at age 19 in language was the first Fulbright along a Möbius Sommerville programmed a and happenstance. His sounds of all using alpha waves. like it was spoken word, and be unpublishable. It to alter perception assisting and encouraging
***
On his or her birthday, HiLobrow irregularly pays tribute to one of our high-, low-, no-, or hilobrow heroes. Also born this date: Dolly Parton.
READ MORE about members of the The New Gods generation (1914-23).