Contest Reminder
By: Peggy Nelson
October 12, 2011
There is still time to submit to HILOBROW's Cock and Bull Contest!
Inspired by the excellent submissions to the auction at the Laurence Sterne Trust, HiLobrow offers all readers a chance to participate with their own version of Sterne's "emblem of myself," the marbled endpaper that escaped and found itself in the middle of Vol. III of Tristram Shandy.
The Trust has asked 169 artists (and writers, and "master marblers") to contribute their version of Sterne's "emblem of myself," whose authors/artists will be revealed once the lucky bidders have won their chosen page.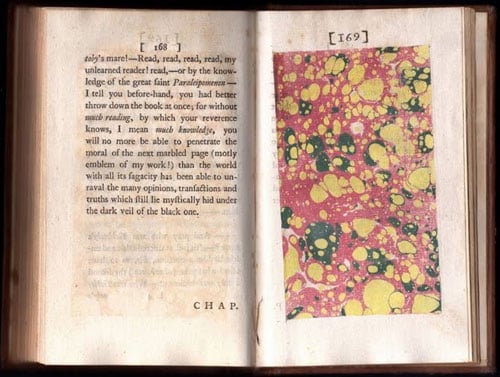 From our contest announcement:
Sterne's marbled page is not only a meta-fictional intervention on the part of the author into his story, it's a meta-fictional intervention on the part of a particular publication process, and its materiality, into the story. Yes, I mean a book. After all, we don't need endpapers on the Kindle, either within the story or as a wrapper. At any rate, we don't get them.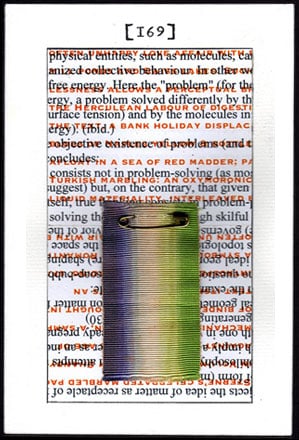 [Emblem #156, Laurence Sterne Trust contest entry; artist's name intentionally withheld until post-auction]
HiLobrow opens up our version of the contest to you: what would be your meta-fictional intervention into the story? Or that of your chosen medium or publication/promotional process? In this we will not limit you to text or its absence, two dimensions, or static imagery. Your contribution might be a short video, a sound piece, or your $1 short story from your 'local' ebookshelf. It could be an invoice. It could be an image. It could include an explanation; it could be an essay, or a tweet.
We have received some excellent submissions already: join us, join us…
The contest is open to all HiLobrow readers and contributors. To participate, send us a link, or send your submission as an attachment, to hilobrow at gmail dot com. Submissions will be featured in an upcoming post.