Longreads: Art
By: Peggy Nelson
September 6, 2011
'You have a most peculiar way of talking sometimes,' said Bernard, staring at the young man in perplexed astonishment. 'And, anyhow, hadn't you better wait till you actually see the new world?'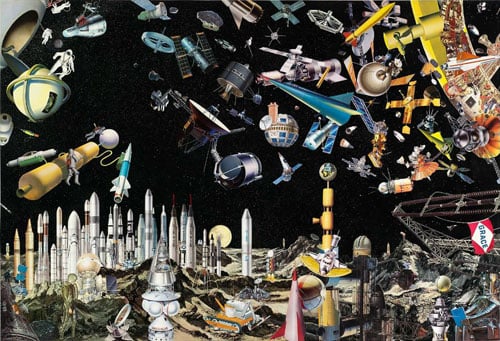 [Michael Oatman, Exurbia (more leisure time for artists everywhere), 2004, Collage and spray paint on paper on board; Museum of Fine Arts, Boston, MA]
This week HiLobrow inaugurates #longreads in art — a series of interviews with artists whose work we find sympathetic to our peculiar way of thinking. Hilobrow art incorporates elements high and low, from fine art to advertising, from idealism to slapstick, from images to words, without trying to find the middle(brow) ground — and, always, the hilobrow celebrates the mashup.
But the hilobrow avoids the anomie of the abyss, and the thousand-yard stare. Instead, he or she uses the empty set of absurdity as a motivator, often with laughter riding shotgun. Defying synthesis, the hilobrow often defies categorization.
The work of our first interviewee, multi-instrumentalist Michael Oatman, manifests that defiance. A maker whose work ranges from collage to installation, from performance to tech-mediated interactivity, from discarded street objects to revisitations of art history, and whose subjects cover everything from the id to outer space, Oatman's work is a carnivalesque unto itself.
But, as he himself would insist, nothing is unto itself, everything is embedded, and everything admits of the pleasure and danger of appropriation along the way.
Tune in tomorrow for the first HiLobrow #longreads in art, same bat-time, same bat-channel: Michael Oatman interview.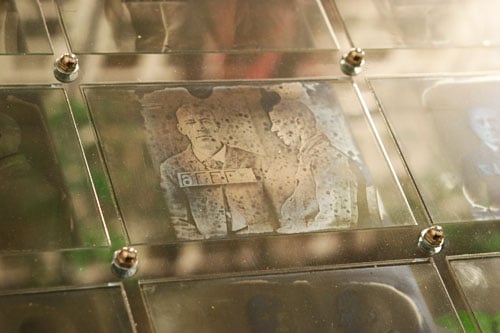 [Michael Oatman, Conservatory, 2005; Glass negative detail]
***
Initial quote from Aldous Huxley, Brave New World, 1932; Chapter 8