Mouldiana (3)
By: James Parker
June 15, 2011
WISHING WELL
Third in a series of posts, coauthored by James Parker and Tommy Valicenti, singer/guitarist with the Boston rock band Mount Peru, parsing the solos of Bob Mould. Series intro here.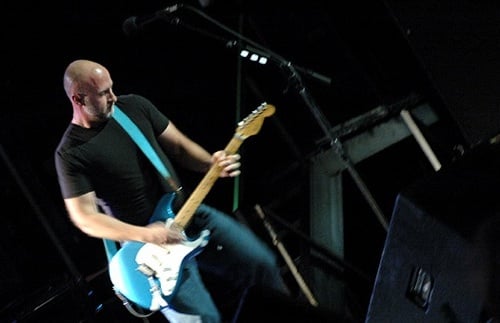 From Workbook.
1989: Workbook. Hüsker Dü are done, and Bob has gone all gloweringly self-consciously singerly-songwriterly, wearing a cardigan and making a different, demurer noise with his new band of pros and session men. Still, though, kicking tremendous amounts of ass. Recorded at Prince's Paisley Park (basic tracks) and then at Grog Kill Studio in upstate New York (vocal wrackings and guitar-layers), Workbook is the sound of Bob announcing his solo-artist-ness, throwing as it were the mad moppet Hart off his shoulders. He has suggested that this album is his personal equivalent of Pete Townshend's Empty Glass. Not much warped Hüsker-pop to be found on it: the tracks are stately with cello, filigree'd with jingle-jangle, and the rhythm section sounds like a firm of lawyers. "Sunspots", the opener, is glassy New Age acoustic chime à la Michael Hedges, and track two — "Wishing Well" — begins with maturo-plod and an artificial handclap sound. But around 2.20 one of the amps starts to whine in irritation, growing louder and shriller until at 2.28 a chorus of overdubbed Bobs yells "Hey-hey!" and his guitar shoulders the song wide open.
The solo here is a masterpiece — how it boosts, how it broadens. Totally authoritative, but also close to breakdown. You can hear the frazzled might of Neil Young's Old Black in its "Cinnamon Girl"-style powerchords, and then Bob clambering hand over hand up his own sheer and shivering modulations. It persists, the solo, carrying the song through a ferocious bridge and then powering down in super-strums before picking up again with cold folky fury at 3.55. Deep in the mix, to amazing effect, Bob sings along, baying and ululating and gnarly-yodelling at his guitar.
***
Co-written by Tommy Valicenti. Parker and Valicenti also collaborated on the series ANGUSONICS, which parsed the solos of AC/DC's Angus Young.
***
READ other HiLobrow series: ANGUSONICS — the solos of Angus Young | ARTIST IN RESIDENCE — HILOBROW's favorite artists | BICYCLE KICK | THE BOOK IS A WEAPON — a gallery | CABLEGATE COMIX | CECI EST UNE PIPE — a gallery | CHESS MATCH — a gallery | DE CONDIMENTIS — a world-secret-historical take on ketchup, mustard, relish, and more | DIPLOMACY — a world-conquest boardgame musical | DOTS AND DASHES — a gallery | DOUBLE EXPOSURE — the stratagems of Middlebrow | EGGHEAD — a gallery | EPIC WINS — our versions of epic poems | FILE X — a gallery | FITTING SHOES — famous literary footwear | GOUDOU GOUDOU — adventures in Haiti | KIRB YOUR ENTHUSIASM — 25 Jack Kirby panels | LATF HIPSTER | MERIT BADGES — earn 'em! | MOULDIANA — the solos of Bob Mould | PANTENE MEME — a found gallery | PHRENOLOGY — the insane origin of browism | PLUPERFECT PDA — time-traveling smartphones! | POP ARCANA — spelunking weird culture | REBOOTING MUSEUMS | ROPE-A-DOPE — boxing | SECRET PANEL —Silver Age comics' double entendres | SHOCKING BLOCKING — cinematic blocking | SKRULLICISM | UKULELE HEROES