Burl Ives
By: Brian Berger
June 14, 2011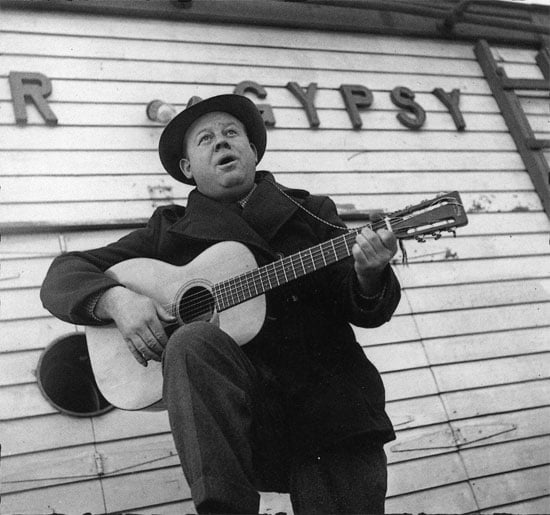 No American entertainer could charm and menace like singer and actor BURL IVES (1909-95). Raised on a downstate Illinois farm, Ives quit college for a folk revival that didn't yet exist. After two years a singing hobo, Ives returned to school, quit again, and in August 1933, he moved to New York where his associates included Josh White, Earl Robinson, and Woody Guthrie. "There was a tense feeling in the air that put an edge of excitement on everything," he'd later recall. Following two years in the Army, in 1944 Ives' CBS radio show, The Wayfaring Stranger, began, and his debut album followed. "Ives sings it soft and smoothly for the backwoods madrigals, only he goes too far back," Billboard coolly noted. "These eight sides are of historical rather than musical interest." Happily, others disagreed and Ives spent three decades recording superb, subtly intense folk and country records. Ives' film career began in 1946 but not until Elia Kazan cast him in East of Eden (1955) and Cat On A Hot Tin Roof (stage 1955, screen 1958) was his dramatic talent widely known; of Ives' subsequent roles, the bleak winter western, Day of the Outlaw (1958), is exceptional. Whatever one's personal use for Christmas fare, Ives' narration in Rudolph The Red-Nosed Reindeer (1964) affirms the empathy that made Ives a superior artist. And then there was "Johnny Horizon" (1970, below).
***
On his or her birthday, HiLobrow irregularly pays tribute to one of our high-, low-, no-, or hilobrow heroes. Also born this date: Margaret Bourke-White, Jerzy Kosinski, and Jorgen Leth.
READ MORE about members of the Partisans generation (1904-13).