Show Me the Molecule
By: Joshua Glenn
November 8, 2010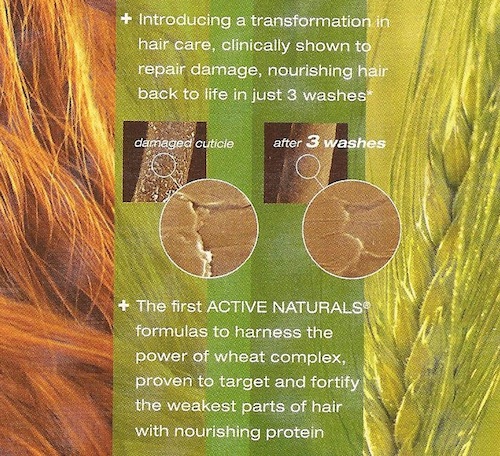 In US shampoo communications, signifers of vigorous activity unseen by the naked eye are mainstream and routine. The weakest parts of hair cuticles are targeted and fortified by Aveeno's wheat-complex formula, one ad claims; as evidence, we're shown microscopic-esque Before/After images of one such cuticle. A Vive Pro ad boasts that the product nourishes hair with royal jelly — the efficacy of which is illustrated by a Table of Elements-style honeycomb, the cells of which read "Proteins," "Omega 3 & 6," "Glucose," and so forth.
[Third in an occasional series cross-posted from Semionaut, a blog co-edited by the author.]
Other products dive even deeper, down to the cellular level — where a shampoo's ionic, nanorobotic, or I-don't-know-whatic technology causes the cells within a single strand of hair to oscillate through rejuvenating vibrational motions. Not since Wilhelm Reich's orgone accumulator and early Cold War sci-fi has vibrational magic-science been such a popular phenomenon. One L'Oreal TV spot sends viewers speeding through a hydra-collagen protein/molecule, as though we're passengers aboard the miniaturized submarine in Fantastic Voyage. (Only even smaller, since the Proteus was navigating the bloodstream.) Alas, there's no Raquel Welch along for this ride. Check it out:
What's next? Spooky action at a distance? Interactions between moving charges mediated by propagating deformations of an electromagnetic field? Quantum pseudo-telepathy? Maybe — but not until science fiction popularizes such concepts. However, this spring, when I saw Iron Man 2, in which Tony Stark uses a jury-rigged particle accelerator to synthesize a new element, I predicted that shampoo brands would hasten to make similar claims.
It took them a few months, but I'm pleased to report that Head & Shoulders has risen to the challenge with its latest print ad featuring Super Bowl champ Troy Polamalu. See below.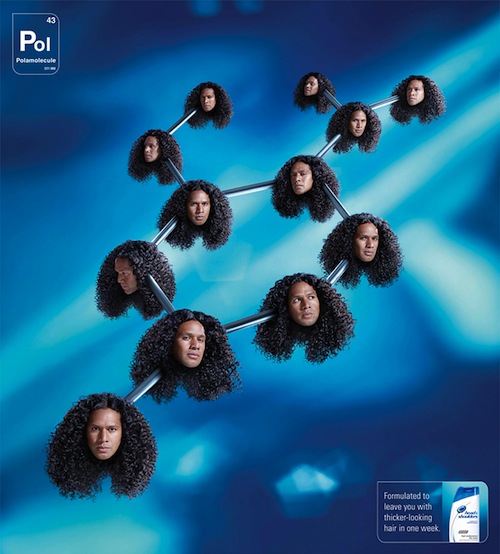 OK, the Polamolecule isn't exactly a new element. But it's a step in that direction — so stay tuned! There are sure to be more molecular breakthroughs announced via shampoo communications in 2011.
***
MORE SEMIOSIS at HILOBROW: Towards a Cultural Codex | CODE-X series | DOUBLE EXPOSURE Series | CECI EST UNE PIPE series | Star Wars Semiotics | Icon Game | Meet the Semionauts | Show Me the Molecule | Science Fantasy | Inscribed Upon the Body | The Abductive Method | Enter the Samurai | Semionauts at Work | Roland Barthes | Gilles Deleuze | Félix Guattari | Jacques Lacan | Mikhail Bakhtin | Umberto Eco