Radio/Waves
By: Peggy Nelson
September 30, 2010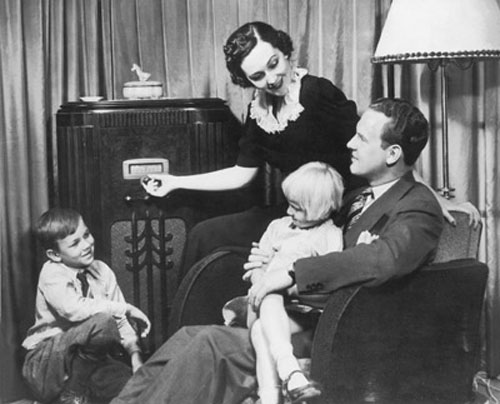 I will be interviewed on the radio this weekend as part of a episode called "Demystifying the World" for Boomer Alley Radio, talking about my controversial views of cellphone etiquette, first put forth here on HiLobrow during my virtual artist residency last December, and later expanded for Harvard's Nieman Storyboard in July.
In the interview I explain how "the end of the individual as we know it" is a good thing, and why it's ok to text during dinner.
Too dire? Let's examine the point. A point is a discrete unit in geometry, intact, inert, perhaps even a little heroic, massing with others of its kind to form lines and planes. A discrete unit, that is; except when it isn't. Except when it's the intersection of two lines, or a line and a plane, or a plane and a sphere. And so on. From that perspective, a point hardly exists at all, it's just shorthand for the connection between one surface or vector and another. The individual is another such discrete unit. Except when we aren't. Except when we're a connection between one space or journey and another. Which is always. We've moved from the etiquette of the individual to the etiquette of the flow.
If you're in LA, you can catch the show Saturday at 7 pm PST, on KFWB NEWS TALK 980 Los Angeles. Listen Live online:
 http://kfwb.com/.
And in Colorado, it's Sunday at 4 pm MST, Radio Colorado Network – Denver, Colorado Springs, Vail. Listen Live online:
 http://radioconetwork.com/.
Everywhere else, it's online as a segmented podcast here: http://boomeralleyradio.com/shows/demystifying-the-world.
I'm "Segment #5," but it's well worth listening to the whole show!
***
And I want to add a very heartfelt thanks to my editors, readers, commenters and collaborators — this is my 100th post for HiLobrow. It's been a great trip, and it's not over yet. Here's to Further!