Victor Ludi (6): Oil Spill Fic
By: Patrick Cates
June 7, 2010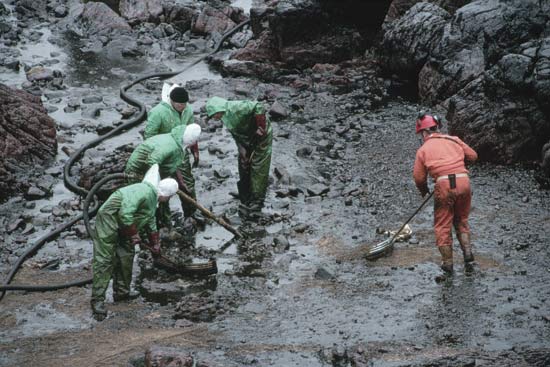 On May 17, I announced HILOBROW's fourth microfiction contest.
The challenge was to write a story of no more than 250 words which imagined that the town or city where you live had been flooded — because of a drilling-related crisis — with several hundred thousand gallons of crude oil. We promised to donate $100 in honor of the contest winner to the Center for Biological Diversity, a nonprofit which seeks to prevent offshore oil spills; and to donate $50 apiece in honor of three runners-up. The deadline was June 5.
Tomorrow, we'll publish the winning story — which, our panel of judges agreed, was submitted by A.E. Smith. Congratulations! We'll also record Smith's story during our next podcast session, on June 11, the theme of which is eco-catastrophes [see details below]. And of course, we'll send Smith a HiLobrow t-shirt.
Later this week, we'll publish the three finalist entries — by Charles Pappas, P.E. Zimmerman, and Ingrid Bohnenkamp. Congratulations to all three of them. And many thanks to everyone who took part. We have an enormous amount of fun reading your stories; we hope that you have as much fun writing them.
You can read every story submitted to the contest in the comments section to this post.
Stay tuned for more contests! Through June 13, you can still enter our latest challenge: a photo caption contest.
***
JUNE 11 PODCAST RECORDING: The theme of our podcast's fifth episode is eco-catastrophes. Boston-area HiLobrow readers are invited to join us at 6:45pm on Friday, June 11 at PAZZO BOOKS, in West Roxbury. Our podcast team will present excerpts from Fred MacIsaac's The Hothouse World (1931), S. Fowler Wright's Deluge (1927), Gabriel De Tarde's Underground Man (1905 in English), George Allen England's Darkness and Dawn (1914), Louis Pope Gratacap's The Evacuation of England (1908), Edmond Hamilton's The Polar Doom (1928), Andre Maurois' The Next Chapter: The War Against the Moon (1928 in English), and J.J. Connington's Nordenholt's Million (1923). Plus: A.E. Smith's contest-winning entry.
Peggy Nelson will accompany the readings with an original theremin score. Beer and wine will be served. We're hoping that Peggy will also read her own oil-spill story, "Top Kill Fail."