Engaged vs. Disengaged Irony
By: Joshua Glenn
September 24, 2009
A quick note about Neo-Dadaists and Pop Art.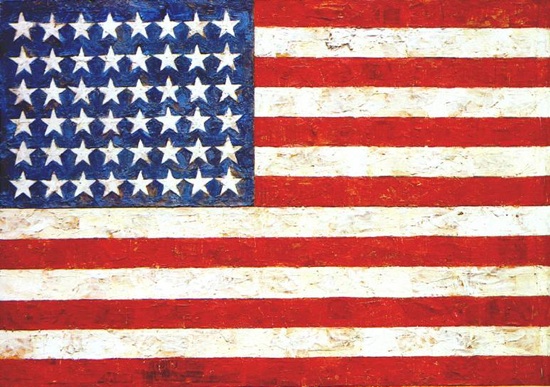 This item is excerpted from yesterday's essay on the Postmodernist Generation.
Neo-Dada artists Jasper Johns, Robert Rauschenberg, Claes Oldenburg, and Yves Klein were born between 1924-33. Reacting against the highbrow aims of Abstract Expressionism (i.e., the search for a universal truth that might transcend political, social, ethnic and religious differences), Neo-Dadaists pioneered ironic/absurdist postmodern art, characterized by themes and techniques drawn from advertising, comic books, and other areas of pop culture.
Other Neo-Dada artists born during this period include: Lee Bontecou, John Chamberlain, Bruce Conner, Edward Kienholz, Robert Morris, Nam June Paik, and Fluxus artists George Maciunas, Allan Kaprow, and Yoko Ono.
NB: Rauschenberg was the creator of the most notorious practical joke in art history, "Erased de Kooning Drawing" (1953), which poked fun at the brooding seriousness and majestic aspirations of Abstract Expressionists like de Kooning. Rauschenberg didn't just theorize about replacing fixed, universal categories and certainty with difference, process, and anomaly — he did it.
In America, Pop Art — which was influenced by the Neo-Dadaists — used impersonal, mundane reality, irony, and parody, not to mention hard-edged composition and representational art, to defuse the personal symbolism and "painterly looseness" of Abstract Expressionism.
However, Pop Art wasn't Dada-esque in the anarchic, hilobrow sense of the term; instead, Pop Art's brand of postmodern practice was indicated a detached affirmation of the artifacts of mass culture. Honorary Postmodernist Roy Lichtenstein (born in 1923) parodied comic-book art, but fetishized it at the same time.
Much the same thing goes for Andy Warhol, Tom Wesselmann, Robert Indiana, James Rosenquist, and other Pop Artists born from 1924-33, who presented icons of pop culture and mass media in a nobrow way — i.e., without praise or condemnation, and by means of the same (or almost the same) commercial techniques used by the media from which the iconography was borrowed. Middlebrow suborned nobrow Pop Art immediately.
The difference between the Neo-Dadaists and Pop Art may come down to the difference between engaged and disengaged irony. As I once wrote in Hermenaut, many years ago:
We here at Hermenaut are interested [in] a very particular irony — one which is philosophically detached but not emotionally disaffected or passive; perhaps humorously trivial but never emptily frivolous. Once this irony is understood, whether you use camp to describe the construction of the self or the construction of a Las Vegas supermarket, we'll at least be able to communicate. Yes, the real hurdle to understanding camp lies in our culture's ongoing inability to perceive irony as being anything but an emotionally disengaged, passive, "lite" reaction to a world gone sour; without a better appreciation of the rich emotional and creative possibilities of irony, camp will forever be regarded as a clique-ish, "anti-hip" hipsters' put-on — which is not camp, but that which is inferior to camp in even its most degraded form: cheese.
Obviously, this is not the place to discuss camp, cheese, and engaged vs. disengaged irony. However, please note that at HILOBROW we prefer the term quatsch to cheese, though we're pretty sure they describe the same things.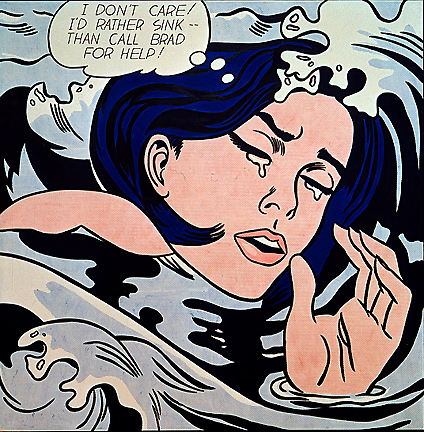 ***
ALSO: What do the satirical but largely unpolitical MAD Magazine and the highly political Situationist International have in common? They combined the sensibilities and worldviews of New Gods and Postmoderns; the productive tension between these dissimilar generational dispositions is what made those phenomena so extraordinary.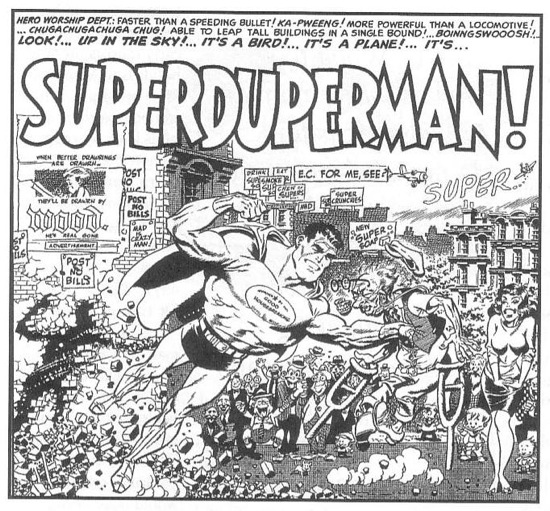 MAD, founded in 1952, was edited and created by New Gods (Will Elder, John Severin, Dave Berg, Al Jaffee, William Gaines) and Postmodernists (Wally Wood, Harvey Kurtzman, Jack Davis, Don Martin). Read more about postmodern humor here.
The most influential members of the Situationist International, founded in 1957, were Guy Debord, Michèle Bernstein, Ivan Chtcheglov, and Alexander Trocchi (Postmodernists); and Asger Jorn, Jørgen Nash, and Constant Nieuwenhuys (New Gods). Attila Kotányi, who edited the journal Situationniste Internationale, was born in the cusp year of 1924 — more research is needed before we can assign him to one of these two generations. Situationists Ralph Rumney (one of the co-founders of the London Psychogeographical Association) and Belgian philosopher Raoul Vaneigem are honorary Postmodernists (born 1934).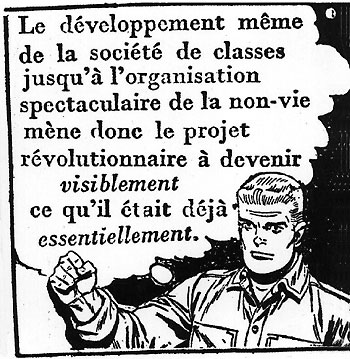 No room, here, to get into the many points of similarity between the programs of MAD and Situationism; the two illustrations shown here will have to suffice. As for the difference between MAD and Situationism, it may — again — have much to do with the distinction between engaged and disengaged modes of irony. I'm going to go out on a limb and suggest that MAD was a nobrow production, while Situationism was hilobrow. When thinking about the "postmodern" generally, or the "silence" of the so-called Silent Generation, it's imperative to keep that distinction in mind.
I should add, here, that Nobrow is always very impressive — and quite similar to HiLobrow. I don't mean to be dismissive of nobrow productions like MAD or Pop Art; I enjoy them, very much! Nobrow can be very inspiring, and certainly nobrow productions serve to alert us to the limitations of the heimlich High/Low/Anti-High/Anti-Low matrix. Nobrow takes us to the edge of the abyss, but no further. As a result, it is all too easily suborned by Middlebrow.
***
READ MORE essays by Joshua Glenn, originally published in: THE BAFFLER | BOSTON GLOBE IDEAS | BRAINIAC | CABINET | FEED | HERMENAUT | HILOBROW | HILOBROW: GENERATIONS | HILOBROW: RADIUM AGE SCIENCE FICTION | HILOBROW: SHOCKING BLOCKING | THE IDLER | IO9 | N+1 | NEW YORK TIMES BOOK REVIEW | SEMIONAUT | SLATE
Joshua Glenn's books include UNBORED: THE ESSENTIAL FIELD GUIDE TO SERIOUS FUN (with Elizabeth Foy Larsen); and SIGNIFICANT OBJECTS: 100 EXTRAORDINARY STORIES ABOUT ORDINARY THINGS (with Rob Walker).
To paraphrase a Civil Rights anthem, "The only thing [Nobrow] done wrong/Stayed in the wilderness a day too long./Keep your eyes on the [HiLobrow] prize/Fight on, fight on."