Kirb Your Enthusiasm
By: HILOBROW
February 21, 2011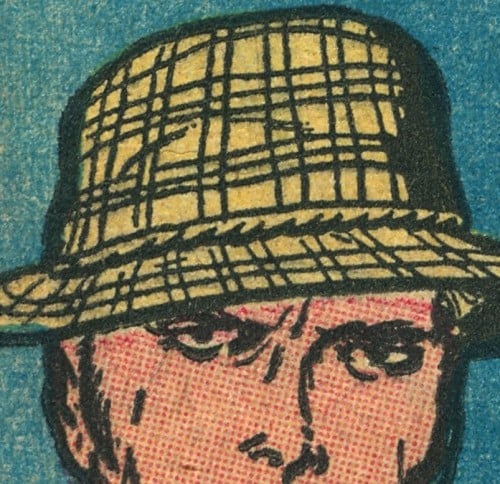 HILOBROW is thrilled to announce a new series of posts! We've invited 25 of our favorite writers to take a close look at selected panels drawn by the legendary comic-book artist and author Jack Kirby. The series is called KIRB YOUR ENTHUSIASM.
From today through the week of March 7th, HILOBROW will publish posts by: Douglas Rushkoff on a panel from THE ETERNALS, John Hilgart on BLACK MAGIC, Gary Panter on DEMON, Dan Nadel on OMAC, Deb Chachra on CAPTAIN AMERICA, Mark Frauenfelder on KAMANDI, Jason Grote on MACHINE MAN, Ben Greenman on SANDMAN, Annie Nocenti on THE X-MEN, Greg Rowland on THE FANTASTIC FOUR, Joshua Glenn on TALES TO ASTONISH, Lynn Peril on YOUNG LOVE, Jim Shepard on STRANGE TALES, David Smay on MISTER MIRACLE, Joe Alterio on BLACK PANTHER, Sean Howe on THOR, Mark Newgarden on JIMMY OLSEN, Dean Haspiel on DEVIL DINOSAUR, Matthew Specktor on THE AVENGERS, Terese Svoboda on TALES OF SUSPENSE, Matthew Wells on THE NEW GODS, Toni Schlesinger on REAL CLUE, Josh Kramer on THE FOREVER PEOPLE, Glen David Gold on JOURNEY INTO MYSTERY, and Douglas Wolk on 2001: A SPACE ODYSSEY | MORE EXEGETICAL COMMENTARIES: Joshua Glenn on Kirby's Radium Age Sci-Fi Influences | Chris Lanier on Kirby vs. Kubrick | Scott Edelman recalls when the FF walked among us | Adam McGovern is haunted by a panel from THE NEW GODS | Matt Seneca studies the sensuality of Kirby's women | Btoom! Rob Steibel settles the Jack Kirby vs. Stan Lee question | Galactus Lives! Rob Steibel analyzes a single Kirby panel in six posts | Danny Fingeroth figgers out The Thing | Adam McGovern on four decades (so far) of Kirby's "Fourth World" mythos | Jack Kirby: Anti-Fascist Pipe Smoker |.
Readers, please help us spread the word about the series — the index page for which is https://www.hilobrow.com/tag/kirb-enthusiasm/ — and leave comments on the series' posts.
PS: We couldn't have pulled this series off without the technical assistance and moral support of John Hilgart, publisher of the comic-book websites 4CP and Comic Book Cartography. Click on the links to his excellent Kirby galleries, below!
***
SUBSCRIBE to this series via RSS: https://www.hilobrow.com/tag/kirb-enthusiasm/feed/
CHECK OUT "Cosmic Debris: Kirby in the '70s," a series running in tandem with "Kirb Your Enthusiasm" at the 4CP gallery of comic book details | Kirby cutaways and diagrams collected at the Comic Book Cartography gallery | Joe Alterio's Cablegate Comix and HiLobrow posts about comics and cartoonists, and science fiction | The Jack Kirby Chronology | scans of rare 1940-50s Kirby comics at the Digital Comic Museum | Joshua Glenn on the New Gods generation