Merit Badge (4)
By: Peggy Nelson
September 22, 2010
Introducing the fourth HiLobrow merit badge, Feral Tendencies!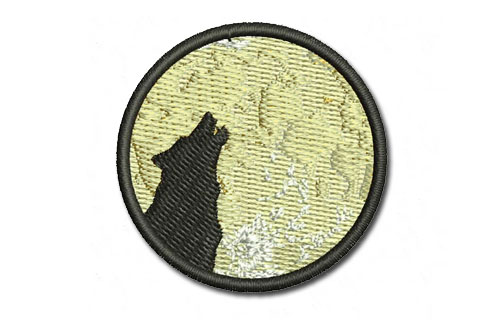 [Badge shown larger than life-size; actual size is approximately 2 inches in diameter]
Take a walk on the wild side — but first, be prepared with this badge. Not all of the steps may be possible. But as usual, the only thing that is required is your choice from the requirements section; all else is optional. Creativity is encouraged, and if you would like to submit independent achievements for consideration, then we will consider them.
REQUIREMENTS (complete 1 or more):
1. Over an open fire, cook any one of the following:
a. A wild hornpout
b. A wild marshmallow
c. Turkey curry buffet
2. What is squirrel-bombing? Can you use other species or does it have to be a squirrel? Provide a link to your Flickr stream, or to any relevant Canadian photographs. Note: it is ok to use Photoshop.
3. Following the instructions in Joy of Cooking, skin and prepare a backyard rodent you have trapped. Bake into a pie, wash down with backyard moonshine. Scan and email a line drawing describing your experience, or that of the Rombauers. If you are performing this as a thought-experiment, describe how you believe it may or may not taste like chicken. Note: do not substitute any hamsters, guinea pigs, or zhu-zhu pets you may have around the house.
4. Explain the significance of the dancing chicken in Werner Herzog's Stroszek.
[Stroszek, dir. Werner Herzog, 1977]
5. List three sartorial requirements of a Furry. Include a photo of one or more. Note: photos from Second Life are acceptable.
6. Catch up on HILOBROW's Cocky the Fox by James Parker. Who should play Cocky as a Furry in the film?
THOUGHT EXPERIMENTS (complete 2 or more):
7. You have become feral. If someone leaves a dish out for you in the back yard, are you backsliding, or making progress, by accepting? Explain.
8. Briefly explain the identities of Kaspar Hauser, Bruno S, and Timothy Treadwell. Were any of them feral? Explain.
[Bruno S in The Enigma of Kaspar Hauser, dir. Werner Herzog, 1974]
9. Can feral mean different things as civilization advances? For example, the Amish drive horse-drawn carriages instead of hover cars. Are they feral?
10. What about bugs? If you're part of the hive mind, is that feral or futurism?
11. List the symptoms of porphyria that might explain vampires. List the symptoms of porphyria that might explain werewolves.
[Benicio Del Toro in The Wolfman, dir. Joe Johnston, 2010]
12. Does it make the world bigger or smaller to reduce myths to pathologies? What about the world of comic books?
SHORT ANSWERS (complete 1 or more):
13. In one sentence, describe the general plot in Jack London's Call of the Wild. Could it happen to your dog? Mention your dog's breed, size, level of separation anxiety, and include any incriminating photographs involving bandanas or those felt reindeer antlers.
14. Have you tamed something? Provide an example. Do you think it is really tame, or scamming you for Lucky Charms?
ARTS & CRAFTS (complete 1 or more):
15. Make the Beetini, a HiLobrow cocktail. Extra points if, after several, you are inspired to perform the location dance.
16. In Caveman, how does Ringo Starr defeat the stopmotion claymation pseudosaur?
17. In Quest for Fire, what does Rae Dawn Chong teach the Neanderthal?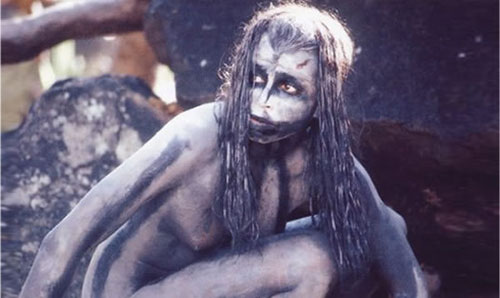 18. In the Genesis episode of STNG, what animal did Jean-Luc Picard regress to?
19. List several animals or parts of animals used by HiLo Hero Joseph Beuys in his art. If an entire animal, note whether it was alive or dead. You may include Mr. Beuys in your list.
20. List several inhabitants or activities of Lou Reed's Wild Side. Would it be a good place for a walk?
***
Email your name, mailing address, answers, links and any attachments to hilobrow at gmail dot com, with the subject line Merit Badge 4/Feral Tendencies. Please number your answers in order.
Badges are free on a limited first-come first-serve basis; there will be a $10 embroidery fee after the free badges have run out. In all cases, HiLobrow reserves the right of final decision, which will be arbitrary.
Important: by submitting material for this badge, you agree to allow HiLobrow to publish excerpts from your submissions at some future point (either linked to your name or anonymously, as you prefer).
***
In 2012, HiLoBooks will serialize, then reissue in beautiful paperback form (in May; PRE-ORDER NOW), Jack London's 1912 science fiction novel The Scarlet Plague. Introduction by HILOBROW's Matthew Battles. More information here.