HAIKAI (5)
By: Charlie Mitchell
August 5, 2023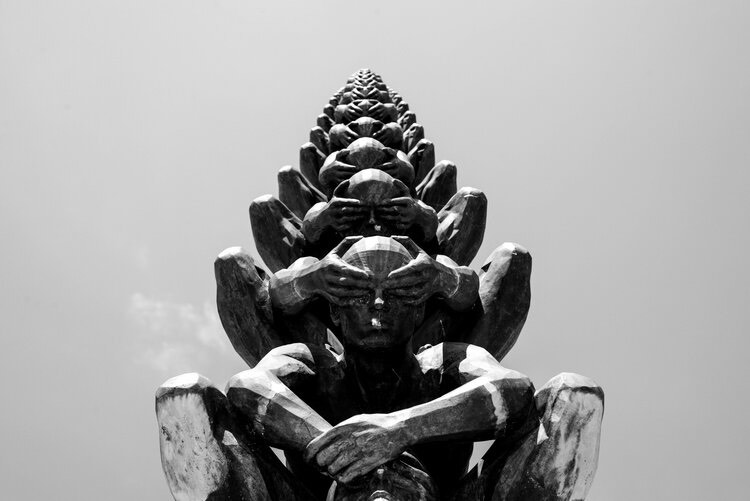 One in a series of haikai by HILOBROW friend and contributor Charlie Mitchell. (Haikai are informal, spontaneous collections of linked haiku-like poems.)
*
HERMENAUT FM
small town eyes appraise
gait, ink, plates, peeling into
these clockwork innards.
hotsprings of christblood;
'that town's four beers yonder'
Wild West's cocked yardstick.
fog in the harbor
adrift in bed on ice floes
chest heaved to fly sail.
cat hunches to sniff
what permeates work trousers
shed with jingling keys.
fourteen hour bootstrap
car floor tin foil carcasses
farce checked, glumly raised.
that God is cardboard
communion cup of windex
lithic leech of heart.
if words staked down tides
ghost ink of a ledger book
or vain heart-cave walls
somehow yours drum marrow gelid
damned and lapping things
'let me feel the lack' —
— tuning rusted dials
a desert's delicate dead air
Hermenaut FM.
***
MORE CHARLIE MITCHELL: A FANTASY LAND (story) | SENTINELS (story) | JACKALOPE (story). MORE POETRY: Stephanie Burt's WE ARE MERMAIDS | James Parker's BOURNE VARIATIONS | James Parker's KALEVALA bastardizations | Damon Krukowski's NEVER BEGIN TO SING | Douglas Wolk's LIMERICKANIA | Franklin Bruno's ADEQUATED | John Holbo's ON BEYOND ZARATHUSTRA | Greg Rowland's MY FIRST CRITICAL THEORY ABC | Matthew Battles's ESSAY ON MAN.