RADIUM AGE 1Q2023
By: HILOBROW
March 28, 2023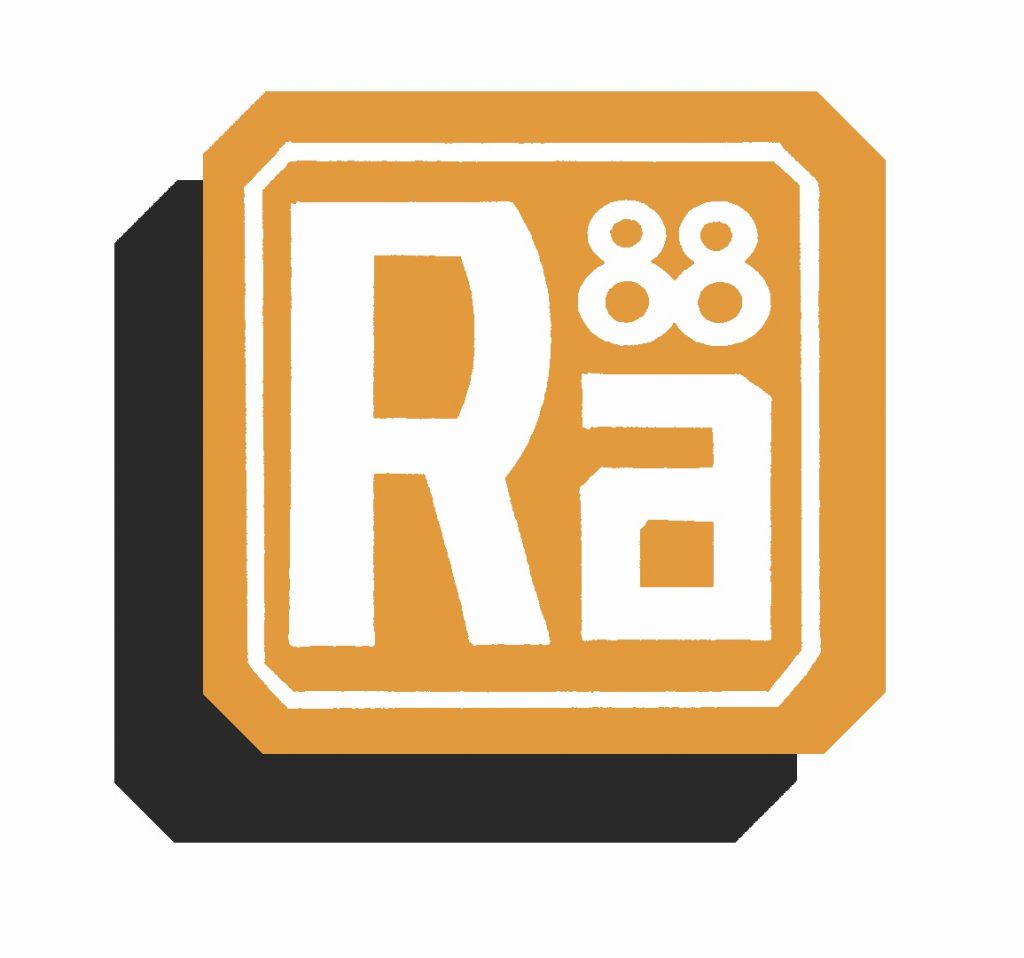 Under the direction of HILOBROW's Josh Glenn, in 2022 the MIT Press launched its RADIUM AGE series of proto-sf reissues from 1900–1935.
In these forgotten classics, sf readers will discover the origins of enduring tropes like robots (berserk or benevolent), tyrannical supermen, dystopias and apocalypses, sinister telepaths, and eco-catastrophes. With new contributions by historians, science journalists, and sf authors, the RADIUM AGE book series recontextualizes the breakthroughs and biases of these proto-sf pioneers, and charts the emergence of a burgeoning literary genre.
RADIUM AGE SERIES UPDATES: 2022 | 1Q2023. FULL SERIES INFO.
Below, please find updates on the RADIUM AGE project from 1Q2023.
---
SPRING 2023 TITLES
---
Since January 1, the following two RADIUM AGE series titles have been published.
*
THE LOST WORLD and THE POISON BELT
ARTHUR CONAN DOYLE
Introduction by CONOR REID
Afterword by JOSHUA GLENN
(February 21, 2023)
---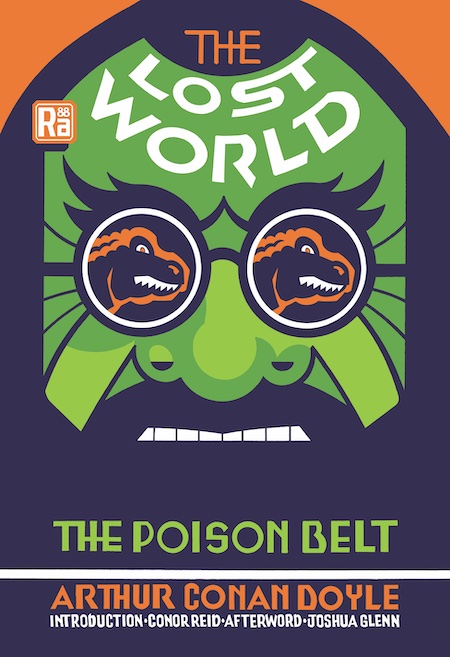 In 1912, the creator of Sherlock Holmes introduced his readers to yet another genius adventurer, Professor Challenger, who in his very first outing would journey to South America in search of… an isolated plateau crawling with iguanodons and ape-men! A smash hit, Doyle's proto-sf thriller would be adapted twice by Hollywood, and it would go on to influence everything from Jurassic Park to the TV show Land of the Lost. Its 1913 sequel, The Poison Belt, finds Challenger and his dino-hunting comrades trapped in an oxygenated chamber… as the entire planet passes through a lethal ether cloud.
"The last word in the sensational. No less interesting than the feats of Sherlock Holmes." — Pittsburgh Gazette-Times (1912)

"Highly interesting adventure of a sort to stir the pulse and arouse the wonder of even the jaded novel reader." — The New York Times (1912)

"The chief criticism of this book is that it is too short!" — Publisher's Weekly (1913)

"Professor Challenger is at home in the poison belt, his beard very big and black, his oddities accentuated rather than softened since his first appearance." — The Saturday Review (1913)

"They who neglect to read it will have missed a highly entertaining flight of the Doyle imagination." — New York Evening Sun (1912)

"At once one of the most realistic and one of the most romantic of [Doyle's] books." — The Living Age (1912)

"It is the original and real thing, a gem of the Jurassic epoch." — Seattle Post Intelligencer (1912)

"It is a book which excites the reader's imagination from the opening page, and Mr. Doyle's consummate descriptive art never found better use than in following the fortunes of his brave band of explorers into a country the like of which was never dreamed." — Boston Globe (1912)

"[MIT Press's] The Lost World and The Poison Belt is a wonderful snapshot of the Edwardian scientific mind, both its virtues and its defects." — Katherine Addison, author of The Angel of the Crows.
Press for MITP's edition of The Lost World and The Poison Belt includes the following…
"A handsome edition." — Transfer Orbit

"An excellent addition to the Radium Age series, in that it is both an important contribution to the development of science fiction and enjoyable to read." — PopScienceBooks
ARTHUR CONAN DOYLE (1859–1930) was a Scottish physician and author who in 1887 introduced Sherlock Holmes, arguably the best-known fictional detective. He also wrote poetry, historical novels, influential gothic short stories, and more. Doyle's proto-sf series of Professor Challenger adventures include The Lost World (1912), The Poison Belt (1913), The Land of Mist (1926), "When the World Screamed" (1928), and "The Disintegration Machine" (1929).
JOSHUA GLENN is a consulting semiotician and editor of the websites HiLobrow and Semiovox. The first to describe 1900–1935 as science fiction's "Radium Age," he is editor of the MIT Press's series of reissued proto-sf stories from that period. He is coauthor and co-editor of various books including the family activities guide UNBORED (2012), The Adventurer's Glossary (2021), and Lost Objects (2022). In the 1990s, he published the indie intellectual journal Hermenaut.
CONOR REID is a podcaster and writer from Ireland. He has published widely on popular fiction and science, including The Science and Fiction of Edgar Rice Burroughs (2018). He is the Head of Podcasts at HeadStuff Media, as well as the host and producer of his own critically acclaimed literature podcast, Words To That Effect. The podcast, which has been performed live in both Ireland and the UK, tells stories of the fiction that shapes popular culture.
Originally published in 1912–1913. Cover designed by Seth. See this book at MIT Press.
---
THEODORE SAVAGE
CICELY HAMILTON
Introduction by SUSAN R. GRAYZEL
(February 7, 2023)
---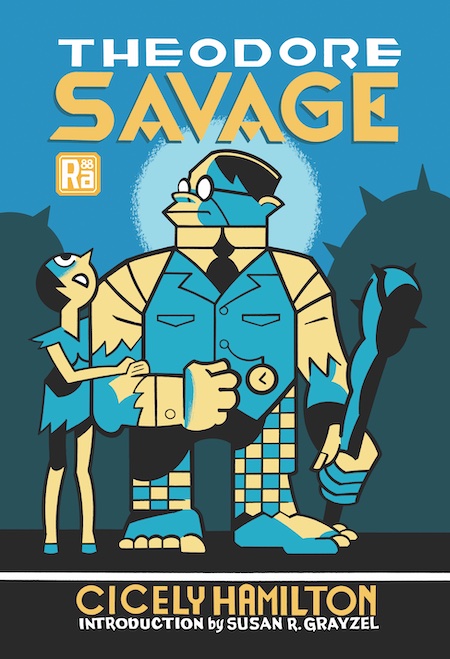 When war breaks out — a world war, whose thoroughly modern tactics include aerial bombardment and purposely displacing civilian populations — British civilization swiftly collapses. Theodore Savage, an educated and idle civil servant, and Ada, a miserable working-class woman who becomes Eve to his Adam, find themselves required to hide, scavenge, and fight for survival… in an all but unrecognizable Albion where science and technology are regarded by their fellow survivors with superstitious awe and terror. This 1922 proto-sf novel was one of the first to see WWI as foretelling the end of civilization.
"Miss Hamilton always writes forcibly, and her present novel deals with the heart-shaking effects of the next war. It might, indeed, be used as a tract to convey an awful warning." — The Spectator (1922)

"Miss Hamilton has spun so finely with the intimate fibres of human emotion and thought that the whole effect is startlingly real." — The Bookman (1922)

"Terror falls from the skies, and within a few months England has become a collection of small tribes living separately and brutishly, tilling the soil and building hutments." — The Fortnightly Review (1924)

"Challenging last century's assumptions about the invulnerability of imperial civilization, Cicely Hamilton's 1922 novel is a grim, swift read — and an argument for pacifism as the first principle of survival." — Nisi Shawl, author of Everfair
Press for MITP's edition of Theodore Savage includes the following…
"The writing is brilliant, nuanced, and deep. No aspect of the hellish aftermath of scientific warfare is unexplored. […] A terrifying and prescient science fiction novel that's unflinching in its portrayal of the fragile scaffolding that supports 'civilized' society. — Foreword

"Hamilton drew on the anxieties and trauma that emerged from the First World War to tell a story of a Europe decimated by war — and to explore how society and gender roles had drastically changed as a result." — Tor.com's list of "Can't Miss Indie Press Speculative Fiction for January and February 2023"

"A cautionary tale about the state of femininity in the early 20th century." — Transfer Orbit
CICELY HAMILTON (1872–1952) was an Anglo-Irish actress, author, and feminist campaigner best known for her 1909 treatise Marriage as a Trade. Her prewar plays include Diana of Dobson's (1908) and How the Vote Was Won (1909). After working in the north of France during WWI and witnessing how its violence affected civilians, she was inspired to write Theodore Savage (1922), a proto-sf novel presciently foregrounding modern warfare's destructive power.
SUSAN R. GRAYZEL is Professor of History at Utah State University, where she researches and teaches about modern European history, women's and gender history, the history of the world wars, and war and culture. Her publications in these areas include Women's Identities at War (1999) and At Home and Under Fire (2012). Her latest book is The Age of the Gas Mask: How British Civilians Faced the Terrors of Total War (Cambridge University Press, 2022).
Originally published in 1922. Cover designed by Seth. See this book at MIT Press.
---
FALL 2023 TITLES
---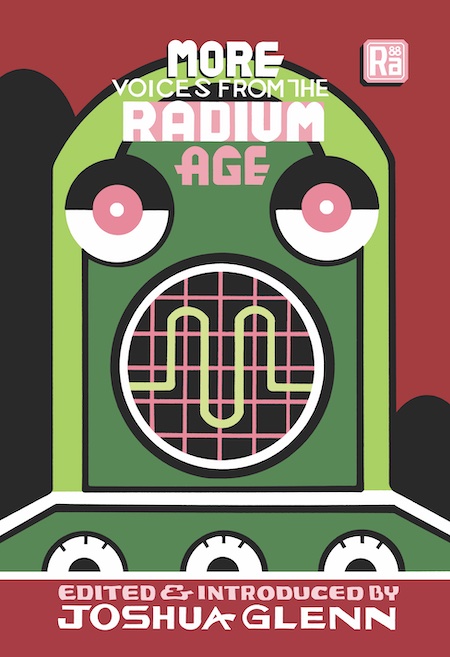 During 1Q2023, Josh worked with the MITP's editorial staff to send these Fall 2023 titles to press:
G.K. Chesterton's THE NAPOLEON OF NOTTING HILL (Aug. 1, introduced by Madeline Ashby)
MORE VOICES FROM THE RADIUM AGE (Aug. 1, edited and introduced by Josh Glenn)
William Hope Hodgson's THE NIGHT LAND (Sept. 12, introduced by Erik Davis)
---
SPRING 2024 TITLES
---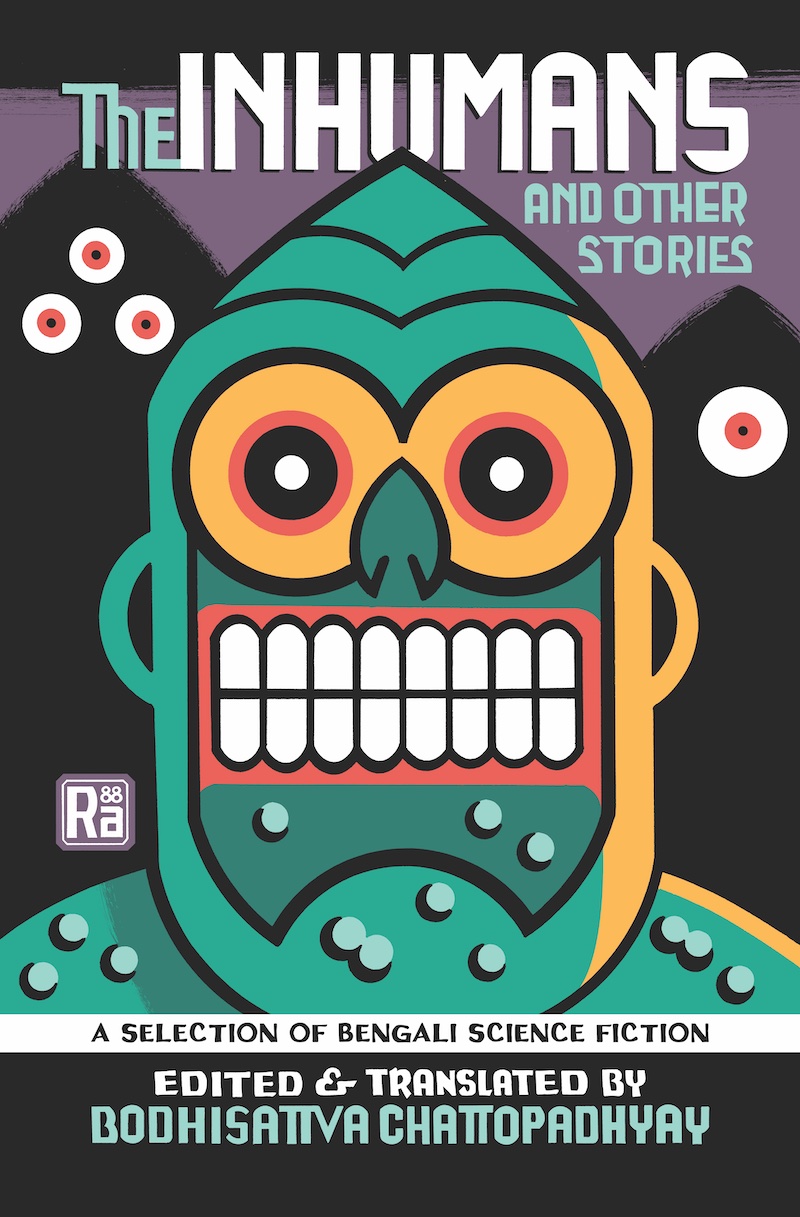 During 1Q2023, Josh and the team moved these Spring 2024 titles into the production stream:
THE INHUMANS AND OTHER STORIES: A SELECTION OF BENGALI SCIENCE FICTION (edited and translated by Bodhisattva Chattopadhyay)
Charlotte Haldane's MAN'S WORLD (introduced by Philippa Levine)
Cover illustrations and jacket copy are completed. Copy-editing, layout, and proofing still to come.
---
FALL 2024 & SPRING 2025 TITLES
---
During 2Q2023 and 3Q2023, Josh and the team will prep these Fall 2024 and Spring 2025 titles to enter the production stream.
Francis Stevens's THE HEADS OF CERBERUS AND OTHER STORIES (edited and introduced by Lisa Yaszek)
Edwrd Shanks' THE PEOPLE OF THE RUINS (introduced by Paul March-Russell)
J.D. Beresford's THE HAMPDENSHIRE WONDER (introduced by Ted Chiang)
John Taine's THE GREATEST ADVENTURE (introduced by S.L. Huang)
---
FALL 2025 & SPRING 2026 TITLES
---
During 1Q2023, two Fall 2025 titles were approved by the MIT Press's editorial board. They'll be announced later this year.
In July, Josh will propose two additional titles, for Spring 2026, to the MIT Press's editorial board.
---
ONGOING RESEARCH
---
During 1Q2023, Josh Glenn continued to research stories and novels for potential future publication. He is very grateful to HILOBROW friend Tom Nealon, who happens to be a rare book dealer — and who has tracked down dozens of hard-to-find Radium Age proto-sf titles.
Also…
HILOBROW published new installments in the RADIUM AGE POETRY series. Josh is collecting (pro- or anti-) science-, mathematics-, technology-, space-, apocalypse-, dehumanization-, disenchantment-, and/or future-oriented poem published during sf's emergent Radium Age (c. 1900–1935).
Here's the 1Q2023 lineup:
D.H. Lawrence's FUTURE WAR | Laurence Binyon's NUMBERS | Frederik Pohl's ELEGY TO A DEAD PLANET: LUNA | F.V. Branford's FAREWELL TO MATHEMATICS | D.H. Lawrence's THE EVENING LAND | Carl Sandburg's MANUAL SYSTEM | Robert Frost's FIRE AND ICE | D.H. Lawrence's THE REVOLUTIONARY | Blaise Cendrar's ORION | Aldous Huxley's FIFTH PHILOSOPHER'S SONG | Charles Buxton Going's THE SONG OF STEEL | D.H. Lawrence's UNDERNEATH | Sara Teasdale's "THERE WILL COME SOFT RAINS" | Edith Södergran's ON FOOT I HAD TO… | Louis Untermeyer's PORTRAIT OF A MACHINE.
---
SERIALIZATIONS
---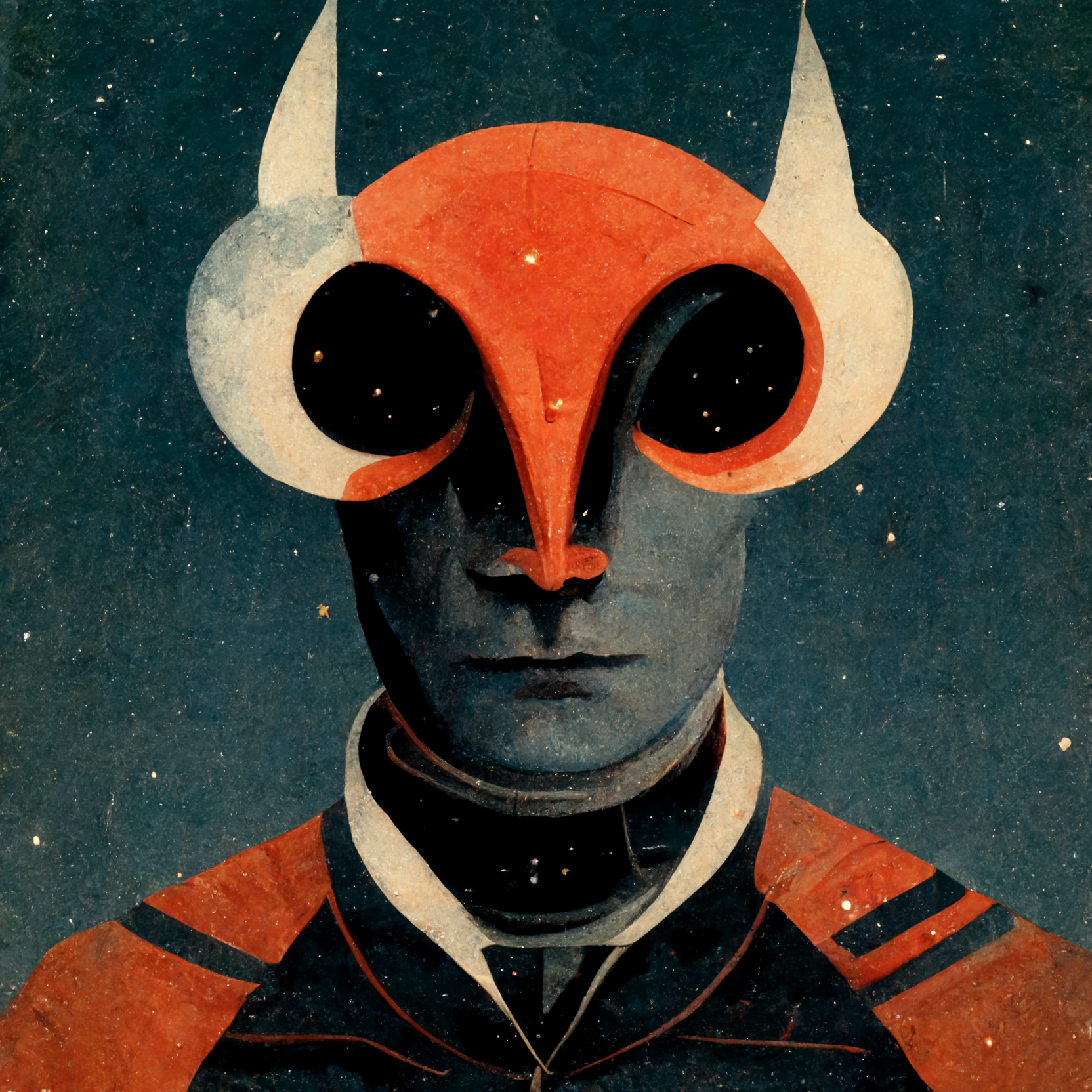 Here at HILOBROW, as we have been doing for a decade now, during 1Q2023 we serialized some of Josh's favorite Radium Age proto-sf stories and novels. Here's the lineup:
---
SPREADING THE WORD
---
Here's what they're saying about the series:
"Joshua Glenn's admirable Radium Age series [is] devoted to early- 20th-century science fiction and fantasy." — Michael Dirda, Washington Post | "Neglected classics of early 20th-century sci-fi in spiffily designed paperback editions." — The Financial Times | "New editions of a host of under-discussed classics of the genre." — Tor.com | "The best proto-science fiction novels and stories from 1900 to 1935." — The Washington Post. | "Long live the Radium Age." — Scott Bradfield, Los Angeles Times | "Shows that 'proto-sf' was being published much more widely, alongside other kinds of fiction, in a world before it emerged as a genre and became ghettoised." — BSFA Review. | "A huge effort to help define a new era of science fiction." — Transfer Orbit | "It's an attractive crusade. […] Glenn's project is well suited to providing an organizing principle for an SF reprint line, to the point where I'm a little surprised that I can't think of other similarly high-profile examples of reprint-as-critical-advocacy. " — The Los Angeles Review of Books | "An excellent start at showcasing the strange wonders offered by the Radium Age." — Maximum Shelf
During 1Q2023, the series received the following publicity: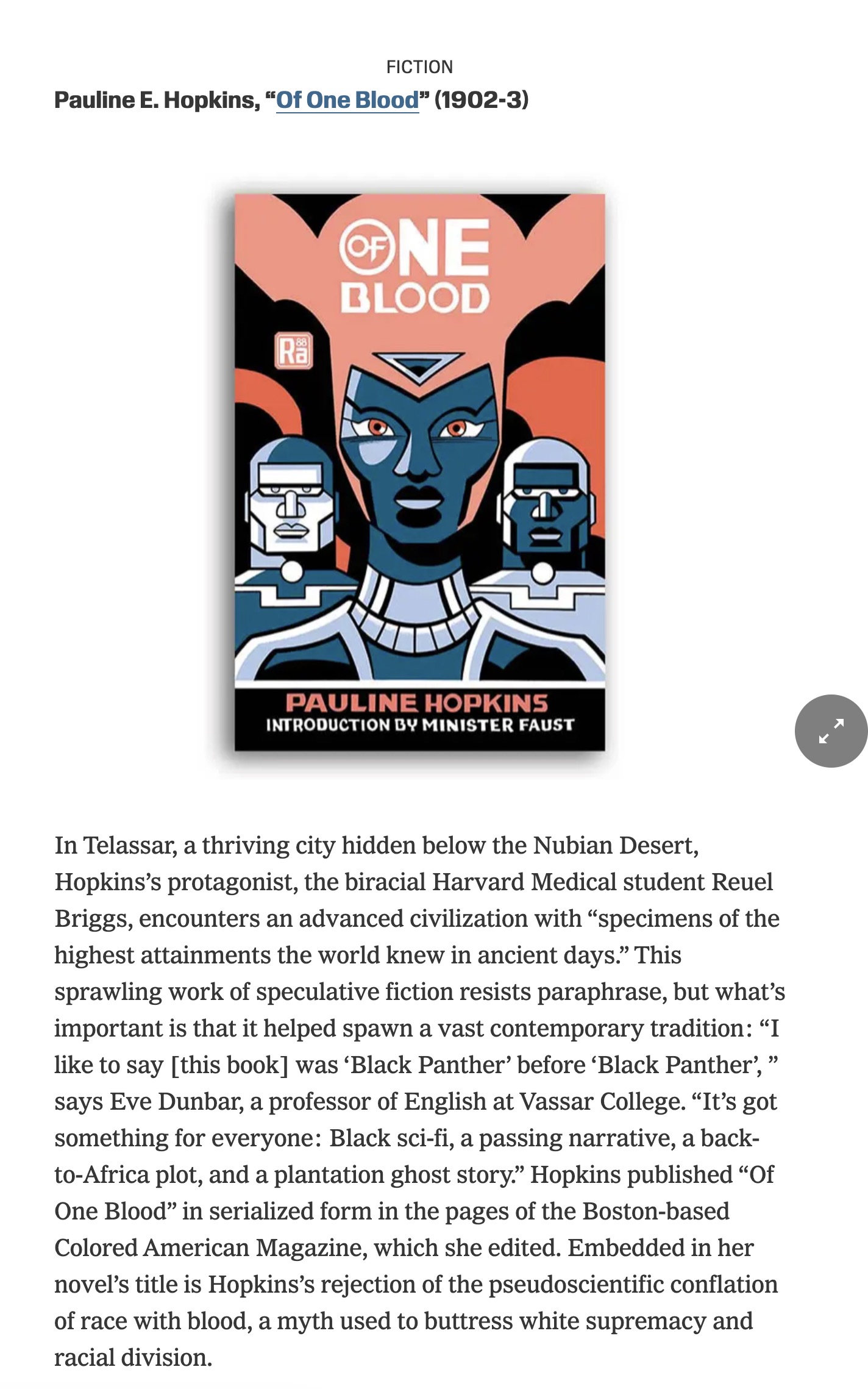 Adam Bradley, founding director of the Laboratory for Race and Popular Culture at U.C.L.A., published a list of 20 books that "help to tell a story of Black American literature that reflects the infinite number of ways of being Black in America — and of being in the world."
The first book on the list is Pauline Hopkins's Of One Blood — the edition shown is from the RADIUM AGE series. "This sprawling work of speculative fiction resists paraphrase, but what's important is that it helped spawn a vast contemporary tradition."
*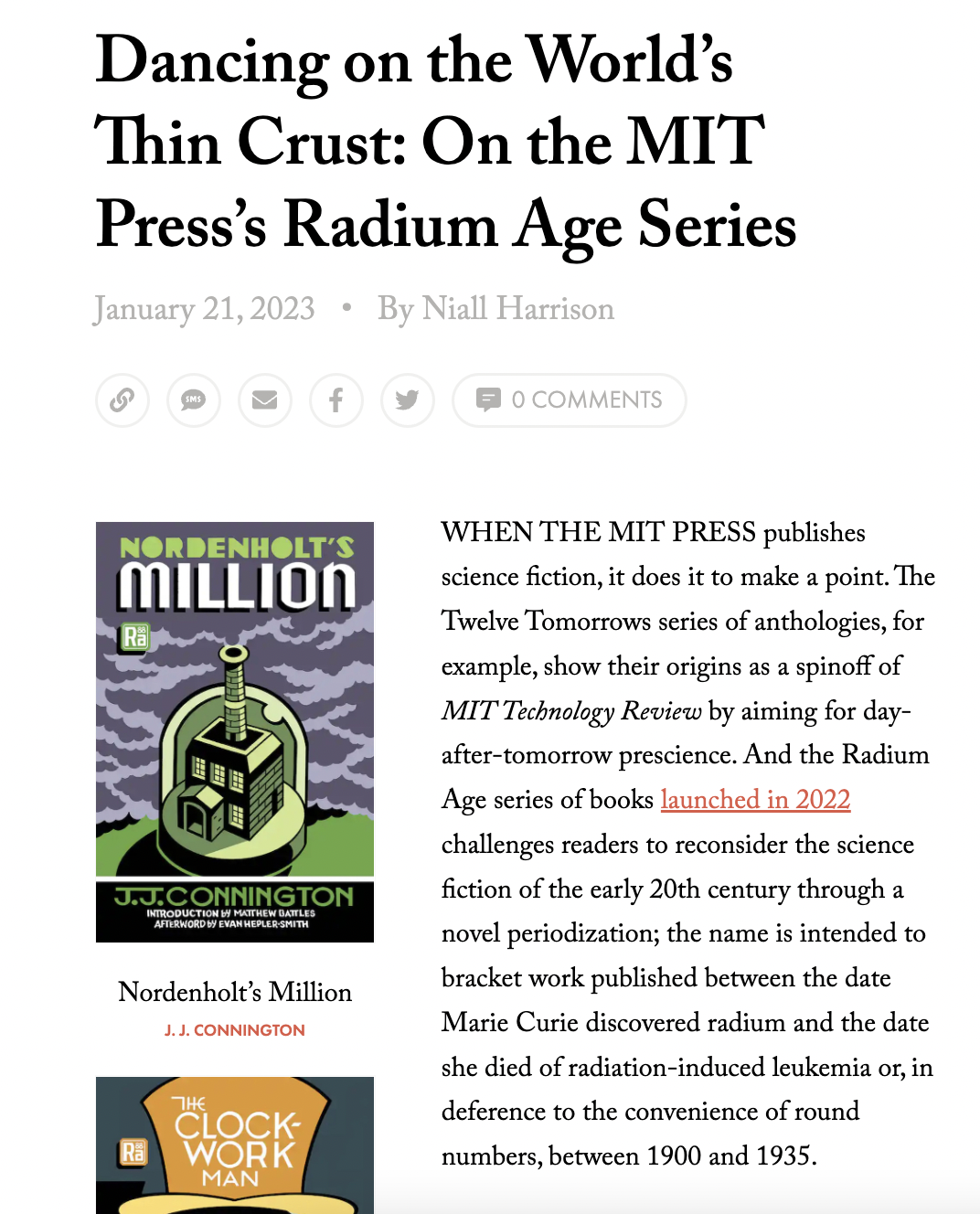 "It's an attractive crusade," Niall Harrison writes in a January 2023 Los Angeles Review of Books essay on the Radium Age series. In addition to comments on our editions of What Not, Nordenholt's Million, and The Clockwork Man, Harrison has the following to say about the series itself: "Glenn's project is well suited to providing an organizing principle for an SF reprint line, to the point where I'm a little surprised that I can't think of other similarly high-profile examples of reprint-as-critical-advocacy."
***
MORE RADIUM AGE SCI FI ON HILOBROW: RADIUM AGE SERIES from THE MIT PRESS: In-depth info on each book in the series; a sneak peek at what's coming in the months ahead; the secret identity of the series' advisory panel; and more. | RADIUM AGE: TIMELINE: Notes on proto-sf publications and related events from 1900–1935. | RADIUM AGE POETRY: Proto-sf and science-related poetry from 1900–1935. | RADIUM AGE 100: A list (now somewhat outdated) of Josh's 100 favorite proto-sf novels from the genre's emergent Radium Age.