PORTRAIT OF A MACHINE
By: Louis Untermeyer
March 31, 2023
A (pro- or anti-) science-, mathematics-, technology-, space-, apocalypse-, dehumanization-, disenchantment-, and/or future-oriented poem published during sf's emergent Radium Age (c. 1900–1935). Research and selection by Joshua Glenn.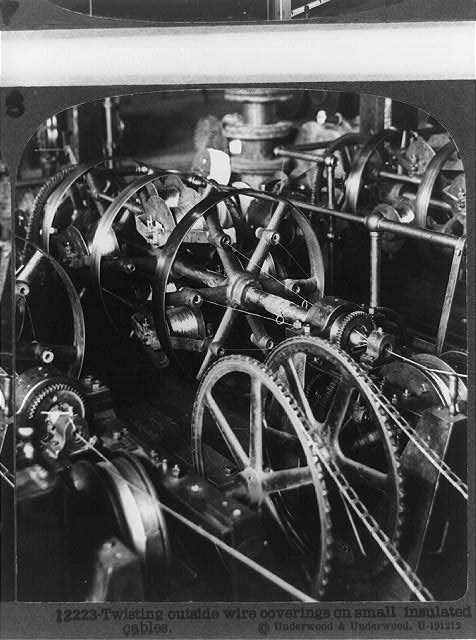 What nudity is beautiful as this
Obedient monster purring at its toil;
These naked iron muscles dripping oil
And the sure-fingered rods that never miss.
This long and shining flank of metal is
Magic that greasy labor cannot spoil;
While this vast engine that could rend the
soil
Conceals its fury with a gentle hiss.
It does not vent its loathing, does not turn
Upon its makers with destroying hate.
It bears a deeper malice; lives to earn
Its master's bread and laughs to see this
great
Lord of the earth, who rules but cannot
learn,
Become the slave of what his slaves create.
— Included in the influential collection American Poetry, 1922.
***
RADIUM AGE PROTO-SF POETRY: Stephen Spender's THE PYLONS | George Sterling's THE TESTIMONY OF THE SUNS | Archibald MacLeish's EINSTEIN | Thomas Thornely's THE ATOM | C.S. Lewis's DYMER | Stephen Vincent Benét's METROPOLITAN NIGHTMARE | Robert Frost's FIRE AND ICE | Aldous Huxley's FIFTH PHILOSOPHER'S SONG | Sara Teasdale's "THERE WILL COME SOFT RAINS" | Edith Södergran's ON FOOT I HAD TO… | Robert Graves's WELSH INCIDENT | Nancy Cunard's ZEPPELINS | D.H. Lawrence's WELLSIAN FUTURES | & many more.