FUTURE WAR
By: D.H. Lawrence
January 5, 2023
A (pro- or anti-) science-, mathematics-, technology-, space-, apocalypse-, dehumanization-, disenchantment-, and/or future-oriented poem published during sf's emergent Radium Age (c. 1900–1935). Research and selection by Joshua Glenn.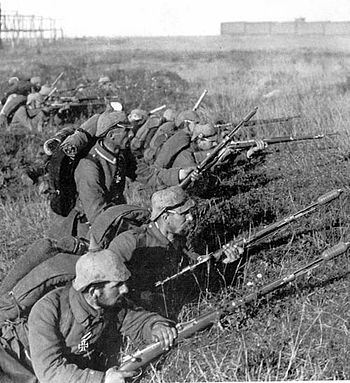 After our industrial civilisation has broken,
and the civilisation of touch has begun
war will cease, there will be no more wars.
The heart of man, in so far as it is budding,
is budding warless
and budding towards infinite variety,
variegation,
and where there is infinite variety, there is
no interest in war.
Oneness makes war, and the obsession of
oneness.
— From a notebook, c. 1930, of Lawrence's unprinted verse posthumously published as More Pansies. (The title recalls the last volume of poetry published in Lawrence's lifetime, 1929's Pansies.)
***
RADIUM AGE PROTO-SF POETRY: Stephen Spender's THE PYLONS | George Sterling's THE TESTIMONY OF THE SUNS | Archibald MacLeish's EINSTEIN | Thomas Thornely's THE ATOM | C.S. Lewis's DYMER | Stephen Vincent Benét's METROPOLITAN NIGHTMARE | Robert Frost's FIRE AND ICE | Aldous Huxley's FIFTH PHILOSOPHER'S SONG | Sara Teasdale's "THERE WILL COME SOFT RAINS" | Edith Södergran's ON FOOT I HAD TO… | Robert Graves's WELSH INCIDENT | Nancy Cunard's ZEPPELINS | D.H. Lawrence's WELLSIAN FUTURES | & many more.