THE PYLONS
By: Stephen Spender
June 15, 2022
A Radium Age sf poem.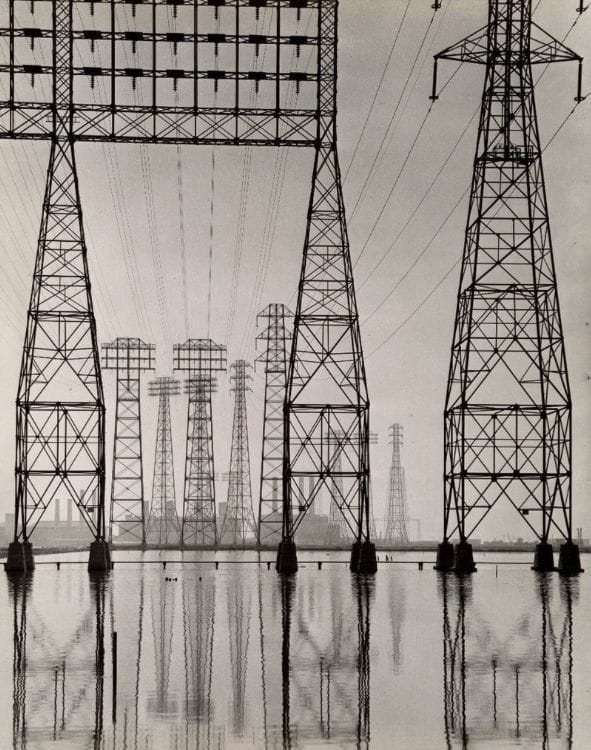 The secret of these hills was stone, and cottages
Of that stone made,
And crumbling roads
That turned on sudden hidden villages
Now over these small hills, they have built the concrete
That trails black wire
Pylons, those pillars
Bare like nude giant girls that have no secret.
The valley with its gilt and evening look
And the green chestnut
Of customary root,
Are mocked dry like the parched bed of a brook.
But far above and far as sight endures
Like whips of anger
With lightning's danger
There runs the quick perspective of the future.
This dwarfs our emerald country by its trek
So tall with prophecy
Dreaming of cities
Where often clouds shall lean their swan-white neck.
— A 1933 poem. Its title inspired the name of the "Pylon Poets," 1930s British poets (Auden, Day-Lewis, MacNeice, Spender) whose work deals with technological modernity.
***
RADIUM AGE PROTO-SF POETRY: H.D.'s STARS WHEEL IN PURPLE | Clark Ashton Smith's FROM PLANET UNTO PLANET WHIRLED | Anonymous's ASTRONOMIC JOSH | Rudyard Kipling's THE SECRET OF THE MACHINES | Randolph Bourne's SABOTAGE | Stephen Spender's THE PYLONS | Ford Madox Ford's GREY MATTER | W.E. Henley's A SONG OF SPEED | H.L. Mencken's A BALLAD OF LOOKING | George Sterling's THE TESTIMONY OF THE SUNS | Vachel Lindsay's THE SCIENTIFIC ASPIRATION | Thomas Hardy's EPITAPH FOR G.K. CHESTERTON | Archibald MacLeish's EINSTEIN | Thomas Thornely's THE ATOM | Charles M. Doughty's THE CLIFFS | William Butler Yeats's THE SECOND COMING | Guillaume Apollinaire's THE LITTLE CAR | Archibald MacLeish's MAN! | more TBD.